Fine Art alumni selected
for distinguished Drawing Prize
Nathaniel Fowles, a BA Fine Art alumni from UCA Canterbury, has become a finalist in this year's Trinity Buoy Wharf Drawing Prize.
23 Sep 2022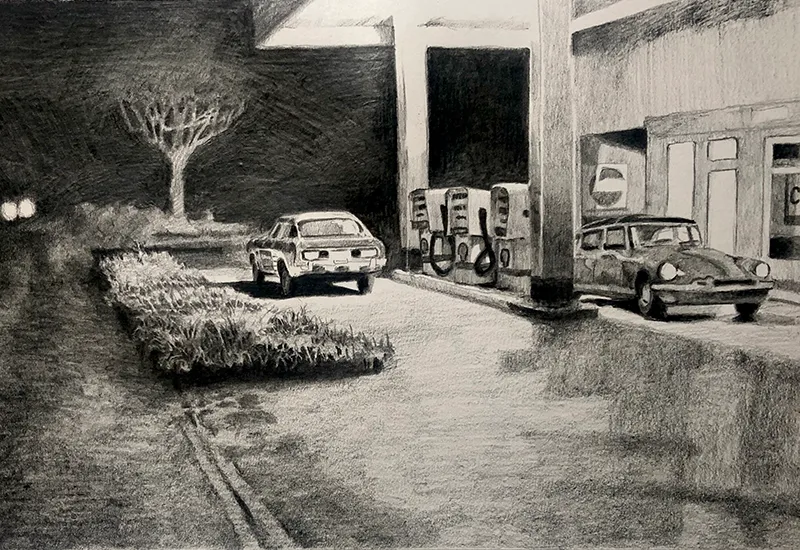 Nighttime at Hollybush Garage was shortlisted from more than 3,000 entries from around the world.
Nathaniel graduated in 1997 and splits his time between being an artist and raising three young children, working as a teacher, and lecturing at a university. So, how does he fit it all in and still have time to draw and paint?
"Sometimes, I just need to accept that it is impossible to have the time to do some of the things I would like to do so, I adapt and change either the scale or subject matter of what I am doing," said Nathaniel. "This is one of the reasons I started making relatively small drawings as they are more portable, and I'm not restricted to working in my studio. As a creative, I think it is important to adapt and to be enterprising. Sometimes restrictions such as limited time or resources can be quite liberating!"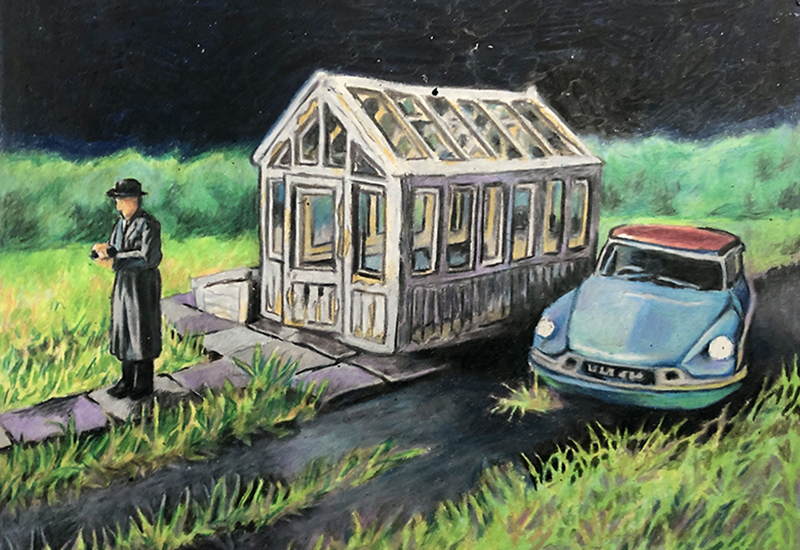 "Mr. Reason Investigates" by © Nathaniel Fowles
The selected drawing is a scene from the fictitious "Hollybush City", a world created by his six-year-old, identical twin boys. Making model buildings of the make-believe environments first, he took around two days to complete the drawing, using a variety of graphite pencils from 3B to 9B.
"As a lecturer, I have taught visual studies including, storyboarding and production design. It has certainly fed into what I am currently doing with my 'Hollybush' drawings," he said.
It's apparent that Nathaniel likes to draw things that challenge him and is why he seeks out activities that create momentum and bring him inspiration. Most recently, he set himself the challenge of doing at least one observational drawing each day in his sketchbook, drawing and painting relatively mundane objects and scenes. He believes Picasso was right when he said: " inspiration exists, but it needs to find you working."
"You need regular practice and to push your boundaries to improve," Nathaniel added. "There is a self-portrait by Goya which depicts him as an old man with a long beard, hunched over a pair of walking sticks entitled Aún Aprendo or I Am Still Learning. I draw a great deal of inspiration and solace from this picture as even at the end of his life, it showed his appreciation for the value of learning and acquiring new skills or wisdom."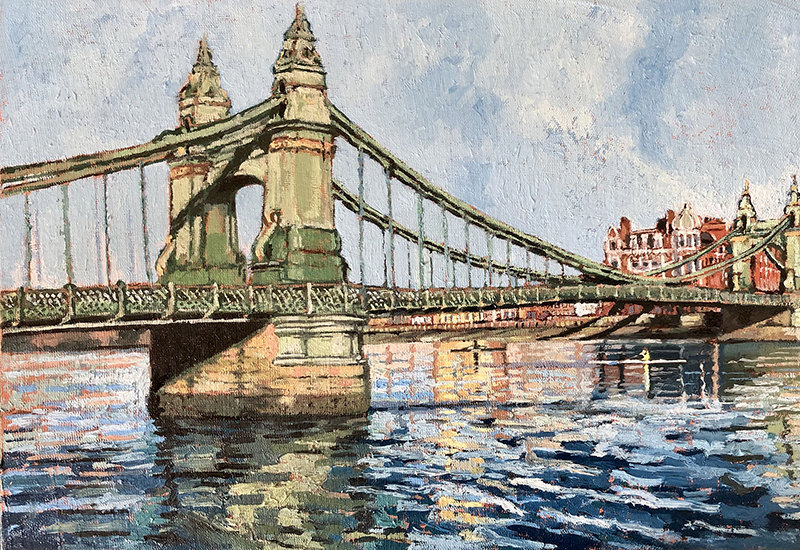 Hammersmith Bridge and Digby Mansions by © Nathaniel Fowles
But why drawing? what is it about that very physical activity that motivates him?
"There is something very primal and immediate about transcribing your perceptions of the world and being able to share these with others," he said. "The writer Alan Moore compares art to magic, and I think he is right!"
Nathaniel remembers his time at UCA Canterbury fondly and still uses the skills he learned in his work today.
"Being encouraged to think, question, and reflect are some of the most fundamental skills I was able to take away from the university. We also had some great tutors, visiting lecturers and technicians. The support and encouragement we had from individual staff members was invaluable."
It was also the collaborative nature of the course which has stayed with him – the opportunity to share ideas and use one another as sounding boards. But a fundamental moment came when Nathaniel had the opportunity to study at L'Ecole D'Art Decorative in Limoges, as part of the Erasmus Scholarship exchange. This gave him a new perspective on his practice.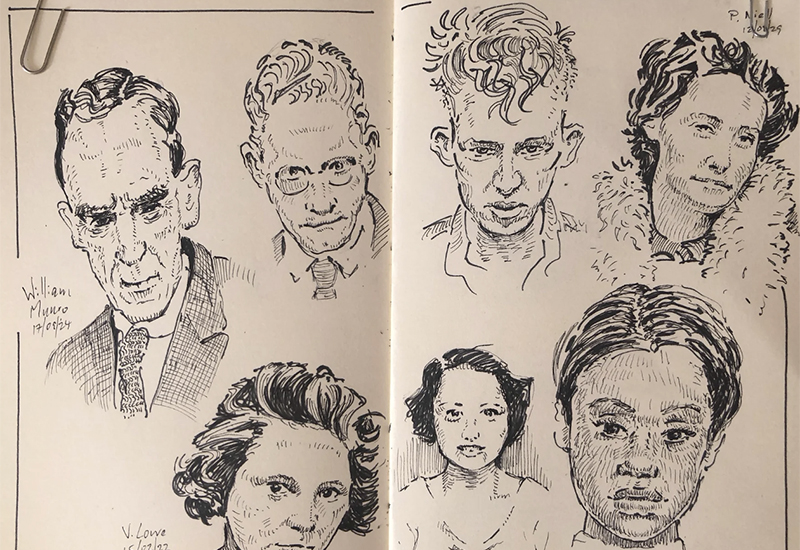 From his sketchbook.
Over the years Nathaniel has picked up a little bit of wisdom along the way, and he's learned that the most inhibitive thing to creativity is the fear of failure or making mistakes.
"If you're not prepared to fail, then you're not going to make progress as it means that you are not going to experiment," he said. "I believe that it is also important to remain curious about the world and never stop learning.

"As creatives we are conjuring something into existence that has never existed before – we are summoning something into being! I know that when I am being creative, I am in my element and it not only makes me happy, but it is vital for me! To function properly I need to be creative!"
Also selected for the Drawing Prize is UCA alumni Gary Clough, who graduated from BA Sculpture from West Surrey College of Art and Design in 1989. Living and working in Rochester, he has exhibited his work in and around the UK and in Japan, and was awarded a Henry Moore Fellowship in 2001.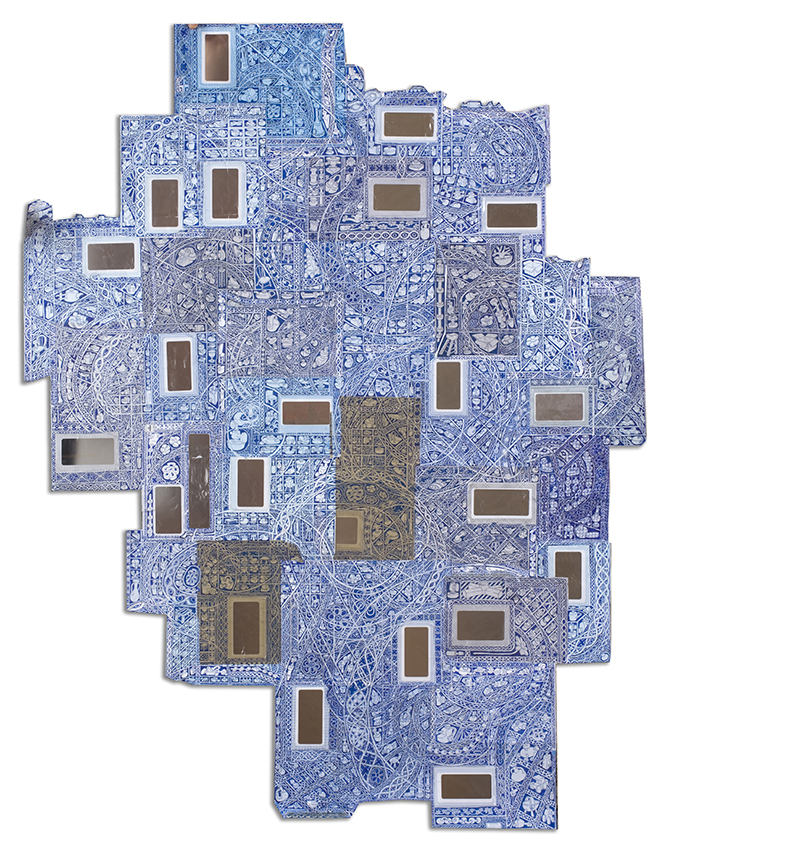 © Gary Clough
The winners of the TBW Drawing Prize will be announced on 28 September at Trinity Buoy Wharf in London, where an exhibition of the finalist's work will be on display until 16 October, before touring venues across the UK.
To learn more about studying at UCA, visit our course pages.