UCA quartet rise
to TikTok challenge
Four UCA fashion graduates won sought-after places on the 2021 Graduate Fashion Foundation (GFF) x TikTok merchandise residency. Here's what they learned...
13 Aug 2021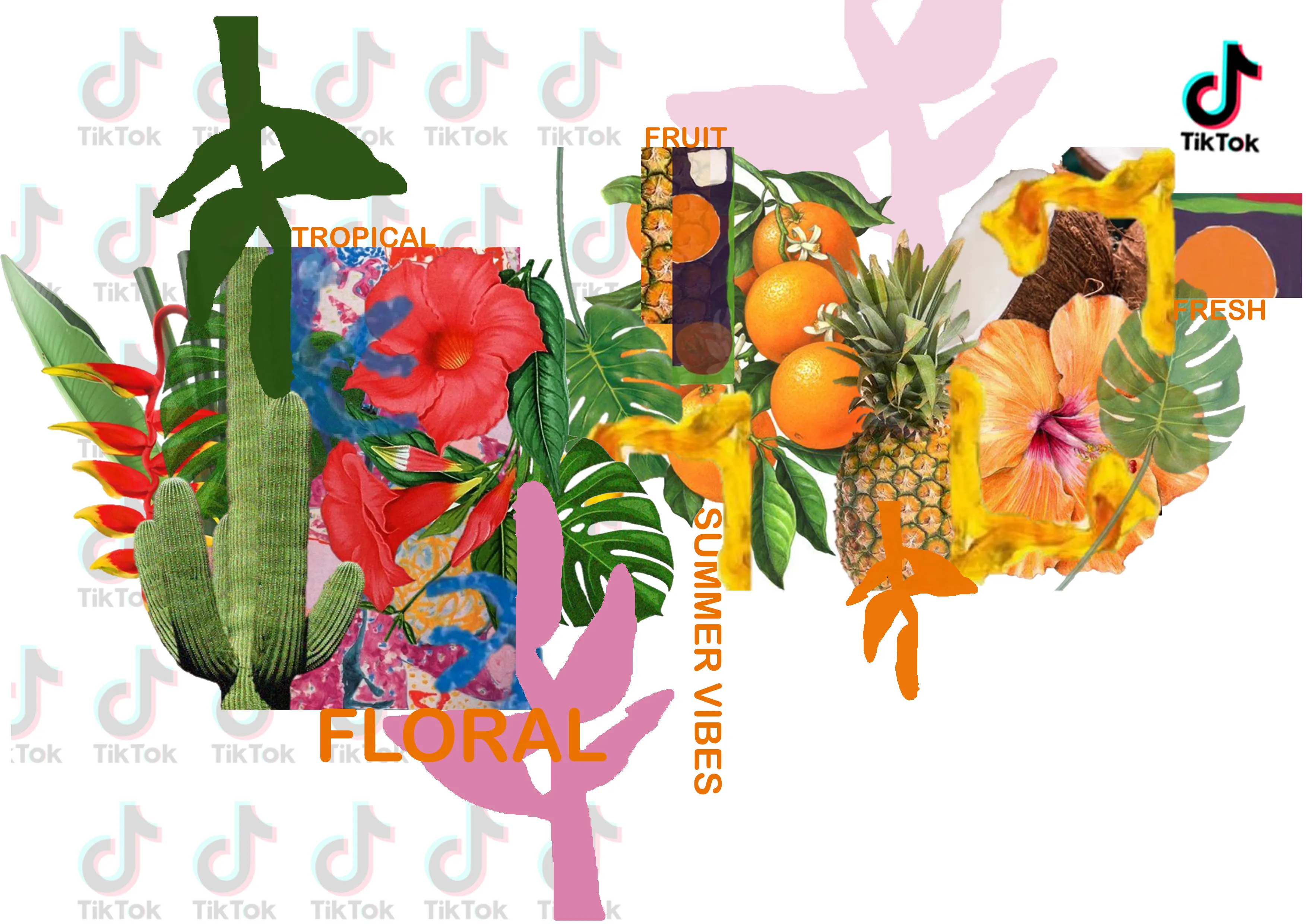 Real-world industry experience is invaluable when you're trying to get your foot in the door of your chosen career – and opportunities don't come much better than getting a work placement with social media giant TikTok.
Four 2021 UCA fashion graduates had such an opportunity this summer, after being picked for the second annual Graduate Fashion Foundation (GFF) x TikTok merchandise residency – a week to show off skills and gain invaluable experience.
BA (Hons) Fashion graduate Donnel Chavunduka and BA (Hons) Fashion Textiles graduates Holly-Jo Crowhurst, Charley Griffin and Yasmine Cerbah qualified after winning over the judges with their TikTok-inspired designs.
We caught up with them after their whirlwind week to find out what they learned from the experience.
Industry insight is gold
Donnel Chavunduka won a place with a utility-style gender-neutral sweatshirt.
"This was designed to be bold yet subtle," Donnel explains. "The design uses piping and the TikTok colours to create a giant logo on the front and back. Having designed one garment, I had the opportunity to create two more sweatshirts within the time I had."
"Everyone was so welcoming and it was a wonderful opportunity to meet other individuals who share a passion for fashion design, and to see other people's designs. The most useful things I got to learn were how a manufacturing factory is run, and the whole process behind it, alongside learning more about sustainability within the fashion industry. I believe these things will help me shape my future within the industry."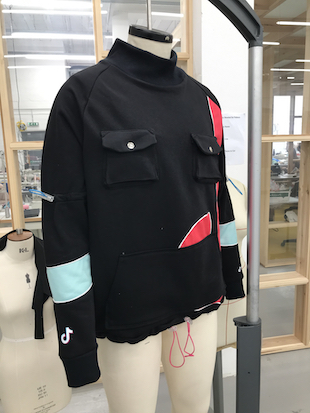 A garment made by Donnel Chavunduka during their TikTok residency
It's all about the networking
Yasmine Cerbah created a sunhat with tassels and an oversized baby doll-style dress, using two different floral prints that she digitally designed. "I wanted to create something that I felt represented summer vibes, and words such as fresh, fruit and tropical are elements I associated with TikTok. When I designed this outfit, I imagined the hat and dress being worn by fashion or travel bloggers on the App."
As well as making her garments, Yasmine attended industry talks and factory tours during her week to gain more of an understanding of the fashion industry as a whole. She also got tips and guidance from specialist seamstresses and pattern cutters.
"I learned many useful things which will aid me in my creative journey. Being surrounded by other fashion students was an amazing opportunity to network and learn new skills," she said. "Being selected for this residency has given me confidence within my practice, leaving me excited for the next stage of my career."
Sometimes, plans change
Charley Griffin had to make some major plan changes while on the residency but rose to the challenge by designing new garments instead.
A printing issue meant Charley's original designs couldn't be made. "I had to adapt my designs on the spot and use alternative fabric, and deadstock fabric from the factory," explained Charley. "This was disappointing, as I was not able to bring my designs to life and create my collection, but I am happy with the individual garments I made."
Charley continued: "Over the week, I learned how to make garments more efficiently, and that organisation is so important when working to deadlines. Communication is also key when working with others – I helped and got help from, other graduates, so I needed to understand their design to make what they wanted.
New skills will set you apart

Holly-Jo Crowhurst made three Varsity jackets and a mini collection of five overlocker tops from repurposed materials during the residency.
"Each day was spent sewing and making, and on the Friday, designer Henry Holland visited to see our designs!" said Holly-Jo.
"I was very excited to be selected and be given the opportunity to make my designs for TikTok, as TikTok is a huge platform for creativity and innovation
"The most useful thing I learned on my residency was how to draft a pattern from a garment. I definitely think this opportunity will look great on my CV for future employers and help set me apart from others."
Yasmine, Charley, Donnel and Holly-Jo were part of a cohort of 60 university students around the country to be selected for the residency – and they're now waiting to see if their designs have made the very final cut to become official merchandise for TikTok's influencers to wear. Watch this space. And if fashion interests you, check out our course pages.