UCA leads the way in
TV production boom
29 Apr 2021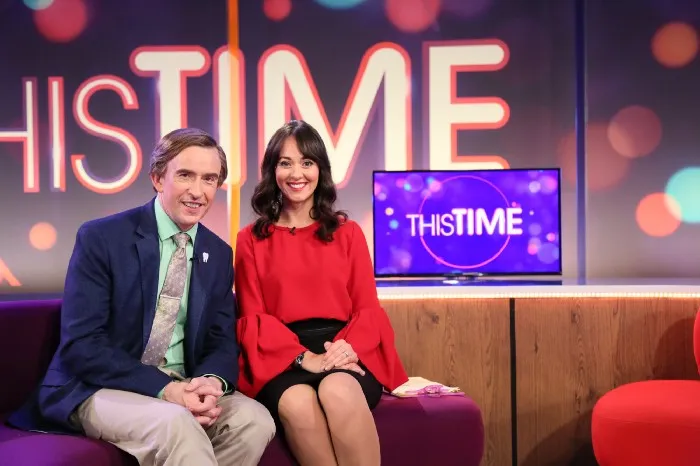 UCA's TV production students are right at the heart of a mini TV boom thanks to their base at Maidstone Studios. These are a hub for TV production in the south-east and home to a slew of new primetime programming, including the new series of This Time with Alan Partridge (above) which returns to BBC One this Friday, 30 April at 9.30pm.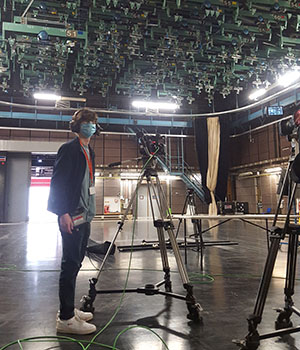 Other new 2021 primetime shows to come out of Maidstone include Game of Talents (ITV), and I Can See Your Voice (BBC1). Perennially popular TV classics such as Catchphrase and Supermarket Sweep are also recorded there.
This makes Maidstone an excellent location for UCA students who are often recruited to assist on these programmes as well as on location around Kent. Our TV production students have been helping out in Deal and Dover recently on a new Danny Boyle-directed series about the punk band the Sex Pistols.
The Covid lockdowns have led to a rise in our consumption of TV and producers and broadcasters are now racing to catch up and satisfy this ongoing demand. This has created some great hands-on experiences for our students. "I've actually had more opportunities since the lockdown," said George Larman, a BA (Hons) TV Production student, "because there's been such a flow of everything catching up again." "I'm 19 years old but I'm working on one of the biggest shows on TV," said Sophie Emmerson, also a TV Production undergraduate. "You get to be in the studio and you get that amazing atmosphere of working with people who are actually in the industry. I'll never forget it."
This TV 'boom' has led to significantly increased investment in recent years, helping to create new UK production centres such as the one under construction in Ashford, Kent that offers easy access to both London and Europe thanks to Eurostar. The Ashford studios alone are thought to have cost £250 million with similar facilities being created in Dagenham, Reading and further afield. All these facilities demand a new generation of talented professionals who are as skilled at story telling as they are at vision mixing.
UCA is extremely well placed to take advantage of this golden age of TV according to interim programme director and senior lecturer, Television Production, Mike Rymer: "Record levels of film and TV production hit £3.62bn ahead of the pandemic according to British Film Institute figures and this massive demand is fuelling huge studio expansion, potentially creating 1000s of jobs in the production sector. The next generation of film and TV professionals are entering a new world that is not beholden to traditional models of exhibition and consumption.
"UCA educates for the creative industries as a specialist provider with a clear point of difference in the sector. We are interested in nurturing change makers who will be at the vanguard of this fast-moving Industry. We are excited by every new tool that may open a new avenue to audience, but we will not lose sight of the fact that it all starts on the page. Our unifying principle is that of story, because before we are drama directors, documentarians, writers, cinemographs, editors, development researchers, and manifold other participants in TV production, we are storytellers."
Image credit: BBC / Baby Cow / Colin Hutton