Two fashion graduates picked to star in London Fashion Week showcase
Tyesha Camacho and Joshua Scott
UCA fashion graduates Tyesha Camacho and Joshua Scott have been chosen as up-and-coming talents at London Fashion Week (LFW).
19 Feb 2021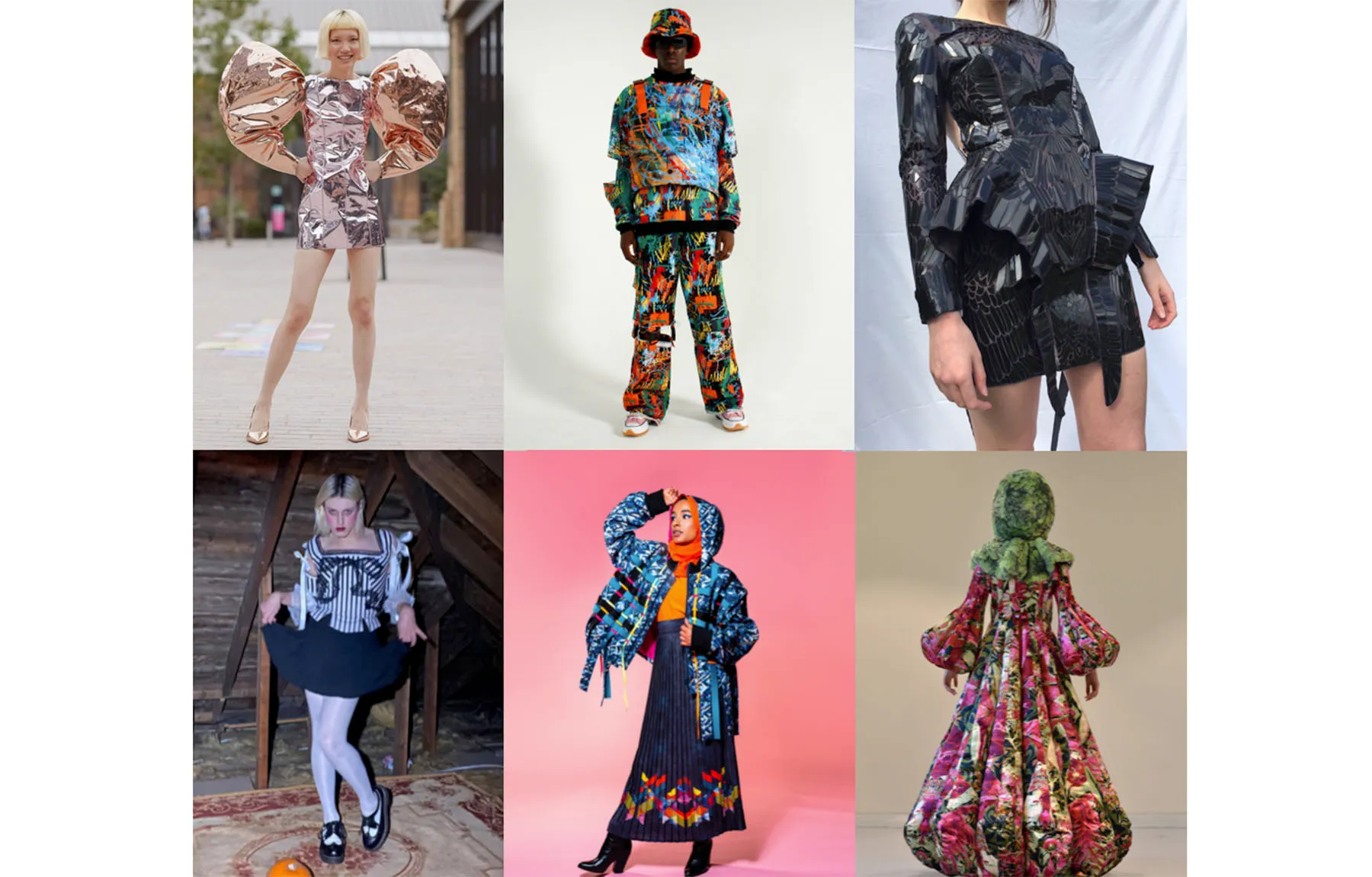 UCA fashion graduates Tyesha Camacho and Joshua Scott have been chosen by the Graduate Fashion Foundation (GFF) to be part of a group of six up-and-coming talents at this month's London Fashion Week (LFW). This is the first time LFW has been completely online.
GFF worked with a specialist company Visualist to remotely create bespoke digital content for each of the six chosen graduates. That content is available to view on the LFW Digital Hub. GFF hopes that this content will help up-and-coming British fashion talent reach a new and global audience.
Joshua and Tyesha both studied at UCA's School of Fashion at our Rochester, Kent campus and graduated in 2020 with a BA (Hons) in Fashion Textiles. Joshua remains at UCA studying a part-time Masters in Printed Textiles for Fashion and Interiors.
"We are all very proud and excited to see that Tyesha and Joshua are two of the six designers selected to show with Graduate Fashion Week at London Fashion Week - they are both really strong catwalk designers," said Neil Bottle, Programme Director, BA (Hons) Fashion Textiles: Print, and MA Printed Textiles for Fashion & Interiors.
Tyesha Camacho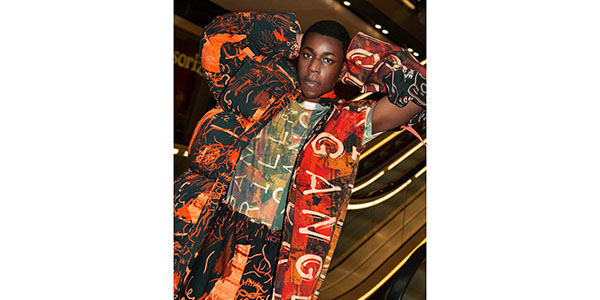 Since graduating in June 2020, Tyesha has continued to build her brand. Her genderless, wearable designs call for equality and promote diversity whilst incorporating her love for bold clashing prints and oversized silhouettes. They feature concealed closures, piping detailing and detachable elements as well as embracing an asymmetric line. Tyesha aims for her brand to encourage others to experiment with personal style and wear what they want without fear of caring what others think.
The 'REDEFINE' collection (above) looks at art, graffiti, music, musicians, environment and social issues. With this collection, she wanted to redefine negative stereotypes especially those regarded within 'urban areas', as well as start new and important conversations that were missing regarding social and political issues. Each outfit takes its name from music genres of rap, drill and grime. The expression of the movements of this music can be seen in the print itself. The collection has been featured within The Blacklist Magazine, and upon the Converse London Instagram profile.
Tyesha said: "I am honoured to be recognised by an amazing foundation such as GFF. It is an amazing achievement for a young designer such as myself to be featured at LFW, I cannot express how grateful I am for the opportunity."
Joshua Scott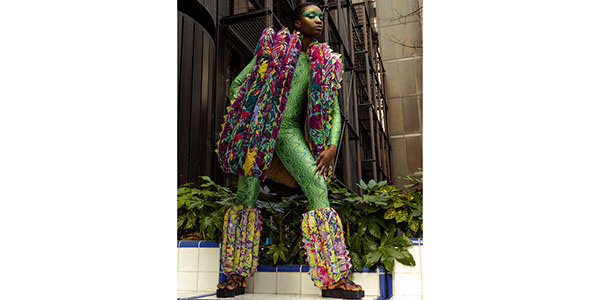 Avant-garde fashion print designer Joshua's prints are drawn from the tropical foliage (above) found in the Palm House at Kew Gardens, whilst the signature garment silhouettes are inspired by succulents and cacti found in the Princess of Wales Conservatory. The garments reference a wide range of historical shapes ranging from restrictive royal court dress to exaggerated 1980's sportswear. The brand's colourful and unapologetic work will always carry a sense of fun with it, and this unapologetic collection is full to the brim with innovative sewing, print, and pattern cutting techniques. The standout feature being the creative use of ribbing and stuffing to mimic the forms of barrel cacti which add a dramatic structural element. Joshua used dye sublimation to add patterns to a dense faux fur which distorts and moves when touched. Joshua sees the brand evolving with a parallel ready-to-wear sustainable line of everyday essentials which embrace fine art and print.
Joshua said: "I'm using the infancy of my brand as an opportunity to keep my horizons broad as an avant-garde designer but also a print artist. This opportunity is allowing me to grow as a designer and the shoot process with Visualist to create the LFW imagery has been a huge learning curve. It was honestly such a shock to get the email saying I'd been nominated and I've been on cloud nine ever since. Last year was extremely tough and getting this news was a breath of fresh air. I'm just so grateful that I'm getting to share my work."