Animation graduate creates
this year's LIAF trailer
Ross Stringer, a BA animation graduate from UCA Farnham, is the creative talent behind this year's London International Animation Festival (LIAF) trailer.
03 Dec 2021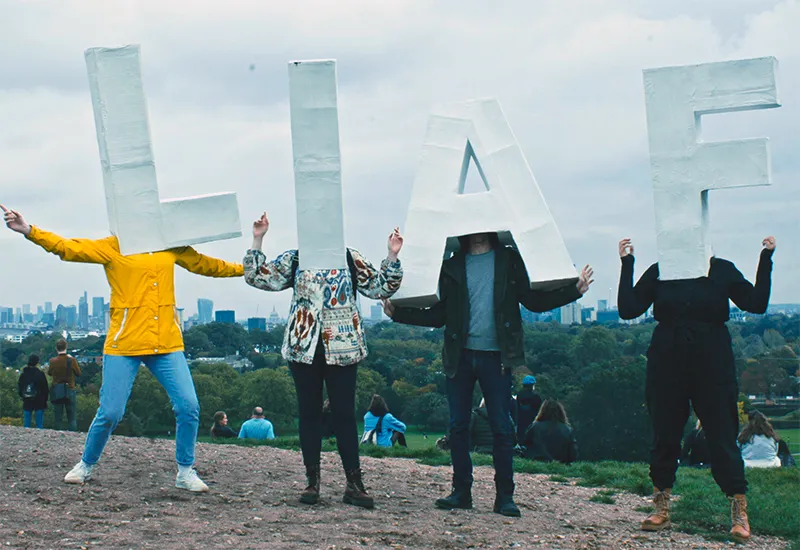 The festival is a showcase for everything 'animation'. It aims to dispell the popular misconception that animation is just cartoons for kids by screening intelligent, entertaining and provocative current films from all around the world.
Capturing the spirit of the festival, the trailer is currently doing the rounds at LIAF venues in London and shown before all online film screenings.
Ross told LIAF: "I wanted the trailer to capture what film festivals mean to me; that is, the incredible feeling I get from meeting with others who share my interest in animation. Last year a lot of us missed out on events like LIAF, so I wanted to express my excitement for finally being able to come together and watch films in person."
Watch the trailer >>>
Ross spent two days shooting the trailer in London, including Primrose Hill and Pimlico. The letters were made from cardboard retrieved from the recycling bin and pieced together with gaffer tape, papier-mâché and painted white. But wearing these giant forms made it very hard for Ross to communicate with the actors. Instead, he relied on three assistants to relay his instructions to them.
Achieving the look of the animation was down to Ross' use of the pixilation method, a stop motion technique in which live actors are used as a frame-by-frame subject, repeatedly posing while another frame is taken and changing pose slightly before the next frame. The actor becomes a kind of stop-motion puppet.
Ross explained: "Pixilation is a lot of fun. We did plenty of playing around, but it can be hard on your actors when standing in poses for prolonged periods. We also had to get used to the questions, reactions and laughs from passers-by, but it was great to get so much of a reaction."
Samuel Read and Simon Panayi, the trailers composer and sound designer, respectively created the accompanying soundtrack. It captured the busy spirit of London and the upbeat theme of the trailer.
"Making this trailer was a great experience, and I got to bring together some wonderful people that helped bring it to life," added Ross.
Watch this 'Behind the Scenes' video >>>
Learn more about studying animation at UCA.