Architecture students nominated
for AJ Student Prize 2020
Two architecture students from the University for the Creative Arts (UCA) Canterbury have been nominated for the AJ Student Prize 2020.
06 Aug 2020
Two architecture students from the University for the Creative Arts (UCA) Canterbury have been nominated for the AJ Student Prize 2020.
Lauris Svarups, who studied BA (Hons) Architecture (ARB/RIBA Part 1), was nominated in the undergraduate category for his final major project, 'Legislative Theatre of El Raval'.
"The AJ award nomination has been a great moment for me to take a step back from the project and appreciate it as a whole and the hundreds of hours of work I devoted to it," he said.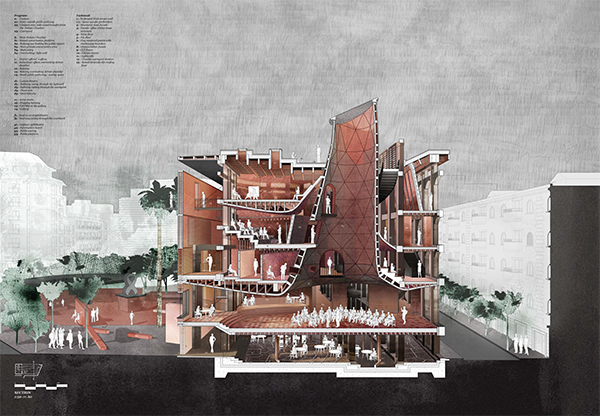 ©Lauris Svarups
Lauris's design imagined an alternative city-district that facilitates citizens' direct involvement in the process of law-making. Set in the socially marginalised area of El Raval in Barcelona, his project presented a new publicly orientated governmental space that functioned as a cultural hub for political discussion, reflection and learning, as well as a space which is more open to activism, community opinion and change.
"The architectural elements in my project revolved around encouraging conversation," he said. "From specifically designed stairways, flexible niches for private or public conversations, to a courtyard that provided visual transparency. It was vital to create a space for a dynamic community and an environment for self-education and learning."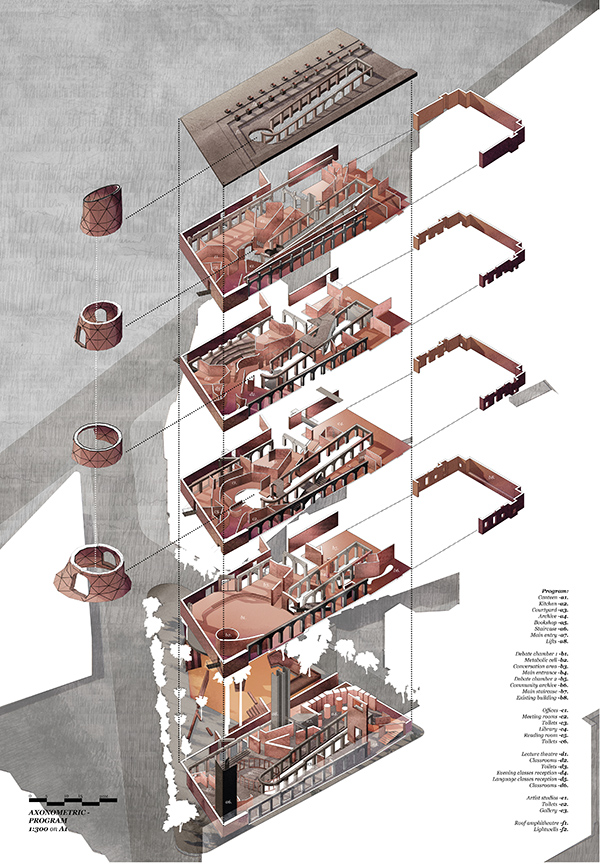 ©Lauris Svarups
The most important design consideration of the project was its cultural sensitivity. Taking inspiration from Barcelona's 'Barrio' neighbourhoods, Lauris incorporated the narrow streets and alleyways where balconies overlook each other and courtyards are intertwined into his design.
"A building such as this should be culturally familiar. And, for my proposal to be credible, I amassed as much material as I could on Catalan culture and architecture," said Lauris. "I believe that design which ignores these cultural and visual features is detrimental to public architecture."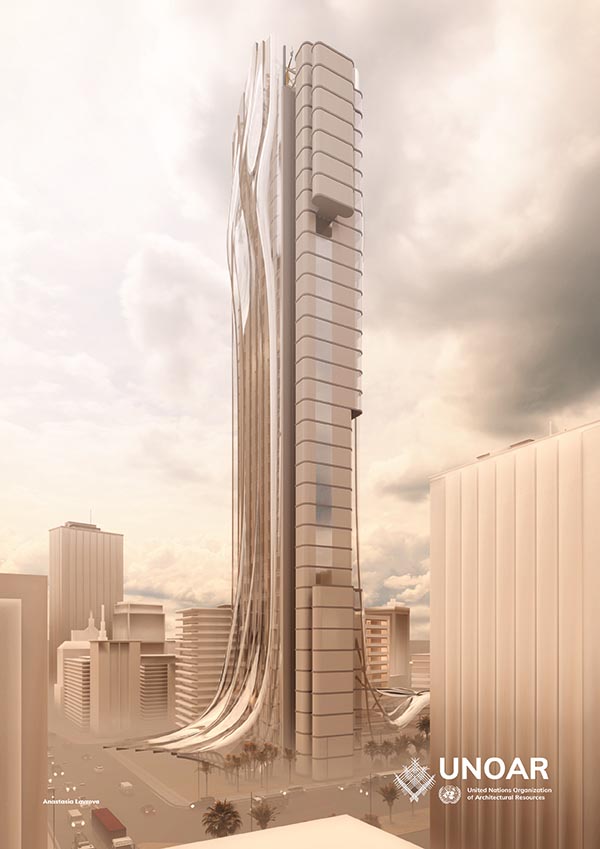 ©Anastasia Lavrova
Meanwhile, Anastasia Lavrova, who studied for a Master of Architecture (ARB/RIBA Part 2), was nominated in the postgraduate category for her final project, 'Architecture in Crisis'.
Her project explores tower typology by looking at the design possibilities of activating existing but currently unoccupied, urban, high-rise buildings, as well as featuring a fictional agency - the United Nations' Organisation for Architectural Resources (UNOAR). The agency concept brings together all architectural resources and information from across the world to provide global-led solutions to problems or crises.
The culmination of the project is a critical investigation of sustainable skyscraper design through the proposed conversion of the iconic Burj Al Murr tower in Beirut into an organ transplant clinic.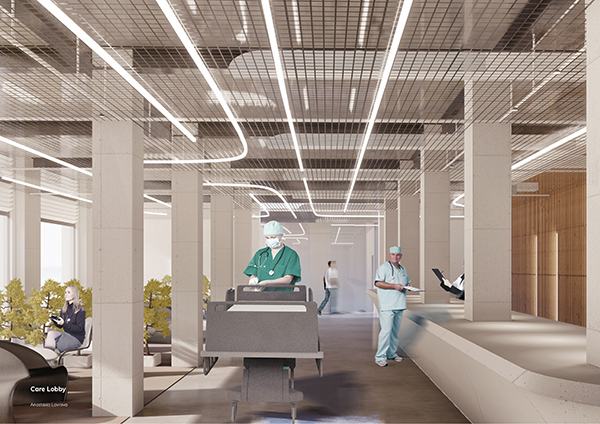 ©Anastasia Lavrova
"I hope my tower is an example of why we should reuse existing buildings to help regenerate communities and infrastructure," she said.
The Coronavirus pandemic has made Anastasia's project even more pertinent. With the rapid global spread of COVID-19, a multinational organisation like UNOAR would have showcased how the architectural community could have collaborated to provide solutions to combat such events or at the very least, shorten response times to countries in need.
"Also, coronavirus impacted the design of my organ transplant clinic, which was informed by all the latest news and information about what hospitals needed to provide the best care to patients at a time of crisis – high-quality ventilation, air filtration and individual rooms," added Anastasia. "The Nightingale Hospital in London was a great example of this, showing how space can be taken and adapted to a different use."
The winners of the AJ Student Prize will be announced in September.
Learn more about studying Architecture at UCA.