Eight Fashion Students Announced
as GFF Awards Finalists
Eight Fashion students from the University for the Creative Arts (UCA) at Epsom and Rochester have made the list of finalists for the GFF 2020 Awards.
15 Jul 2020
Eight Fashion students from the University for the Creative Arts (UCA) at Epsom and Rochester have made the list of finalists for the GFF 2020 Awards – recognising the best in graduating talent and creativity.
The finalists' work showcases fresh new thinking in how the fashion world can frame conversations about sexuality, faith, intolerance, sustainability, and identity.
"I am delighted that so many UCA Fashion students are finalists for this year's GFW Awards," said Professor Jules Dagonet, Head of UCA's School of Fashion.
"The class of 2020 have experienced the most difficult of times finishing their final major projects during lockdown. But with a spirit of determination, innovation, experimentation and courage they have collectively created work that is diverse, contemporary and exciting."
---
Fashion Styling & Creative Direction Award Finalist, Matthew Pennington, UCA Epsom
Matthew Pennington showcased a short film called 'A Recipe for Disaster' for his final piece, which follows the story of Miss C on her quest to protect her neighbourhood from sin.
This comical silent visual contains six chapters, which explore the discourse of Miss C taking action to cleanse her community from the wrath of a local man called Byron. This poignant short film explores faith, nostalgia, delusion, the past and future, as we follow the actions of Miss C's good intentions resolve in a contentious outcome.
---
Fashion Styling & Creative Direction Award Finalist, Seyon Amosu, UCA Rochester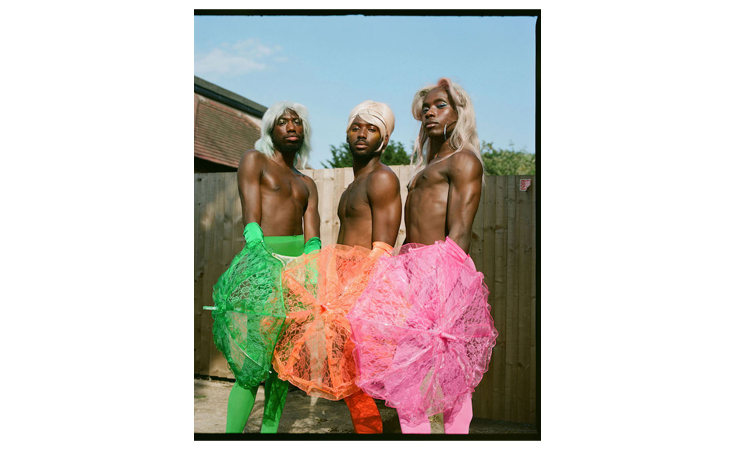 © Seyon Amosu
Seyon Amosu is a visual storyteller, whose use of bold artistic direction and styling considers culture, religion, sexuality and silhouette. Seyon's work is profoundly inspired by his intolerant African religious upbringing, the 80s New York black queer scene and Noughties Nigerian cinema aesthetics.
Passionate about fusing his African background into his work, Seyon wants to continue to celebrate the scope of African narratives and champion untold stories, while redefining what is 'acceptable'.
---
Fashion Media Award Finalist, Olivia Kellerman, UCA Epsom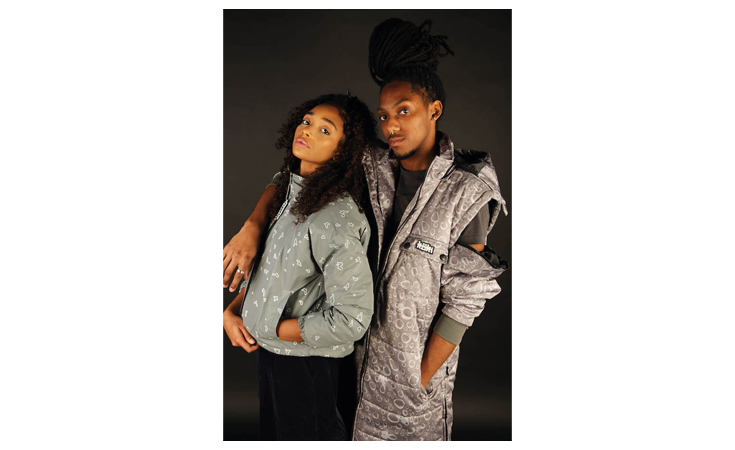 © Olivia Kellerman
Olivia Kellerman created her shortlisted magazine called 'The Blacklist' to offer a platform to black creatives based in the UK to engage with one another and share their work.
"The media still refuses to acknowledge that there is more to the black experience than gun and knife crime and growing up in the ghetto," said Olivia.
"I wanted to uncover the real diversity of the black experience, showing people with different stories who are from different cities to truly reflect what it is to live in the Black British Diaspora."
The Blacklist has featured black photographers, illustrators, writers and poets, this first issue is an introduction to all the topics and brilliant people that The Blacklist aims to promote, encourage and share.
---
Fashion Media Award Finalist, Veronica Wong Diffa, UCA Epsom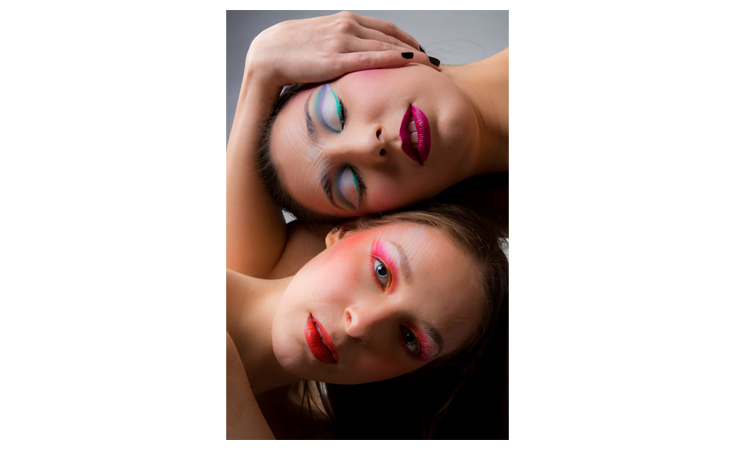 © Veronica Wong Diffa
For her final collection Veronica Wong Diffa created Motion magazine, a UK based, quarterly arts & culture print and digital publication, that showcases multicultural artists of the creative industry.
"Being a finalist is a great achievement and I'm very happy I've had the opportunity to share my project with fellow creatives of the industry! Motion Magazine is all about showcasing multicultural artists from around the globe, giving them a platform to share their successes regardless of age, gender, or background," explained Veronica.
"Being a multicultural person who is just starting a career in this wide industry, it has been super inspiring to speak to so many artists of all different ethnicities & backgrounds and present Motion Magazine to talented creatives."
---
Fashion Range Plan Award Finalist, Faye Picknell, UCA Rochester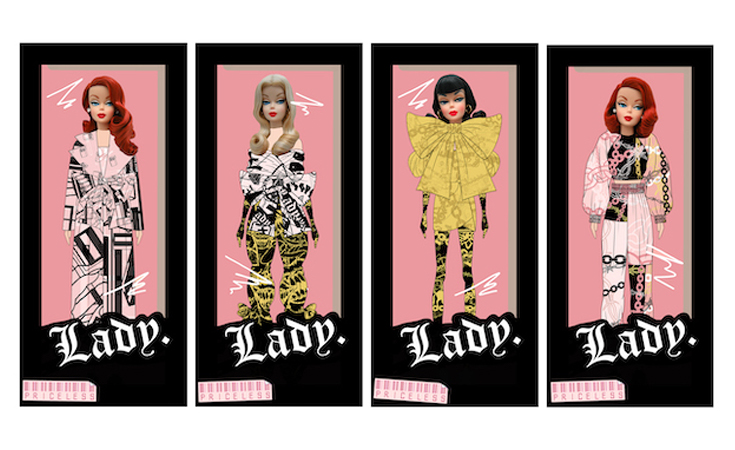 © Faye Picknell
Faye Picknell's final collection 'Gloriously Vulgar', is a catwalk collection exploring what is seen as: too popular, too excessive, and too exposed, as well as the use of excessive branding and anything controversial to common taste. It embodies British culture with her prints containing things that are stereotypically related to each of the social classes.
"Taste differentiates between the classes and its these stereotypical ideals from each social class that make up my collection; pairing vulgar prints with high end fabrics and accessorising with excessive jewellery. I've created a juxtaposition of the glorious and the vulgar." explained Faye.
---
Considered Fashion Award Finalist, Catherine Baldwin, UCA Epsom

© Catherine Baldwin
Catherine Baldwin's final project celebrated sustainability and social responsibility by designing for a not-for-profit business selling reusable period pants called GAL (Girls Against Leaks). With 500 million people living in period poverty, GAL wants to bring an end to period stigma.
"I wanted to create a brand based on empowerment, community and integrity, and design a stylish, sustainable product that makes a positive impact on people and the planet," said Cat.
"And, GAL is not just committed to making sure all workers have access to menstrual products, are paid and treated fairly, in-house practices are sustainable and ethical, and the supply chain is transparent, but it will also donate 20% of their profits to affiliate charities."
GAL (Girls Against Leaks) is a not-for-profit, triple bottom line business selling stylish reusable period pants whilst giving back to help end period poverty. Alongside this is the GAL PAL app where you can shop the products and track your cycle, whilst providing a learning and community space for the consumer.
---
Adaptation Award Finalist, Denikah Gardner-Dixon, UCA Epsom
As in many situations this year, student Denikah Gardner-Dixon's ideas and whole process were changed when lockdown struck the UK. Her feminine collection was originally designed to use and showcase amazing embroidery from China and India. Due to the limitations on time and factories now being closed, Denikah decided to use her couture training to create the embroidery herself.
By using appliqué techniques on cut up ribbons and lace fabrics, Denikah was able to use her skills to re-interpret the pieces into amazing new appliqués, and realise her original theme of A Midsummer Night's Dream more honestly through the new embroidery techniques.
---
Fashion Illustration Award finalist, Jasmine de Baeza, UCA Epsom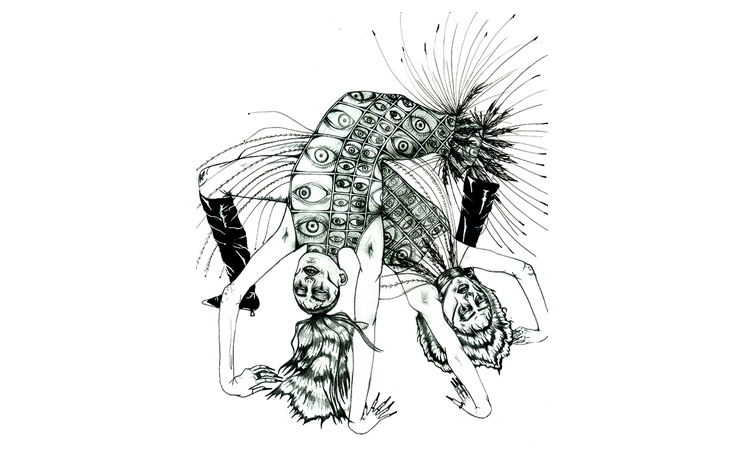 © Jasmine de Baeza
Jasmine de Baeza chose to explore paranoia through the history of surveillance for her final collection. A concept that reflects the current behaviour of today's society, and how in turn this concept trickles down to every aspect of life including what we wear.
"I was so surprised to be nominated and to be in the final shortlist is amazing – it has given me such confidence in my work now and going forward in the future. My illustration style is fairly monochromatic, I'm interested in working with dark and macabre subject matters relating to the perception of the human figure, inside and out, and try to achieve a certain ambience through dramatic shading and intimidating facial features."
Each garment reflects different elements of surveillance, such as the use of metal represents the caged feeling of paranoia while also demonstrating some of society's most extreme examples of surveillance in prisons and schools. Recycled film negatives used in the collection help to further document the history of surveillance from past to present.
---
The winners for all the GFF 2020 awards will be announced in September at an award ceremony in London. To learn more about studying Fashion at UCA, visit our course pages.