UCA trio team up with SignKid
for BBC short film
Three former UCA graduates have teamed up with deaf rapper SignKid to create a powerful short film for the BBC.
08 Dec 2021
Header image shows the cast and crew of Silent World, Michael Newton is in the back row, fifth from left, and Charlie Dennis is front row, second from left.
Charlie Dennis, Gabriella Salonga and Micheal Newton – all graduates of BA (Hons) Film Production – joined forces to create Silent World, a film based on a rap - written and performed by SignKid - about experiencing the COVID-19 pandemic as a deaf person.
Charlie was writer and director, Micheal was producer and Gabriella was the production manager for the filming, which was made through Lowkey Films. It was funded as part of the BBC's Culture in Quarantine as an incentive to give neurodiverse and d/Deaf creatives a way to have a voice on-screen.
"I attempted to merge his musical background and his own personal experience to create a film that represented the d/Deaf community on-screen while also generating empathy for the hearing community," he said. "A way for people to understand what it was like for others during COVID-19 in a visual and cinematic way. I decided to take the crisis and effectively re-imagine it into a slightly dystopian world, which allowed me to heighten the sense of danger, create a more terrifying atmosphere and really visualise the isolation and fear that SignKid felt. It was a way for me to connect his story to an audience who might be disinterested in another COVID-19 film."
To achieve this, Charlie, Micheal and Gabriella, together with the rest of the crew, learned as much as they could about the community, the difficulties faced in everyday life, and overall experience in the lead-up to the shoot.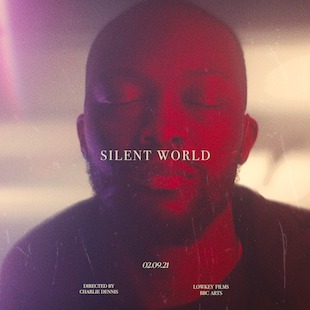 Deaf rapper SignKid
"Accessibility still remains a huge issue, and we wanted to highlight this with moments in the film," said Charlie. "Representation through sound and vision became a priority for the film and we tried to find the balance of creating a film for both the hearing and d/Deaf audiences.
"Using d/Deaf actors for deaf roles and even casting d/Deaf actors for roles that didn't require any sort of BSL was important to us - not only allowing us to represent the community on screen but allowing a far more communicative process on set. It can be a lonely place on set if no one else speaks BSL, and we didn't want anyone to feel isolated. We made sure we had multiple BSL interpreters at all times, and I worked closely with a BSL creative consultant to make sure the sign language was being performed exactly how speech is usually performed. The signing and the movements/expression are equally as important to get right as the way someone says a certain line of dialogue."
Silent World is currently available on BBC iPlayer, and it's hoped the 10-minute film will be shown on TV soon.
"This has been an unbelievable opportunity to push our story further, allowing a far stronger platform for a film like this to live," Charlie said. "It invites others to watch it where they might not have explored the short film platforms, helping us to engage a far wider audience to spread our message further.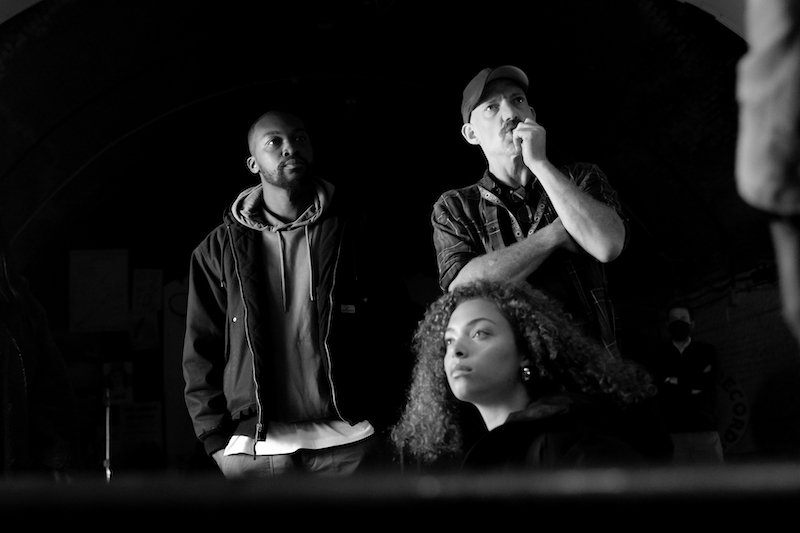 Behind the scenes of Silent World
"We just want audiences to come away with an understanding, empathy and an awareness of the increased difficulty that the D/deaf-community underwent throughout one of the most confusing and uncertain times of many people's lives."
Up next for Charlie, Micheal and Gabriella are a number of exciting projects. Charlie is working on an unnamed feature film this winter with director Micheal Winterbottom, while Gabriella is creating album artwork for artists for Universal Music, creating NFTs (non-fungible tokens), and working on a short film exploring the intergenerational relationship of immigrants in the UK. Meanwhile, Micheal said: "I've worked my way up from a runner to a Production Manager/Producer role, been with a phenomenal company for a year now, worked on loads of amazing projects. I have a brilliant, impactful short film, which I worked on with some of the best crew I've ever had, so it holds a special place in my heart, and the cherry on top of all of that, it's being showcased on BBC IPlayer!"
To find out more about our film courses, visit our course pages.