Through the eyes of...
a Graphic Design student
We've been asking our students about their UCA experience and what they get up to in a typical day, to show you what it's like to study here. This week, meet international student Weronika Moldawan, who's in her final year of her BA (Hons) Graphic Design degree at UCA Farnham.
23 Aug 2022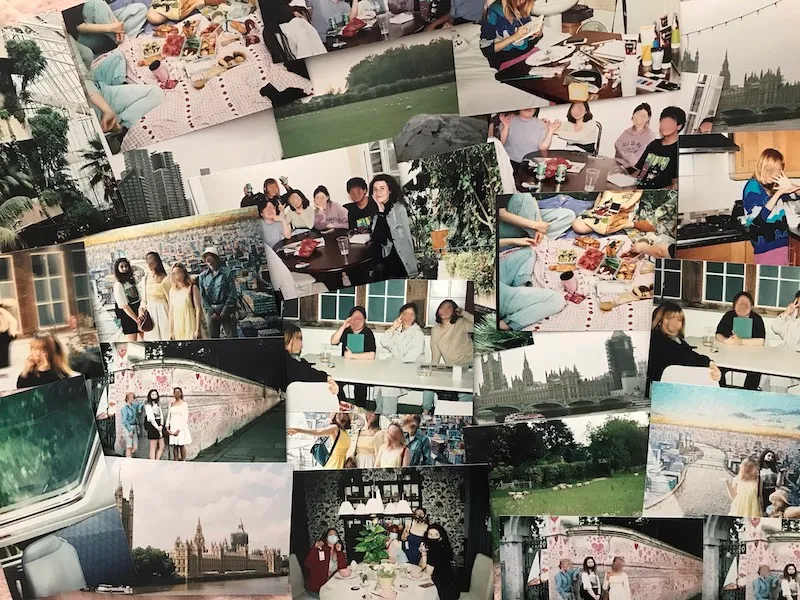 "Hi! My name is Weronika! The reason why I chose this specific course isn't actually straightforward! At first, I was thinking about studying Interior Design, as I have always been interested in similar subjects, but something didn't quite sit right with me. I decided to try Graphic Design with the motivation of learning a wider area of design that would let me choose a different path – in case I wasn't too good with interiors – but I ended up so glad I did! I discovered many fields of that I never thought about pursuing and I quickly found a subject that I immediately fell in love with and knew that it was something I should do.
"As an international student, I carefully researched different universities that would be worth moving abroad for. The most important thing to me were what practical seminars and workshops on offer, so that was the aspect I started my investigation with. Secondly, I needed to know that there would be high chances of me getting a job in a similar area after graduating, so I looked through the rankings, especially with high satisfaction of students doing a degree in Graphic Design. UCA was on top of almost all of the areas that were significant to me.
"I really enjoy how UCA is not your regular school. I never stress about waking up at 6am to make it to a never-ending lecture with tutors, which I am too scared of to ask any questions. We usually start our day at 10am with a quick chat with the whole group about our wellbeing and expectations of upcoming projects. After a practical lecture that introduces us to the subject we will be learning about during that week, we have a lunch break that allows us to rest or start thinking about ideas for our projects. Then, from 1.30 until late afternoon we have group or individual workshops, where we can put our new knowledge into practice and start working on specific tasks that together build the whole project. A typical day finishes at 4pm, but we have the opportunity to stay at campus as late as 8pm, which sometimes is a big help, if we want to study with the rest of the group and discuss our ideas together."
What piece of work are you most proud of and why?
"The project I am the most satisfied with is my process book I designed during the second year of my studies. The assignment was prepared for us to learn about ourselves as designers and deciding what is important to us when it comes to visual and practical aspects of our work. The process book was the last task in the project, and it was supposed to capture the whole process of coming up with our ideas and recording each step of completing the tasks. I wanted my work to present the main source of my inspiration – modern Japanese design. I make the book entirely black and white, with small additions of transparent neon pink elements that would give my work a sense of energy, while being kept in minimalistic style. I am still proud of how the book turned out and how I succeeded in presenting my design pillars in a visual way."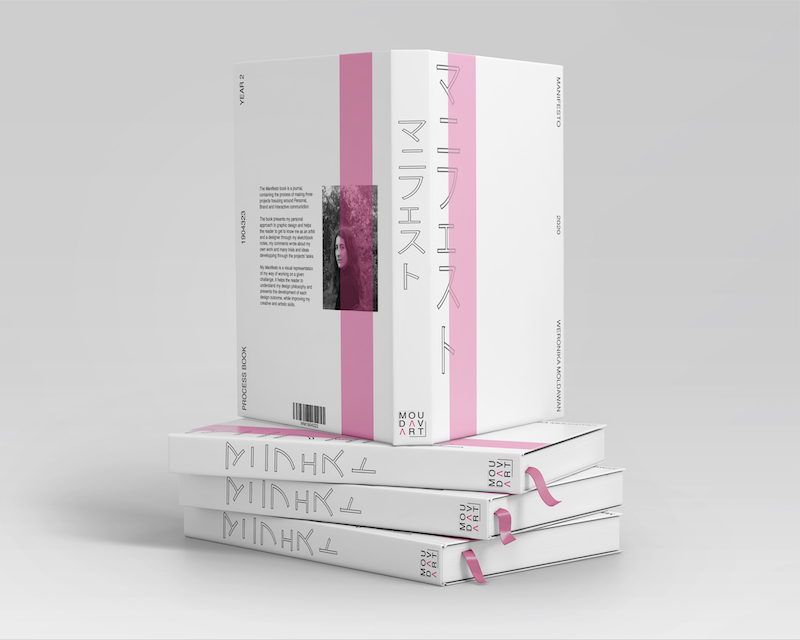 Weronika's favourite UCA project so far
What's your favourite UCA memory so far?
"Since I am a quite shy and introverted person, I thought that I would have a poor social life during my studies. So, when I arrived at the Freshers Week, I followed everybody's advice to go to as many Students Union events and join as many societies as I could to meet people in the very first week. And honestly, that was the best thing I could do! I met people in the same situation as me and we quickly became friends, which we still are today. Deciding to step outside my comfort zone and living the moment during Freshers Week really made me confidence and gave me a lot of energy to do my first assignments. Each year after that I still get excited about the Freshers, thinking about how I started my journey at university with wonderful people from other courses and how I didn't let my shy side take control and make me miss out on the proper student experience."
What is the biggest lesson you have learned at uni so far?
I can't quite explain this, but university really taught me 'life'. Living alone and being in charge of cooking, cleaning and paying the bills, while organising my time to balance university responsibilities, work and social life taught me to focus on my priorities and listen to my body as to when to take a break and not go crazy. Being at university in the environment of so many different people with different backgrounds also taught me to always have an open mind. I believe that being at university is possibly the biggest life lesson a person can take. I agree that we all grow through our whole life, but the time of being at university enabled me – and my friends – to gain knowledge in so many aspects that prepare us for adult life."
What's your go-to meal or recipe when cooking at home/halls?
"As I am a vegetarian, gluten-free and dairy-free person, the meals I cook usually take some time to prepare, but I always have some "emergency ideas" for extra busy days! My favourite one is a one pot pasta with mushrooms and veggies, as it only requires throwing a portion of pasta, couple of frozen mushrooms and – ideally – frozen spinach and broccoli, adding a splash of almond (or regular!) milk so the pasta is covered in half and putting a cover onto it. When you wait 15 minutes, adding your favourite spices and stirring from time to time, you will have a delicious meal that does not require washing a lot of dishes – you can eat straight from the pan if you want to save some extra minutes!"
Finally, what are your post-UCA career plans, and have they changed since you started your studies?
"At the beginning of my studies, I became so fascinated by editorial design – which is focused on visual communication through the display of information, for instance in posters, books, magazines, brochures and other kinds of print materials – that I decided that it is something I would really love to do professionally when I graduate. For now, my plan is to apply for a job in a fashion or furniture company (I already have couple in mind!) and design their promotional materials. It might not sound as fascinating for a person who never had experience with the technical sides of editorial design but working on applying the brand's principles and desired narratives on typography, colour palette, display of components and style of aesthetics is actually a practice that requires lots of research and thought through plans – which is a pure enjoyment for me!
If you want to know more about studying Graphic Design at UCA, visit our course pages.