Things to check out in Canterbury
on an Open Day
Make the most of your Open Day trip by checking out what the city of Canterbury has to offer.
23 Aug 2021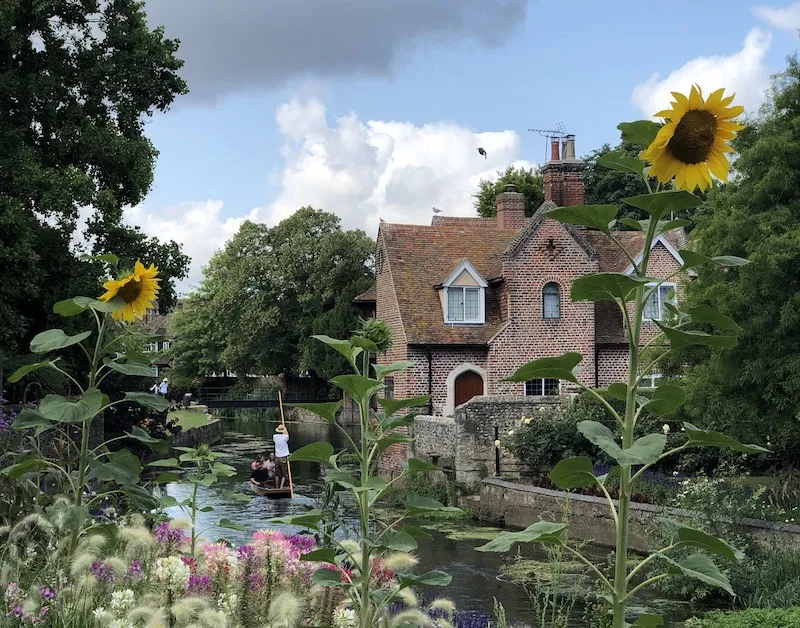 Punting on the Great Stour
The best way to become acquainted with Canterbury is through the river that made it. A beautiful way to see the city, drift along on a traditional punt as a tour guide points out the sights. There are several companies offering punt tours — one even offers ghost tours — but on average they cost around £10 per person and lasts roughly 45 minutes.
Canterbury Cathedral
This is where Chaucer's famous pilgrims were heading when they told their famous Tales. The first Gothic building in England and home of the oldest Christian murals in the country, no visit to Canterbury is complete without seeing the Cathedral. It has been an important site of pilgrimage since the middle ages, thanks to the infamously grizzly murder of Thomas Becket in 1170, and continues to welcome visitors from all over the globe. Although not used in the films, it was Warner Bros' first choice to double as Hogwarts in Harry Potter — and it's easy to see why.
Westgate Towers
Standing at 60 feet high, this is England's largest surviving medieval gateway and is, perhaps, the best place to see the city from with its glorious views. Built in 1380 to defend Canterbury during the One Hundred Years' War, it is now a museum and viewpoint. It even has its own award-winning escape room.
Westgate Gardens
Adjacent to Westgate Towers, this is one of the oldest parks in England. The Great Stour, speckled with ducks and punts alike, flows through, making this a gorgeous spot to just sit and watch the world go by.
Food and Drink
Canterbury has a thriving culinary scene with lots of independent cafés, restaurants and bars — you're never too far from a good meal. The Pound Bar & Kitchen, near Westgate Towers and Gardens in the old city gaol, is a particular favourite, having been voted Kent's Best Bar in the 2018 Muddy Stilettos Awards.
Lilford Gallery
A contemporary modern art gallery on Palace Street, there's always something inspiring to see at Lilford Gallery. Their catalogue of work includes big names like Banksy, Tracey Emin, Damien Hirst and Grayson Perry — but they are passionate about uncovering emerging talent too.
The Beaney House of Art & Knowledge
Lovers of art and history can't go wrong with The Beaney, largely regarded as the cultural hub of Canterbury. With state-of-the-art galleries, a library, visitor information, and café, it's a brilliantly interesting destination. They really do have everything, from Bagpuss to van Dyck to medieval pilgrim badges — and it's all free to see! (Special exhibitions might require a ticket)
Dane John Gardens
Dating back to 1551 and encompassing a first-century mound, the Dane John Gardens offer an escape from busy city life. You can wander the city walls, catch some entertainment at the bandstand, have a bite to eat the food kiosk, or simply relax in front of the fountain.
Book onto one of our upcoming Open Days.