Students explore
migration through art
In our final look at our postgraduate showcases for 2021, we spoke with three students who used their own experience – and those of others – to examine what it means to be a migrant in today's climate.
13 Oct 2021

The Connect the Dots series by Aishat Bello.
What is it like to relocate to another country? To leave behind everything you've grown up around to start afresh amid new cultures and environments, while keeping true to your roots? And to do it all amid a wider societal narrative that's hostile to the idea of "the migrant"? We took a closer look at three of our postgraduate students' work exploring these themes.
Connect the Dots - Aishat Bello
MA Visual Communications graduate Aishat Bello moved to the UK when she was 14 after her mother had already settled here. Her experience is what inspired Aishat to capture more stories about what it means to be a migrant, from those who have directly experienced it.
"As a migrant, my mother faced many challenges, and I only learned about this from recent conversations," she says." We were watching reruns of the TV series UK Border Force. My mum had expressed that before we were naturalized, when she would watch the show, it caused her a lot of anxiety and stress. Even though she had her papers, she felt very insecure, and she would feel bad for the people on the show who were forced out of the country or denied entry because they didn't have their papers."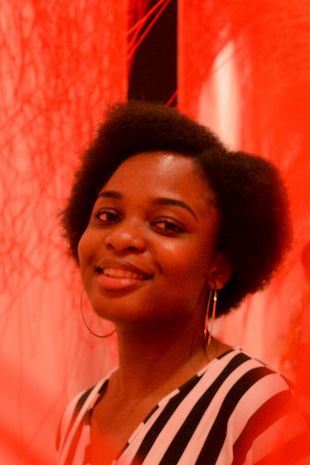 Aishat Bello
Aishat's project involved interviewing migrants and then using their words to create striking visuals and imagery about their experiences of wanting to be near family, or their sense of identity.
She has also set up a website for people to submit their stories, via Connectthedots.site.
"Unfortunately, when we think of migrants, the narrative usually comes with more negative undertones than positives – often perpetuated by the media and political rhetoric deeming migration problematic, and using terms to criminalize and dismiss the human experience," she said. "Connect The Dots seeks to show the big picture of what it means to be a migrant by telling the stories of people who have migrated for a better life."
Immigration, Memorabilia and Destinations - Nika Mamedova
MA Illustration graduate Nika Mamedova created an artists' book which replicates the idea of a memory or keepsake box, giving the "reader" an immersive experience of immigration through the medium of tangible documents and items.
Nika, who relocated to the UK as a child, wanted to recreate the sense of being between two homes. The result is a handmade book of six transparent segments containing printed personal thoughts, fingerprints echoing the processing of migrants information onto databases, and Risograph prints people and places left behind and new places encountered. These segments, and a map of all the locations Nika has been to, including a travel path from her original home in Azerbaijan to the UK, are kept inside a handmade Clamshell box. The book, the map and the box are all labelled in Nika's native language, Azerbaijani.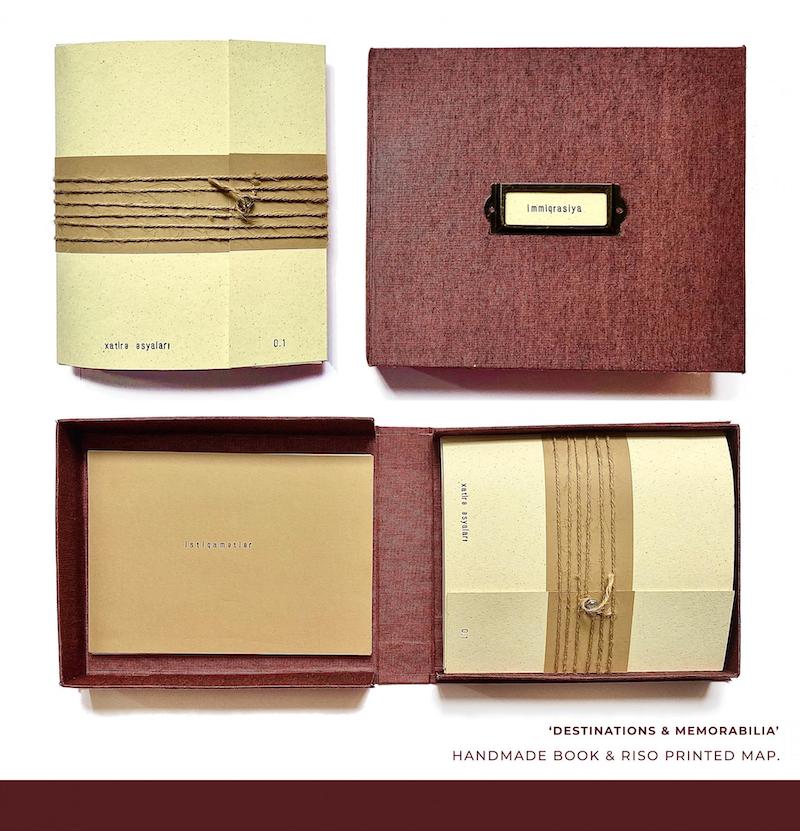 Immigration, Memorabilia and Destinations - the stunning book made by Nika Mamedova
"The aim of this work is to shine a light onto the risky topic of immigration, showing the journey, people and places that I came across during the period of adjusting to a new culture," she says. "It plays on the prying curiosity we all have as human beings into other people's lives, creating an intimate and voyeuristic experience of looking through the personal contents of my life.
"As much as there is still negativity around the theme of immigration, I wanted to break this stigma down. By encouraging viewers of the work to experience the intimate journey themselves, I hope that they make connections to their own journeys and see similarities with their own experiences, to see that people who go to another country have something to offer to society, too."
Dialogue with the Diaspora - Mofe Demuren
With his final project, MA Fine Art graduate Mofe Demuren wanted to take his own homesickness for Nigeria and give a commentary on issues affecting his home country today.
"After recently experiencing the Black Lives Matter movement here and the EndSARS movement virtually, I felt the need to provide candid commentary on the subject of gender, identity and police brutality, from a diasporan perspective," he said.
Mofe's work focuses on the influence that socio-political concepts and factors have on people who have migrated from their country of origin and settled in a foreign land. He does this through graphic style drawing and painting as well as etching.
Some of the most striking pieces of his project are black jerry cans etched with a range of scenes, titled Dialogue with the Diaspora, ('Ifọrọwanilẹnuwo pẹlu awọn ara ilu' in Yoruba).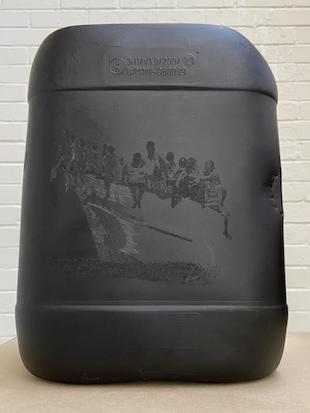 An etched black jerry can by Mofe Demuren
"This is because it is a personal cross-disciplinary project that flirts with the expression of sculpture to weave subliminal messages and provide commentary on a number of candid conversations," he says.
Other pieces are inspired by artists who interested him during the course, including Michael Armitage and Toyin Ojih Odutola.
"My hope is that viewers look at my work with intrigue and curiosity about the various conversations birthed out of each piece," he said. "Secondly, I pray the work generates a sense of peace regarding interracial conversations or conversations on the subject of race. Right now, the conversation on race and identity seems to be whitewashed, with censorship and overcritical views. The need for honest, genuine yet respectful viewpoints is an ever-growing factor in the struggle for equal understanding."
You can see more of these incredible projects and more at gradshows.uca.ac.uk