UCA alumnus spy thriller
selected for festival
UCA alumnus Chris Carr is enjoying success in the world of film, with his short being selected for a prestigious film festival.
09 Aug 2021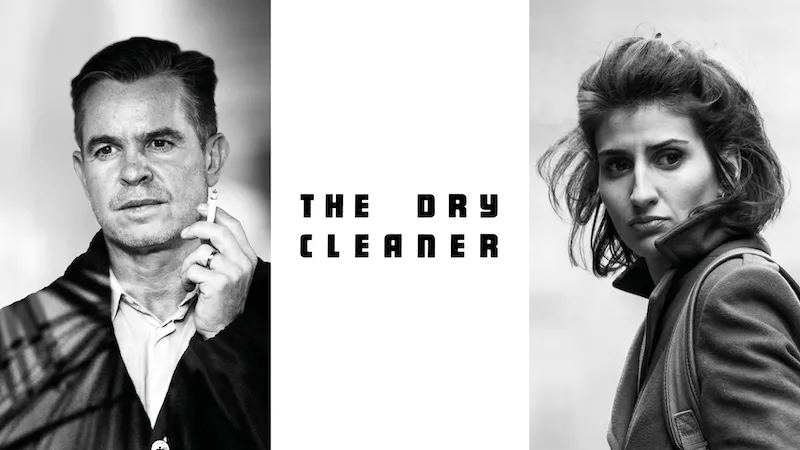 Chris Carr, a writer and director, is celebrating after his spy thriller, The Dry Cleaner, was chosen for the spotlight series of the SPYFLIX Film Festival, with online screenings for one week from 8 August.
The film was awarded an honourable mention by the festival's judging panel, which included Simon Cornwell (producer of BBC hit The Night Manager and son of John Le Carré), and Joe Wisneberg, creator of hit spy show The Americans.
The Dry Cleaner is a contemporary spy drama in which a British intelligence officer tries to recruit a Middle Eastern student who has links to a revolutionary group in her home country.
Chris, who graduated from UCA in 2006, is a specialist in short films and commercials, and most recently ventured into the world of podcasts, using them to spark and generate stories for his films.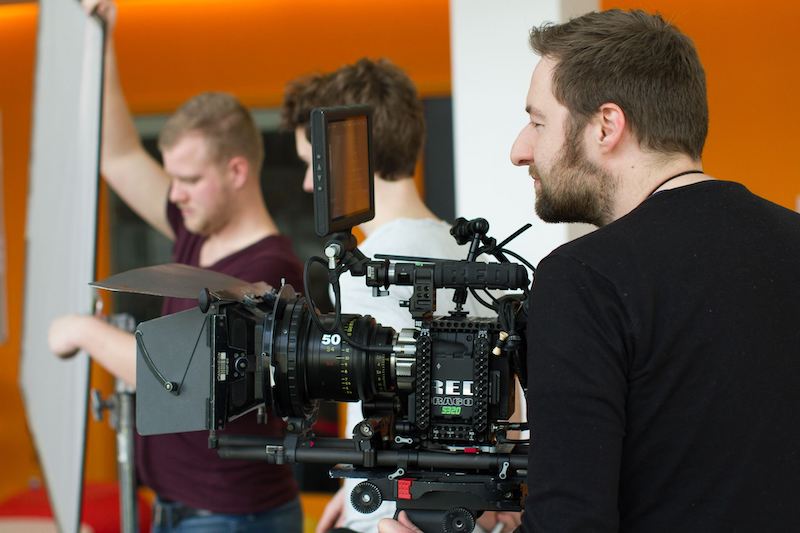 Chris Carr behind the camera. Picture by Marc Hankins
"To be honest, when I was younger, I had developed an anti-commercial mindset, which was not helpful to me as a creative," he says. "You hear a lot of people looking down on commercials, saying that you are 'selling out' by doing them, or blaming commercials for all sorts of things, but I came to realise that some of the greatest TV shows and films wouldn't have been made if it wasn't for the money or experience generated by making commercials. Many fantastic directors have directed commercials, and if you are fortunate enough to be able to balance commercials with directing other content you can make a very good living, work with some fantastic people from all over the world and have a lot of fun while learning on the job.
"Short films are also very important as a director. As with commercials, you get to experiment with tools, techniques and collaborators. Short films are an important step in finding and developing your voice as a creative. Also, they are traditionally seen as a way to build experience and a portfolio as a director."
Chris' says his experiences at UCA were influential in the creation of The Dry Cleaner – from the networking skills he gained to the lenses he used while shooting.
"During my time at UCA I learned a lot about different film lenses, and that directly informed my choices on The Dry Cleaner and my other work in commercials and online content," he says.
"The biggest takeaway from my time at UCA was the importance of building relationships, both with collaborators and others in the industry. Over the years I have collaborated with several classmates from my time at UCA. I produced the short film "Victims" (2011) with director Tim Berry, whose graduation film I shot while we were studying at UCA in 2005. Fellow classmate Paul Jones was the sound recordist for The Dry Cleaner, too.
"While I was studying, I was supported and encouraged by my tutors, Noski Deville and Chris Pinnock, to reach out to camera and equipment suppliers and build a relationship with them as early as possible. We went on trips to Camerimage in Poland and met the world's top cinematographers, we had masterclasses with Jack Cardiff BSC and Billy Williams BSC, we met up with representatives from Arri, Panavision and Kodak. All of that helped encourage us to reach out and talk to professionals and suppliers. This practice was so helpful and, on The Dry Cleaner, months before we started filming, I met with lots of companies and asked them to support my film. Some of them I had met with while I was at UCA, and that early relationship paid dividends on my film."
His podcast, Secrets and Spies, also helped in the making of the short.
"My podcast is a research tool for my writing and directing," he says. "The reason I started it was to make realistic films about espionage, and the biggest lesson for me, that has had the most positive impact on me as a writer and director, was to draw from the real world for inspiration, rather than relying simply on other fiction."
Chris is set to start work on his first feature film in 2023, and he's currently developing a slate of feature films and TV projects with writers and producers.
You can watch The Dry Cleaner on the Spyflix website until 15 August.