Smells like potential -
why clearing could work for you
Through the infinite wisdom and positivity of TV's favourite fictional football coach, Ted Lasso, we explain why clearing could be a great option for you in 2022.
16 Aug 2022
We're emerging - slowly - from the pandemic, and for many of us it's given us a new perspective on life and what we want to do with it. As you prepare to finish your time at school or college, your own plans on the next steps to take may well have changed too.
If they have, or your results turn out to be not quite what you hoped for, you may well be considering going through Clearing. Either way, it's good to be prepared and explore your options.
There's plenty of articles out there about the clearing process, and at UCA we have our own Clearing page where you can find out how it all works.
But we want to channel the eternal optimism of AFC Richmond's best football manager, Ted Lasso - and his wit and wisdom – to show you why clearing could be a great option for you!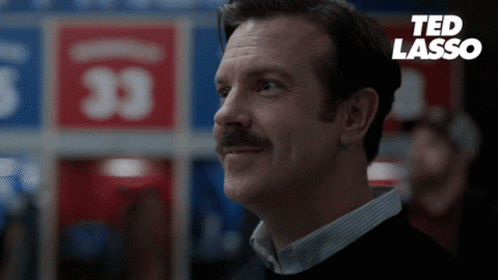 "You know what they say about best-laid plans?"
Let's begin by covering the main reason why clearing could be for you – your results. Of course, we want you to get everything you worked so hard for but, sometimes, something goes wrong, or there's an unexpected set of exam questions that throw you off and when results day comes, they're not quite what you need for your conditional offers. But - just because you might not get what you need, doesn't mean you have to miss out on the university experience you want.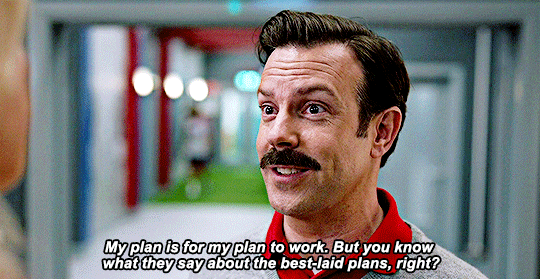 And that's where clearing steps in – it's a service you can use to find something else that better matches the results you have. Bear in mind that at UCA we look at the bigger picture, too. We take into account your portfolio, your personality and your passions – it's not all about some grades on a piece of paper. It's about what makes you tick and your talents and potential.
So even if the cloud of disappointing results looms over you, know that there's a silver lining through clearing that could get you on a new and exciting track, and just like Ted, turn any situation into a positive one!
"Let's give it a shot!"
Following on from our previous reason why clearing is great, are the opportunities it presents.
Let's say you had your mindset on becoming a fashion designer, for example, and had a conditional offer for a fashion design degree. But then you began to doubt that choice, that designing clothes wasn't what you really wanted to do, you wanted to create amazing patterns and sustainable fabrics. You could then call us during clearing and discover that we have a range of places on related courses – like BA (Hons) Printed Fashion Textiles or BA (Hons) Textiles, where you'll focus on creating new print patterns for textiles for future fashion brands, or sustainable fabrics and dyes, taking part in live industry briefs and work placements that set you on a path to an exciting career in a niche, in-demand, market.
So, the moral of the story is - clearing can open doors to the new and unexpected. Why not consider something different, like Ted and Coach Beard do with the Richmond boys, and see what can happen?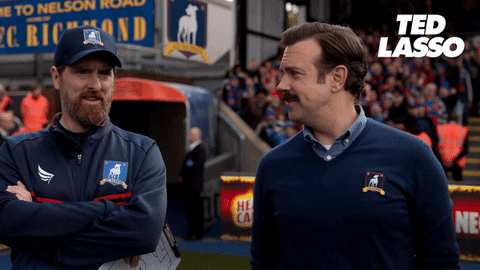 "You've got this!"
And we don't just mean change course with your education – we mean making a change in a far bigger way.
This pandemic has affected us all in many ways, but for a good few of us it's instilled a new sense of purpose, a need to live more in the moment and a desire to pour more energy into the things that make us happy, or that inspire us.
For you, that might mean that the original degree you wanted to do in English Literature has been replaced by the need to delve into documentary making, or that maths degree you've been considering isn't as important to you now as designing adaptive products to help people with medical conditions, or spaces to combat homelessness.
It's a challenge and a big leap to change at this point but that doesn't mean it's impossible – and, channelling the eternal optimism of the amazing entrepreneurial Keeley - we know you can do it!
If you feel the need to make a change, then seeing what courses we have available in clearing could offer you an option where the work you do could make a real difference.
"Believe!"
Finally, these last few years have been tough on all of us. It's left many feeling a lot of uncertainty and risk and some have pressed pause on their studies because of it. You still may be unsure on how to proceed and overwhelmed - and that's all totally understandable.
But if you're feeling ready to take the leap then clearing is the ideal opportunity to press play on your learning – there's no reason not to go for it if it's what you want!
Just make sure you're prepared when you call us – remember, our clearing page gives you all the details on what you'll need to have handy when you do get in touch, and tips on finding the course that's right for you. You could also check out our Virtual Open Day page, drop into one of our UCA Live events or even ask the students directly via our UniBuddy service if you want to dive deeper into UCA and all it has to offer.
Overall, the important thing to know is that – no matter what - it's really not too late. You just have to believe in yourself, and the exciting future your deserve!