Say Hallyu to UCA's
K-Pop dancers
Meet the talented members of one of our most popular student societies – the UCASU K-Pop dance club.
15 May 2023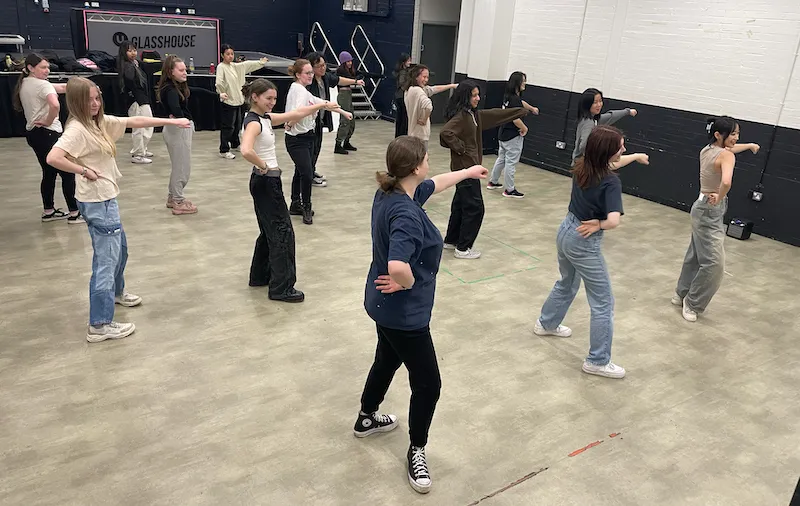 Whether you're a Stay, a Blink, an ARMY or an NCTzen, you'll know that the power of K-Pop transcends language, age, geography, and gender. It's a worldwide community, where many people find inspiration and friendship. And, for the members of UCASU's K-Pop Dance Club, it's fitness, too!
Above, K-Pop dance club presidents Eugenie Biron, Yuting Zhuang and Caitlin Visser at the front teaching the club a new dance.
This fledgling club was formed in 2019, went on hiatus during COVID and, thanks to two students – Mariah Thyes and Daria-Alexandria Croitoru – who restarted the club, it's now getting back to the business of learning choreography and filming routines, all for fun and the love of the genre.
The Farnham branch has around 40 members, and is run by three students who share presidential duties – Eugenie Biron, Yuting Zhuang and Caitlin Visser. It's so popular, it won Best Club at the annual UCASU awards last year – and it won again this year! It was also nominated for Best Club or Society Event of the Year for its Hallyu party.
We went along to one of the club's meetings at UCA Farnham to meet Eugenie and the other members, to find out more.
As they were starting the process of learning a new routine – to Rover by Kai – Eugenie told us: "The students who created the club did it because of the love and passion they had for K-Pop. They probably wanted to bring people together, around the same passion: music, dance and Korean culture.
"K-Pop is good at bringing people together. The number of communities that have been created and the amount of people I've met thanks to K-Pop is insane. It's like an outlet; because not only is it true art - with a great variety of music, a powerful use of dance, music videos that explore filmmaking and editing, an intelligent use of languages and more - but it is also something that saves you from loneliness. You meet new people - that is, artists from another part of the world as well as friends that you can see every day. Being in this community is like discovering another part of yourself."
Adarsha Rai has been a member from the start and has carried on attending despite graduating from Acting in 2020. "I love K-Pop – it's catchy, and the people here made me stay. I like to prove that I can actually do it, and there's video proof!"
Ellie Preece, a second-year Graphic Design student, added: "For me it was about meeting people who like the same things as I do, and getting some exercise as well. It's given me confidence."
Audrey Davison, a final year Acting and Performance student, said: "I love music in general, and I love the genre. I thought I'd just check it out and I've been here ever since! This is the place where I've found all my friends. We just clicked – and we always have fun."
You can become a member just by showing up to a session – they meet weekly in W40 at UCA Farnham – or you can sign up on the UCASU website.
And you can find out more about the club's activities at @ucakpopdanceclub - and if you want your club or society featured on our blog, just email us at communications@uca.ac.uk