Sasha's journey of
discovery with UCA
When you know where you want to study, and more importantly, what you want to study, becoming an international student is an easy choice. But there's still a lot to learn and much more outside of university to discover. We been chatting to five of our undergraduate and postgraduate students to find what it's like being an international student at UCA.
22 Sep 2022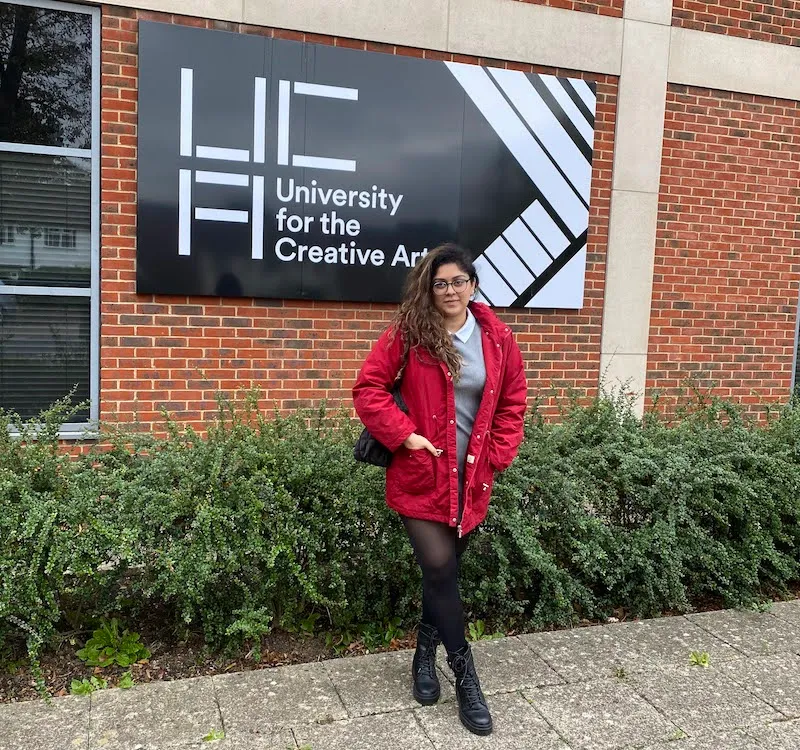 In the latest blog of our series, we caught up with MA Luxury Business Management graduate Sasha Miranda (pictured above), from India, to find out how she found the UCA experience.
Hi Sasha, thanks for chatting with us. So, what brought you to the UK, and to UCA?
"I visited the UK around four years ago, and ever since I was set on being able to live and study here. The fashion, culture and student life were the main driving forces for me to come and study here in the UK.
"As for UCA, it was the fact it has a Business School. I was sure I would be surrounded by people who knew and were experts in creative business and there would be no one better to help us learn about it on a Master's level more than the faculty at the school. Additionally, the subjects that the course was covering had ticked all my boxes.
"I always wanted to study and learn more about the luxury business. UCA was offering a well curated course for me to learn more about the industry."
How did you find your move to the UK and settling in?
"I got in touch with other students joining in the same year through the UCA Facebook group, where I got to know students who were in the same situation as I was. UCA was extremely helpful in helping me pick the right accommodation options, so I wouldn't have to worry about where and with whom I was going to stay.
"I love the number of art and cultural events that take place in the UK all through the year – there's so much to see and learn. I'm still not used to the moody weather though!"
What did you learn most from your course?
"Through my course, I realised my interests in studying consumer behaviour and sustainability in luxury fashion. It has allowed me to take my past experiences and mould it for better and more efficient use in my future career.
"It also helped me be independent and result-oriented, as Master's students should be. We loved studying in class with our professors and peers.
"The main thing I gained from being at UCA was being around like-minded individuals who understand the creative business and push you to do better."
What do you think was your best achievement as a student?
"Being on the Navigating Luxury conference panel discussion hosted by Dr Nadya Ostroff, being able to sit among industry professionals to discuss everything about the luxury fashion industry today."
Did you take part in any work experience while you were studying?
"I worked part time for a few months as a PR and Marketing intern for a company in London. It was an amazing experience to learn from the teams, travelling to London regularly and spending hours as a working professional really helped me see what my future could be like. I absolutely loved it!"
So, what's next for you? What's your career ambition?
"I want to kick start my career in the luxury fashion industry and apply all the knowledge and skills we've gained during our masters in a real life scenario."
Away from your course, what do you think has been the biggest thing you've learned being an international student?
"Independent studying and research techniques are my key takeaways from this course. On a more personal level, it has taught me time and money management. Being here has helped me become more organized and plan my day in a way to make the most of the hours we have. Living in a country away from the comforts of home allows you to discover yourself more than ever before and we as students should make the most of the incredible opportunity we have on our hands.
Finally, what advice would you have for other people looking to come to the UK and UCA to study?
"I would say, consistency is key – start working from day one and slowly but steadily you will ace your course. Have a support group of friends around you, it's the most important thing. And lastly, don't forget to explore and experience university life and the new country you're in."
If you're interested in studying at UCA as an international student, visit our dedicated page to find out more.