New Quant documentary has
UCA connections
UCA Chancellor Emerita Dame Zandra Rhodes and senior lecturer Terry Newman are key contributors to a new documentary film about the iconic fashion designer Mary Quant.
03 Nov 2021
Quant, directed by English actress, producer and fashion designer Sadie Frost, had its premiere at the recent London Film Festival and explores the life, work and legacy of the 60's fashion pioneer.
Among the footage of a vibrant and free 60s London and icons of pop culture, there are contributions from the leading lights of British fashion culture, from Vogue editor Edward Enninful to Vivienne Westwood.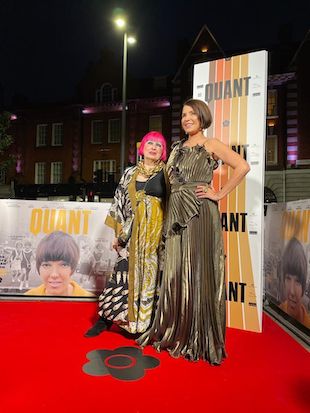 Chancellor Emerita Dame Zandra Rhodes with director Sadie Frost
Also among the stellar names are Dame Zandra, who studied at the Medway College of Art where her mother was a professor, and who became our first Chancellor between 2010 and 2018, and Terry, who is a lecturer in magazine journalism at UCA Epsom as well as a journalist, shopping editor and TV presenter.
"I was approached during lockdown to contribute to the film by one of the producers and I was very keen as I felt that a documentary about Mary Quant was long overdue, and her story needed to be told," said Terry. "I have been obsessed by Mary Quant for a while as she was the first female English designer to rock the world with her designs. I talked about this in the film along with the context of the times she was first working and how this was so pioneering.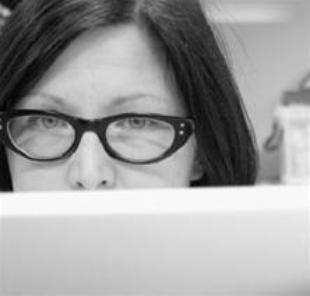 Terry Newman
"Edward Enninful gave me my first break at i-D Magazine when we both worked there and so I was thrilled he was in the film too. He has great insight about Mary - go and see the documentary and find out all about it! It's testimony to Sadie Frost's reputation that she had so many fabulous contributors, so I was very happy to be a small part."
Terry, who attended the premiere at the BFI, said she is delighted that Mary Quant's story has been told through this documentary.
"I am delighted that her story has been portrayed so eloquently, and her legacy has been so artistically established by Sadie's work," she said. "I want viewers to see how much of a fashion phenomenon she is."
You can see Quant in cinemas from October 29.