Meet the UCA students
changing the face of fashion
These four students already made the GFF Awards shortlist. But they all have an even bigger goal: making fashion more diverse.
03 Jul 2020
Among the 21 UCA students shortlisted for this year's Graduate Fashion Foundation (GFF) Awards are several who have used their work to start conversations about wider issues, like racial representation, LGBTQ+ and disability awareness. We met four of them to learn more about their missions to change the fashion landscape.
Hannah Bamgbala — Young, Kool and African
Thamesmead-based Hannah went into her Fashion, Media and Promotion course thinking she'd graduate and land herself a job in editorial photography. But her game-changing final project has shifted her ambitions — she now sees herself as a creative stylist and disability campaigner.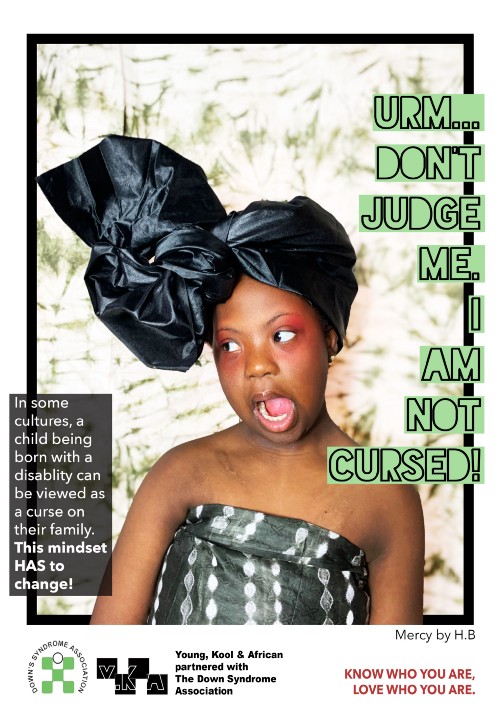 Hannah's project, Young, Kool and African, was inspired by her sister, Mercy, who has Down's Syndrome. For Hannah, having a sibling with the chromosomal condition has highlighted the fact that Black people and others from minority ethnic communities with disabilities are so often under-represented in the wider media, and even by charities.
In response to this, she created a website with instructional styling videos and fun features, and — tapping into Mercy's love of fashion — styled a series of photoshoots with her, using the images to create stunning campaign posters.
Her work caught the eye of the Down's Syndrome Association on Instagram, and they're now featured on the association's website.
"For Mercy, every day is a runway," Hannah says. "She'll change into several outfits a day — she adores fashion and make-up. She's a great model and I'm continuing to photograph her so she's got a portfolio, in case she wants to go into modelling. I'm looking into whether we could get her signed up to an agency that has disability models on their books.
"But right now, if you have Down's Syndrome and are Black — or from another ethnic minority background — there is no one visible for you and your family to relate to, and that has to change. I'm hoping to work with the with Down's Syndrome Association more in future, to help create more diversity in its marketing and social channels. If people see more people like them on these pages, it might open some doors for them."
Hannah is also planning on offering her services to a charity in Nigeria that helps families with children who have autism.
"It's all about making sure people feel seen," she says.
Seyon Amosu — Style from a complex perspective
Seyon was born in Nigeria before moving to the UK at the age of 15, and his life experiences inspired him to create a new and exciting fashion style that speaks of Nigerian, migrant and LGBTQ+ cultures, melding them together in colourful and thought-provoking fashion imagery.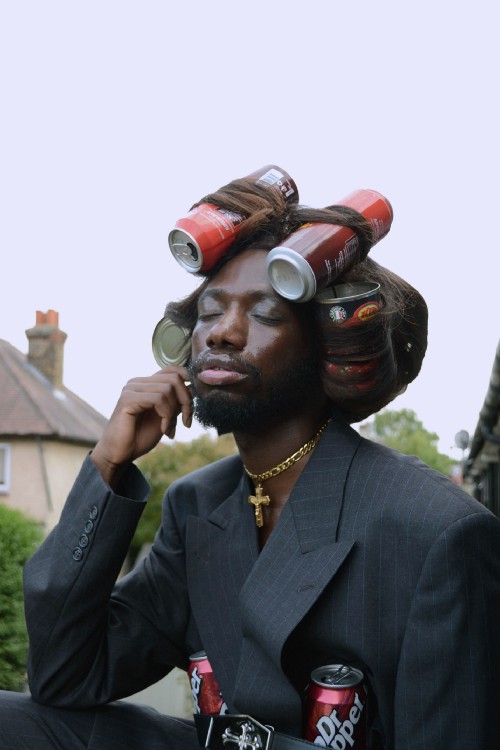 Ever since Seyon started his Fashion, Media and Promotion course, he's been interning — working backstage at London Fashion Week and with top clients like Dazed Beauty, Nike and Notion Magazine. He says his styling is influenced by his strict religious upbringing, the 1980s New York black queer and ballroom scene, and the Noughties Nigerian Cinema aesthetic (Nollywood).
"Through studying at UCA and working my way around the industry, I have learned so much. It's very important to be your authentic self, and also to be patient, diligent and experienced, and to find your tribe," he adds.
Seyon's final project, nominated for the Fashion Styling & Creative Direction Award, features three styled photoshoots, one exploring Nigerian culture and sex, a second looking at fashion in isolation, and another showcasing a range of hats.
"My project really only speaks to a fraction of my experience as a queer African immigrant with a complex identity," he says. "I wanted to tell our story and share those complex experiences that we face as African queers and African queer immigrants. I believe that the industry needs more diverse cultural representation and richness, and that I can bring that to the table. Most importantly, I am me — my experience in life, from childhood, is what has led me to this moment. It is unique, and it informs my work and interests."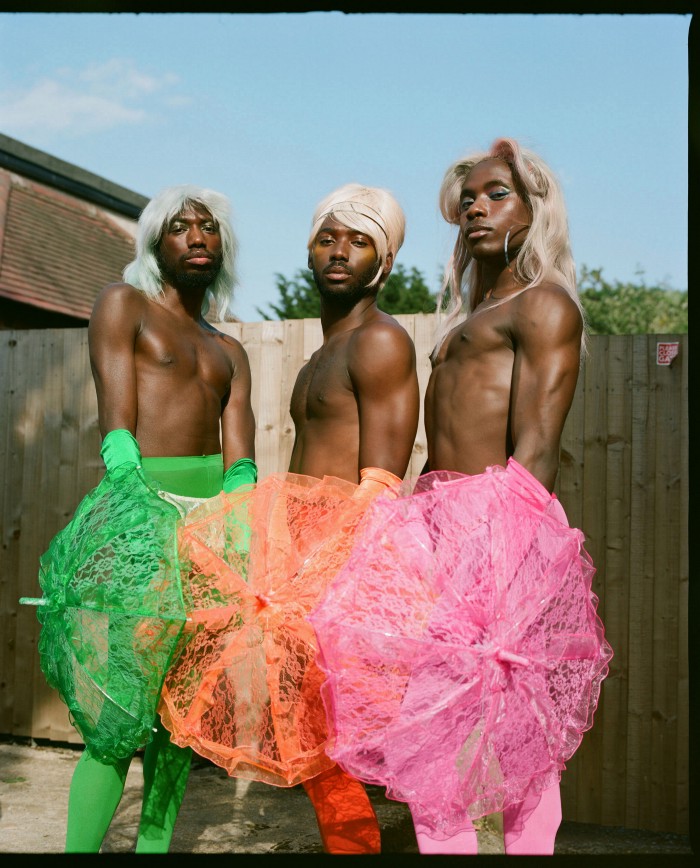 On his GFF nomination, Seyon said: "I felt really honoured and humbled. It showed me that I am doing something right and that my work has a place in the industry. I'd love to use the opportunity to give a voice to those who don't have one, and to tell more of those stories that matter to me visually, through my work."
Daniel Robinson — Family values
Another Fashion Media & Promotion graduate, Daniel involved his family in creating his final major project, a series of shoots inspired by poems, each with identity as its central theme.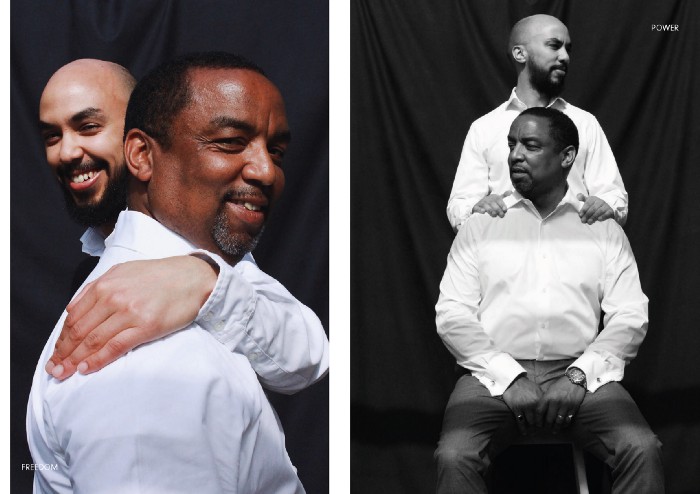 South Croydon-based Daniel said: "I was able to organise and style my family into different stories that fit their characters. Growing up mixed race, I've always been in touch with both sides of my heritage, which has helped me stay open to experiencing cultures outside my own, and learning about them."
Daniel wants to see better racial representation at all levels of the industry.
"It's not as diverse as it should be," he says. "There aren't enough Black or POC photographers, stylists, models, make-up artists or editors in the editorial industry, and that is shown in the content that's produced. If you go to buy a magazine in a shop, when you look at all the covers together you can see there's a clear lack of representation that continues across the brands.
"Publications also need to prioritise diversifying their teams and putting Black people and people of colour in positions that allow them to make positive change throughout the company, and not just in the images."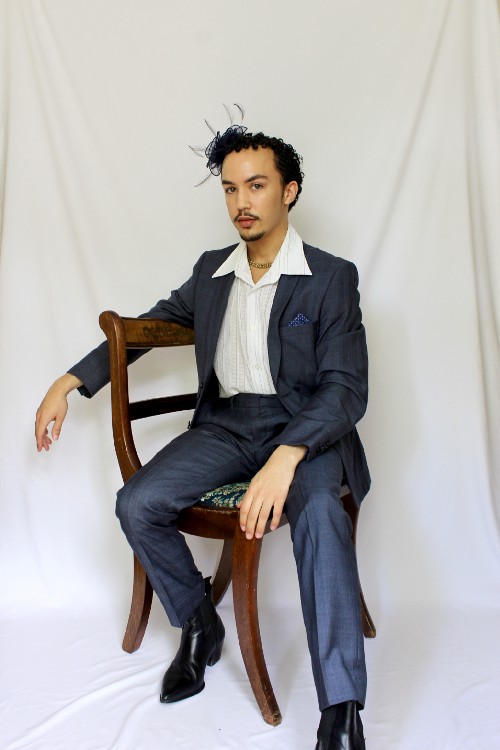 Daniel has ambitions to become a Creative Director or Fashion Editor for a magazine. "I enjoy creating and curating images to tell a story or fulfil a purpose," he said. "All that I can bring is myself. I believe I have an inclusive, and optimistic energy. I'm personally very motivated by the people I see doing this at a higher level, so I think that more young people are needed in the industry to reflect the issues that we actually care about — whether that's social things, like race and gender, or even mental, political or environmental issues."
Daniel is nominated for two awards — Fashion Styling & Creative Direction, and Fashion Communication Portfolio.
"I was super surprised to be nominated for two awards, but really proud. If I win, I'm hoping I'll be able to go on holiday to celebrate — if not this year, then maybe next."
Latisha Campbell — PR is for everyone
Having worked for a London PR agency after leaving school, it seemed only natural that Latisha Campbell's final project would be about the industry — and how she would set up her own business.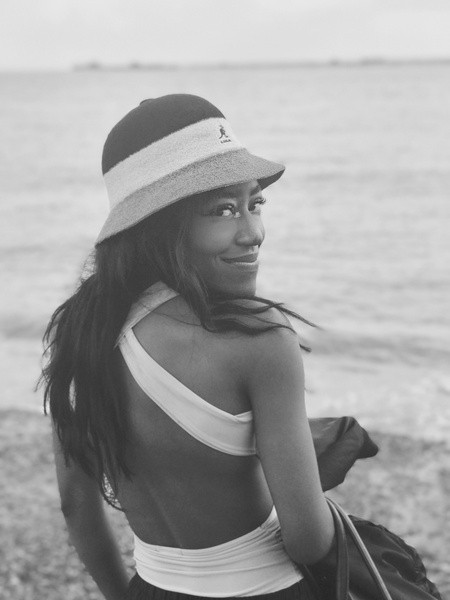 Latisha, from Billericay in Essex, decided to join UCA after the agency she worked for closed.
"Initially I didn't want to go to university, but after my job finished I thought: 'why not?" she says. "I'm so glad I went for it. It helped me develop as a person; I learned so many new skills and got to meet lots of visiting lecturers, and learn about networking.
"In the first couple of years of the course I had some personal setbacks, but I was able to work really hard and pull it back in the final year, and I feel so proud of myself — getting the GFF award nomination is amazing. The judges see potential in me — and if they see that, then I reckon I have a chance."
Latisha is up for a Fashion Marketing Award for her project — a proposal to launch her own agency, Abundance PR, which aims to promote emerging talent from diverse backgrounds.
"I feel like most PR agencies play it safe," she says. "There are so many amazing young creatives out there from all different backgrounds, all trying to seek success through their vision. Why cut some out due to their ethnicity?"
Latisha did her major project to learn more about entrepreneurship, and to give herself something to aim for in the future — and her agency proposal stands out because it aims to attract not only a diverse community of clients, but a diverse business structure.
"The most important part is to ensure that you are authentic and really care, because many in this industry can play the game and "act as if" they do.
"I've also been lucky so far, in that the agencies I've worked and interned for were really diverse, a great mix of people," she says. "But I've been shocked to find out that only 9% of PR executives are from Black or minority ethnic backgrounds. Perhaps some people from these communities feel scared to apply, or that PR just isn't for them as an industry, but I think that if it's what you want you should go for it — it's exciting, fast-paced, and you have the chance to get involved with amazing brands, helping to tell their stories. If you have the talent, then just go for it. You don't want to have any 'what ifs' — you ARE worth it!"
To find out more about our fashion courses, visit our website.