Mature student Vicki's
second chapter at UCA
"For the first time, I felt like doing something with my life that I enjoyed was a possibility," says the Ramsgate-based visual artist.
04 Sep 2023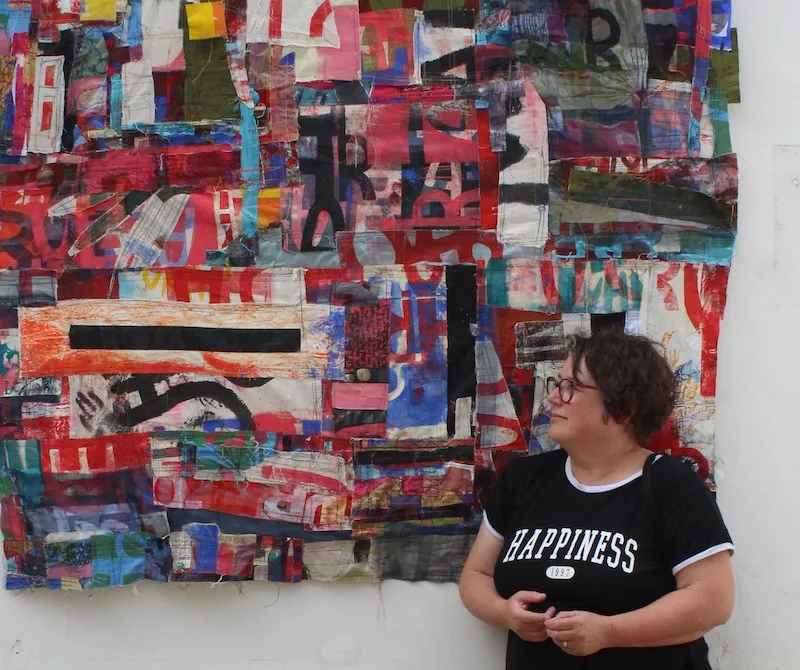 Learning is an individual journey – no two experiences are the same, as mature student Vicky Salmi will tell you. While her UCA story started a little differently, she found that trying something new quickly opened up a whole new direction.
Vicki, from Ramsgate, is currently undertaking an MA in Fine Art at UCA Canterbury. She began her studies at UCA with a free outreach course in Herne Bay aimed at people without any artistic qualifications.
"I've always been creative, but never thought that a creative career was for someone like me - only something that could be a hobby - and I ended up trapped in unfulfilling office jobs," said Vicki. "Then I was made redundant. I ended up working part time, which meant that I could attend the Herne Bay course. It was this course, and the teachers on it, that really made me see that I had potential. I didn't want it to end, but I was encouraged to apply for the Access course at UCA Canterbury, and given information on funding it. I wasn't even thinking about a degree; I just wanted to carry on the experience I was having and had missed out on.
"For the first time, I felt as though doing something with my life that I enjoyed and wanted to do was a real possibility, even at the age of 50. I had intended to study Fine Art, but decided to explore Fashion and Textiles for my Access course, which led me back to a BA in Fine Art. When I came away with a first-class degree and the desire to sustain this momentum, I decided to progress on to an MA."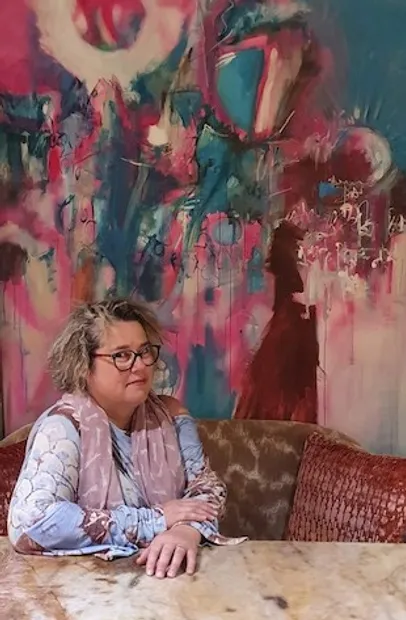 Vicki is now a multidisciplinary artist, working mainly in painting, printing and textiles, but also experimenting with digital and sound. She's also the recipient of the UCA Nick Jack Scholarship.
Accessibility was a key factor in Vicki's initial decision to study with UCA. Personal commitments meant moving wasn't an option, so proximity to home was important. She progressed from her Access course to her BA through the Diploma2Degree scheme that UCA offered at the time, which allowed her to bypass the UCAS application process. After completing her undergraduate studies, she was tempted by MA courses in central London, but decided to stick with Canterbury at postgraduate level.
"I decided on Canterbury because I liked the idea of continuing my studies in an environment that I had already done well in, and was familiar with," she says. "I'd already had tutorials on the BA course with tutors from the MA, and found them inspiring. I also knew that commuting to London would leave me with less time in the studio, and less budget for materials to work with!"
Although her UCA experience was affected by the COVID pandemic, Vicki says her highlights so far have been experimenting in the studio spaces and workshops, and sharing those spaces with her peers, alongside the support she has received from UCA staff.
"Being here allowed me to give myself permission to be part of the wider creative world," she said. "I've had support from some amazing tutors, technicians and Gateway staff that are experienced in dealing with a varied set of circumstances across a diverse student body."
So what advice would Vicki give to anyone considering returning to study as a mature student?
"I would say that if you are looking at this, you are obviously interested. And if you are interested, then you should just do it. It's a cliché, but life is too short to harbour regrets about what you haven't done while you can still do it!"
"Being a mature student is great because you are most likely very motivated, and this is a superpower that many younger students don't possess. If you are worrying about sticking out as a mature student, you can forget that concern; it really doesn't matter at UCA. My experience is that so many of the younger students get a lot out of the mature students being on the course, and vice versa. I know that, particularly in Fine Art, you won't be alone - the subject always attracts a few of us."
Vicki is currently preparing her work for Art Box in Margate, and has another show, Accidentally on Purpose, coming up next month.
"I never thought I could do it, but I have. It's been emotional and hard work, but it's been the best hard work I've ever done."
If you're interested in any of our courses, visit our course pages – of if you're a mature learner and interested in a taster first, check out our outreach guide.