Johanna's book examines
legacy of German division
MA graduate Johanna Bender hopes to start conversations about the long-term impact of division with her book about life on either side of the Berlin Wall.
30 Sep 2021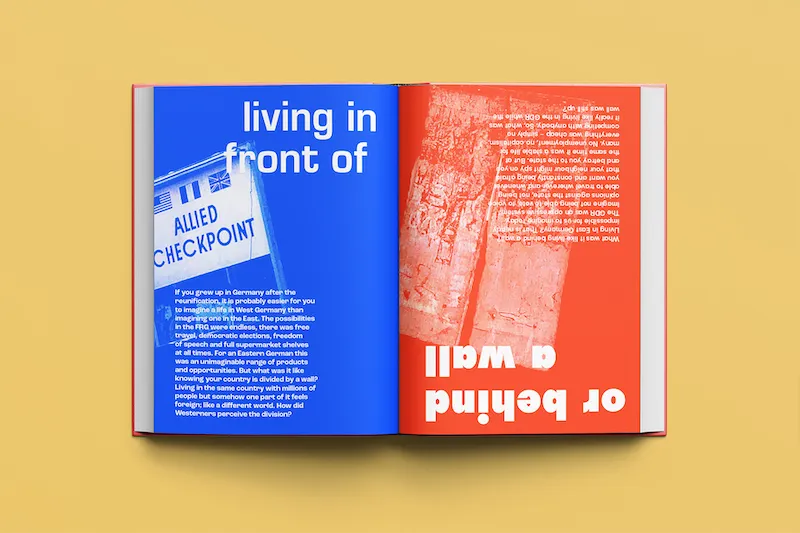 A thought-provoking book about the split of Germany is the final project of MA Graphic Design graduate Johanna Bender – and it's her hope that educating young people about the divisions of the past will help them understand their impact and prevent them in the future.
German-based Johanna wasn't even born when the Berlin Wall fell, but a brief on her course called 'Nationhood' led her to examine her country's recent history.
"I had recently watched the TV show Deutschland 83/86/89, which focuses on life in East and West Germany during those years. This made me read up more about the topic, and I realised that there are so many things I didn't even know, especially when it comes to many East Germans' intergenerational trauma and loss of identity," she says.
"Since I'm from West Germany, and wasn't even born when the Berlin Wall fell, I had never really engaged with the topic before, except in history lessons. I have the impression that many people think this is an issue of the past, but they don't see or want to see that this division heavily shaped the country and still influences it today. Unfortunately, there are still so many stereotypes and misconceptions and I believe that, in a way, the wall still mentally exists in many people's minds."
For her project, Johanna designed a book for schoolchildren outlining what life was like on either side of the Wall, using stark colours and turning the text around to so the reader has to turn the book 180 degrees to read each side of the story.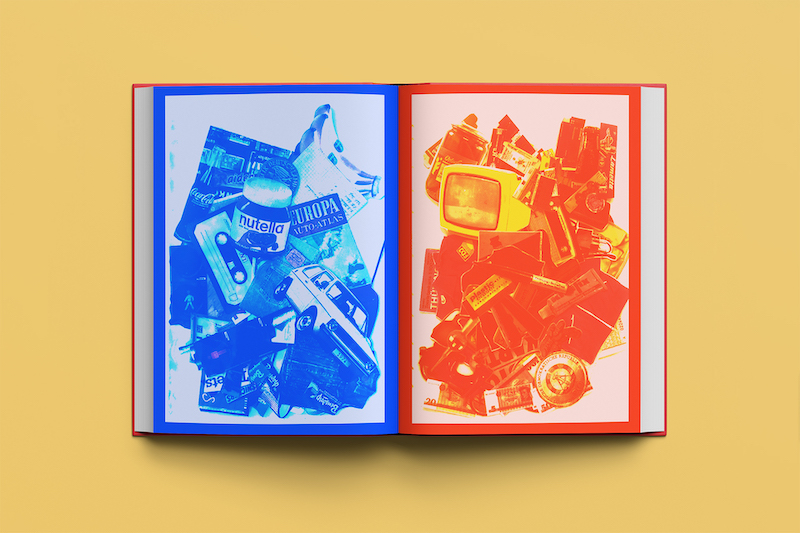 The centre spread of the book shows a collage of typical household items on either side of the Berlin Wall.
The book is split into the following categories: "Living in front of or behind a wall", "The fall of the Berlin Wall", "The old and the new normality", and "Are we really one nation today?". Students can scan the pages with their tablet or smartphone and, through AR technology, access audiovisual content that supports the printed quotes to bring them to life.
Together with an information leaflet, Johanna wants the book to be part of a school workshop to teach students about the issue, spark conversation, and encourage readers to think about the human impact behind the historical facts.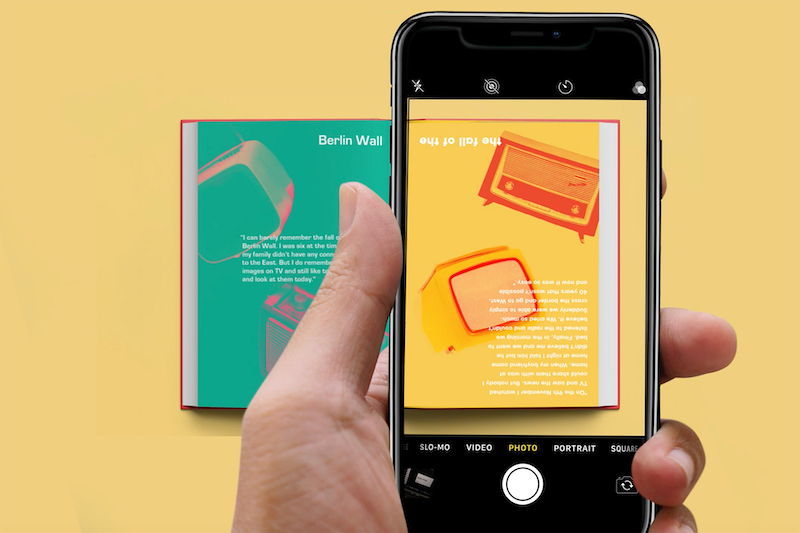 An app goes with the book and uses AR technology to bring quotes to life.
"For colours and typography, I was inspired by designs that came out of the German Democratic Republic (East Germany) at the time of the division. It was very interesting how the state managed to produce such nice outcomes, even though there was a lack of money for font or photo licences.
"I thought it would be nice to reference this in my design as well. And as I am generally a minimalist designer, the GDR design really appealed to me," she says.
"I decided to make the book readable from two sides, so that the readers can immediately compare them. For example, they would see that, after the reunification, most people from the West said nothing changed for them, whereas people from the East have so many different perspectives on it because, for some, their whole existence was basically taken away overnight. I think the book flipping system makes the differences more memorable."
It's Johanna's hope that the book inspires readers to see both sides of the story of Germany, and other stories of division, and consider their long-term impact.
"I hope that people start seeing how this period of history influenced our country today. There are still so many things that divide East and West, whether it's economically or politically, but it is more important than ever that we critically engage with this issue, reflect on it, and also think about what we can do to grow together as one nation," she says.
"I think we should be more open to listening to each other's problems, educating people and, especially as West Germans, try to understand Eastern perspectives and create space for them to be shared."
"The effects of the division and reunification show us how important it is to know and reflect on our history – these are not events that live solely in the past - they still influence the current state of things and affect every single one of us."
"In a country like Germany especially, history has shaped us – we can't just ignore it. Just because we personally didn't cause these historical events, that doesn't mean we don't have to deal with their effects.
"Additionally, I think it is essential that we don't stop talking to each other, even though we might have very different opinions or views. Of course, it's important that in conversation we always stay open-minded, respectful and try to understand where the other side is coming from, but I think by talking to each other we can also learn new things and sometimes find a common ground."
Now Johanna's time at UCA has come to a close, she's looking to remain in the UK to establish her career.
"I really love print and typography and would love to work on projects that help to educate people on history, politics or societal issues," she says. "So, I hope there is a place for me somewhere in that world."
Johanna Bender
"My time at UCA was amazing. I honestly didn't know what to expect when I came here, because it was not only a new university and new people, but also a new country. And obviously moving to a new country in the middle of a pandemic and starting the course completely online is not easy, but I can say I am really happy I did it. I met such amazing people from all over the world and our tutors really supported me."
To find out more about MA Graphic Design visit our course pages, and to see more of the amazing postgraduate showcases, visit our Online Graduation Showcase.