Jay's on mission to
diversify beauty
After experiencing first hand the challenges of entering an industry not known for its diversity, UCA fashion graduate Jay Thapar is working to drive representation of different identities through his dream job in beauty PR.
30 May 2023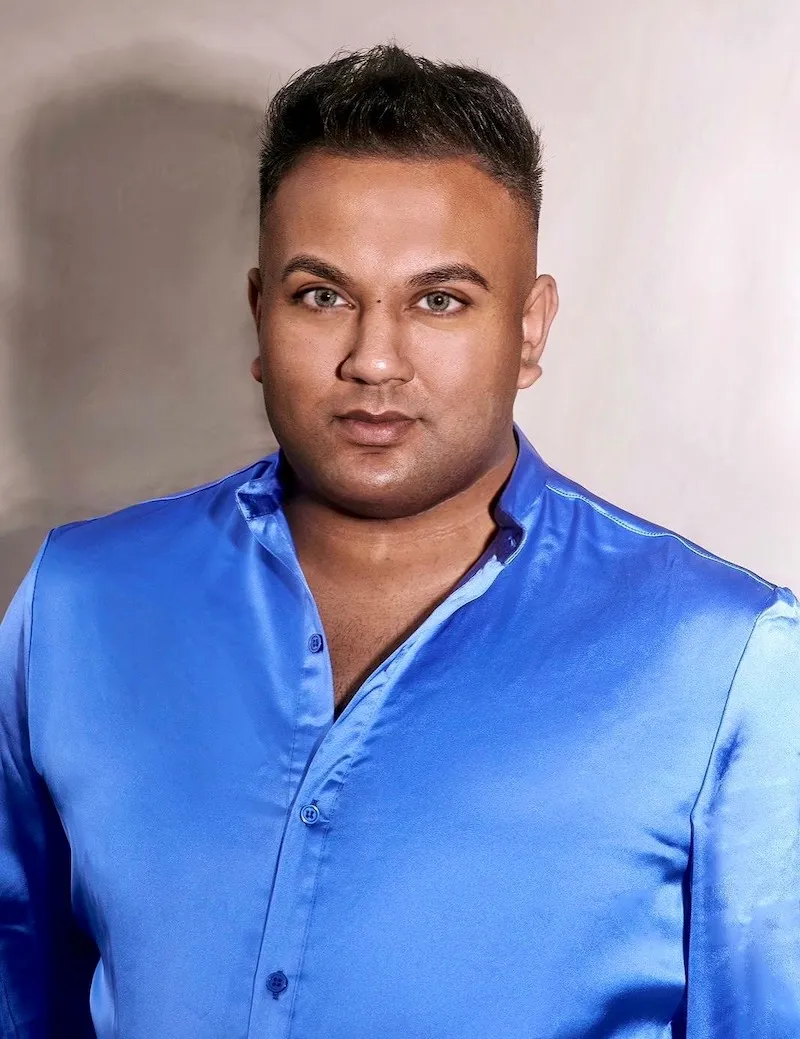 As a young British Indian boy living in the Midlands, Jay Thapar says his dream of working in the beauty industry felt more than distant – it seemed unachievable. But thanks to his extrovert personality, boundary-busting ideas, and a team of UCA tutors who encouraged him to be himself, Jay is now living that dream.
Jay, who graduated from UCA in 2017 with a degree in Fashion Promotion & Imaging - now BA (Hons) Fashion Image & Styling – is now the Senior Advocacy Manager at Youth to the People, a brand recently acquired by L'Oreal.
In this role, he is in the position to be able to increase the visibility of people with a whole range of marginalised identities – fousing on everything from body shape and race to religion, sexuality and gender identity.
"I wanted to work in the beauty industry, but honestly, I never thought I could get in," he says. "The market is saturated, it's hard to break through, and I wanted to celebrate diversity in my own work. I got headhunted for this job and four months in I still pinch myself – to be in a position such as this and be able to implement change on a global level is huge."
Jay's role is PR-based, but he works from an advocacy perspective – so that means lots of work with influencers, celebrities, legal teams, agents, make-up artists and media. It also means mentoring junior members of staff and writing features for management.
"No two days are the same, and there's a lot going on," he says.
Jay's first foray into a PR career came during his studies, when he undertook a placement with fashion brand Diesel, which went so well that he ended up continuing the internship on a part-time basis for a year. Then, as he graduated, he started a new role with Premier Model Management as a talent agent and publicist, working alongside co-founder Carole White.
Having gained experience of PR from the celebrity and talent perspective, Jay took a press officer's role at Superdry and did some freelance work, before joining a PR agency specialising in alcohol brands.
"My advice would be not to look for roles with a brand because you think it's cool, but to go to a place who will really celebrate and value you for who you are," he says. "I mean, I'm never going to be suited to some luxury brands but, for me, Youth to the People is not just a brand, it's a family, and you need to go somewhere you can call home. I want to change the world with the brand and I know all my colleagues also feel the same way about it too. There's a brand out there for you if you look for it!
"And don't limit yourself thinking you can only apply your skills within fashion brands, either – there are so many other industries that fashion has associations with, and by widening the industries you can work in you'll get a much more desirable black book for when the dream job finally comes."
Coming to UCA Epsom was a leap for Jay, who has spoken before about the very different ideas his family had about his future. He told the Coventry Telegraph that "they were afraid that I wouldn't get a job [in the industry] because I'm Indian Punjabi."
"[Starting at UCA] was a bit daunting," he adds. "I knew I would stand out even more than I did at home, and my experiences would be different to others'. When I was presenting ideas and concepts, it was a bit of a shock sometimes: people didn't really understand – there wasn't that relatability. There weren't many Indian boys.
"But we all learned from each other, being open-minded to different lifestyles, cultures and classes. You can't be inspired if you're not open to other people's ways of living. And there were cultures represented that I'd never experienced before, either. For example, I learned so much from Latino and Hispanic students; I learned there were many sub-cultures within the black community. It opened my eyes, and I developed the best friendships. In fact, all my best friends now are people I met at UCA."
Jay pays particular tribute to his tutors, who he says continually pushed him outside his comfort zone.
"At UCA, I never felt isolated. It was so welcoming, and we were encouraged to be ourselves and bring freshness to the university. They wanted us to step out of the box – I mean, my final project was about the links between fetish and fashion and I made a coffee table book about my undercover trips to all kinds of clubs in London that I would never have known about before. Now, when I do job interviews, I tell them about my work and it's a real talking point. My creative brand is quite different, and I like to break stigmas!
"It was all a huge step out of my comfort zone, but my tutors were encouraging and supportive. In particular, I'd like to give a huge shout-out to [UCA Senior Lecturer in Critical Theory] Lynda Fitzwater, who was the reason I chose PR as a career. She really spotlighted that, by working in casting and PR, we have the power to fuel diversity, which is so important to me. I could listen to Lynda all day: she is one of the most inspirational people I have ever met."
To find out more about our fashion courses, see our course pages.