Into the Uknown
– a safe space for therapy
A virtual safe space, accessible any time and personalised to help those going through trauma – specifically sexual assault – has been designed by a BA (Hons) Fashion Management and Marketing graduate.
06 Jul 2022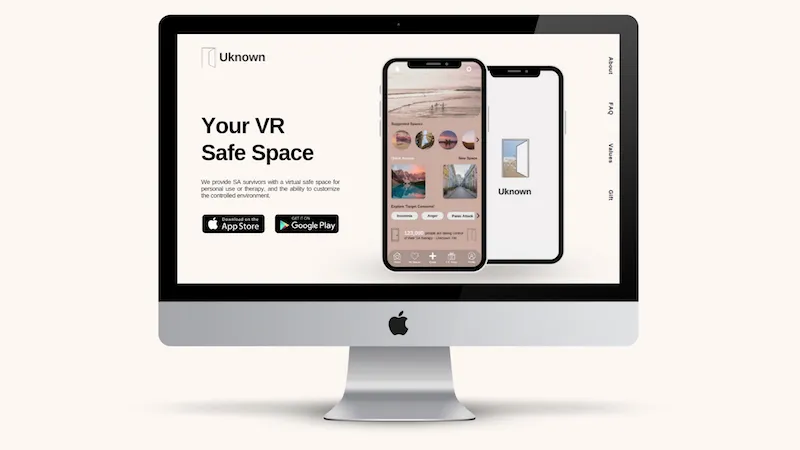 Alex Rahneva has designed the concept app Uknown, an app that connects to VR headsets and provides a personal haven for those coping with or trying to recover from a traumatic event, through chromatherapy, personalised scenery spaces, and target concern spaces.
With the chromatherapy, you can find comfort and calm with VR "rooms" surrounded by a colour that provides relief or that you like. Personalised scenery spaces provide a moment of escape, somewhere to be when the real world doesn't give you the comfort you need – perhaps on the anniversary of a traumatic event – in a protected way. Meanwhile, target concern spaces are designed through artificial intelligence to combat a specific issue – nightmares, or anger, for example – to improve mood. The concept also includes the option of having an audio chat with a therapist while being within these spaces if the user wants.
"One in four women experiences some form of sexual assault throughout their life. Yet the taboo culture we have created around it has prevented us from seeking open, radical change - this is when I began conceptualizing Uknown," said Alex. "I wanted it to be a tangible solution to allow survivors to feel seen and validated in the mainstream media. In the meantime, I did not want to lose that privacy and sense of intimacy which comes with having therapy, and so, the personalisation aspect of the spaces came naturally - after all, what is a safe space but a reflection of our most personal moments?"
Alex based her studies on the prevalence of sexual assault within the fashion industry, from the exploitation and abuse of vulnerable models to prominent fashion designers being outed as predators.
But as a model, it's not just for those who have been victim to a sexual assault – it could be used for anyone experiencing trauma.
"During the research phase, I considered the numerous ways Uknown can be used by people suffering from disabilities or other forms of trauma," Alex said. "Uknown's initial purpose as 'created for SA survivors' isn't meant to alienate anyone else truly. Everyone deserves a safe space. And it can be used for whatever purpose the user finds it beneficial for, whether it's people with anxiety who need solitude, or people with ADHD who'd like a place to calm down their hyperactive thoughts. I fall into both of these categories and would love to have an app like Uknown for those reasons."
It's grown into such a passion project, that Alex is now reconsidering the path forward.
"I've always had a very linear idea of what my university journey would be like – complete the three years, graduate, get hired for a good assistant position. I think my Final Major Project has shaken up things for me.
"I'm now looking at how to support myself financially while taking this project on as a business venture, so I've been forced out of my comfort zone in a good way. I would say, in its own way, Uknown is my best project yet, not only because of its content, but because it truly allowed me to grow and explore less conventional approaches to work."
Alex chose Fashion Management and Marketing – now offered as BA/BSc (Hons) Fashion Business and Management – because of the blend of creative and business learning.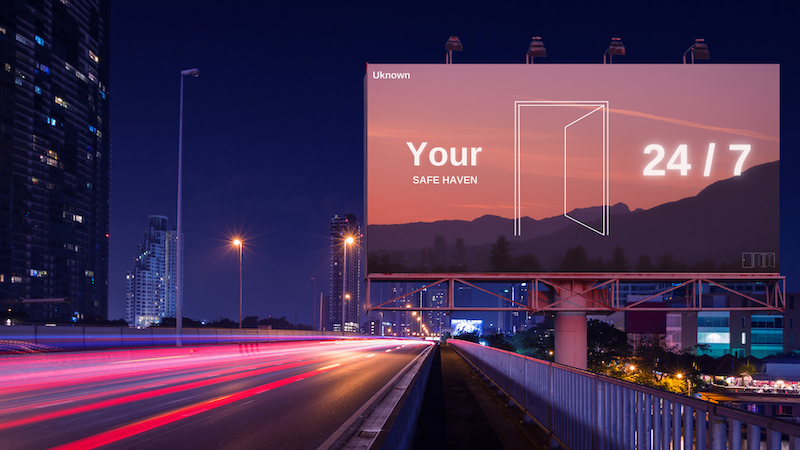 "I would say, as a result of this dichotomy, I felt very encouraged to let my imagination run wild and communicate my ideas freely, which allowed me to develop to the fullest extent possible," Alex said.
"Having spent half of my time at UCA in lockdown was challenging - a lot of the quintessential university experience was lost on me. However, what UCA did really well was to provide me with an opportunity to become more independent and more resilient to changes.
"I think the key element I would carry forward with me, into my future, is the resilience to create independent work when on deadlines and disturbed by external factors."
You can see Alex's project at the Epsom Graduation Show, and find out more about our Fashion Business and Management course here.