How to promote yourself
online as a creative
In order to make a name for yourself in the creative industries, you have to be confident, be bold and ultimately be skilled at self-promotion, especially online. We asked UCA Branding and Communications Programme Director Mark O'Connor to give his advice on how to do it successfully.
26 Jul 2022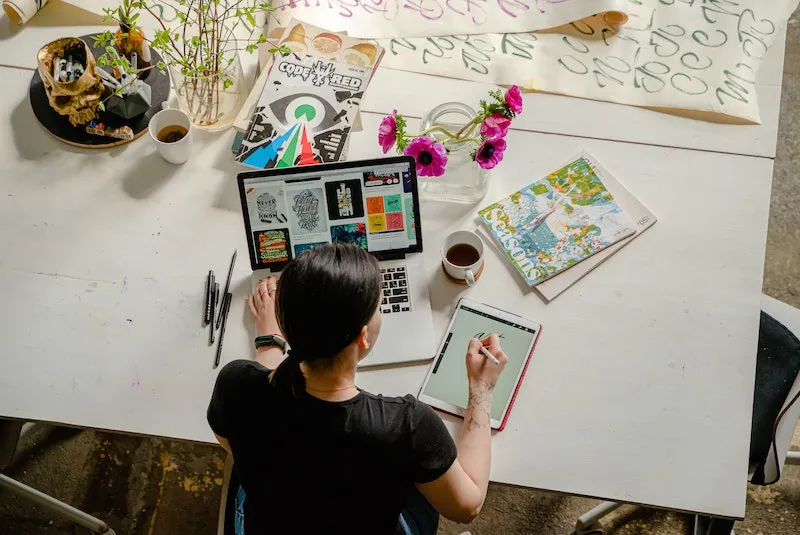 Having a presence online is not only crucial to putting yourself out there, but critical in creating a virtual footprint in today's creative arena. There are many ways of promoting yourself online, with some quick wins if done correctly – and the promotion of your brand depends on this if you want to reach your business goals.
The Art of Peacocking
Brand identity plays perhaps the biggest and is the most essential part of self-promotion, as it's this that will make you instantly recognisable to the audience you are looking to attract. Your brand identity not only outlines your product or service, but also helps forge a connection between you and your customer or client.
And so, the simplest way to promote yourself and your business online is to continuously stay on brand. Putting yourself out there isn't always the easiest or most natural thing to do, but a simple sea-change in mindset and by having some key effective marketing and branding strategies can turn you into a pro overnight.
Self-promotion needs a strong brand message, a mission statement, and tone of voice. Without these supporting pillars, it's hard not to blend in with the rest.
Writing a personal or mission statement can be an awkward process especially for those not particularly used to the 'art of peacocking' – so a good way to start this process is to get others to write about you and promote you. Having the opinion of others will not only give a more subjective view of you, but also could see the positives that you may not.
The fine line between bragging or boasting and active self-praise can send the wrong message. So, when writing a personal statement, keep it concise and highlight only your significant achievements and goals.
Another thing to pay particular attention to and it may sound obvious, is your, email. Over the many years of looking at student's personal branding, I see email addresses used by students that were created when they were a lot younger and are very juvenile in nature. This will certainly turn prospective employers off, but also won't be good for your street cred, so create an email address that is more professional.
Getting social
With the rise of influencers on social media, it's no surprise that when it comes to self-promotion, boosting your social profile is a must. You don't need to be an expert to know the impact social media has nowadays, but not everyone knows how to turn a social account into a killer promotional tool. The big six, Twitter, Instagram, Facebook, TikTok, YouTube and LinkedIn, have become major players and influential in allowing brands to connect with their target audience.
The type of channel you choose is just as important as the promotion strategy and the content that drives it. There is really no point putting all your energy into Facebook if your target market audience doesn't connect on this platform. Make the channel work for you. Active and timely posting will make such a difference to your online visibility. Creating high-quality content and being on-brand will help your platform attract people to follow and share your content.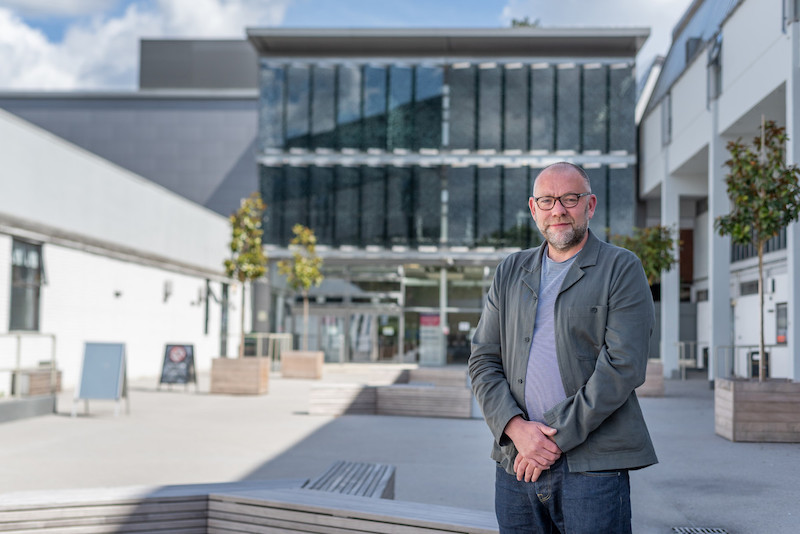 Mark O'Connor, Programme Director for Branding and Communications
Web wonders
The amazing thing about online promotion is that it can be integrated, meaning you can link up your platforms with end-to-end interactions. Designing and launching a website is an essential component of any online self-promotion strategy plan – this is a place where you can showcase your skills and show off your professionalism with your recent work, newsletters, blogs, vlogs and social media widgets.
Building a bespoke website can be expensive if you recruit someone to do it for you – but there are many website building sites out there that are free to use and have great interface templates ready to use. Wix, Squarespace, Cargo and WordPress all offer free versions.
Having a professional portfolio online is a good way of keeping content fresh and showing potential employers your new work. The type of portfolio obviously depends on the type of work you do, whether that's downloadable PDF scans, videos, photographs, gifs and podcasts. Design is a key factor also, so consider your colours, your logo, font and typography, layout and other visual cues that will keep your customer engaged.
The secret to online success is to be active and not passive. When you market yourself in any kind of manner, the more value you can provide, the better your brand will become recognisable. You must give more than you take before people will begin to recognise you, and getting yourself featured on other websites, blogs, forums, newsletters is a great piggybacking exercise. This is often referred to as back-links or inbound links and will optimise you well on (SEO) Search Engine Optimisation. Consider this like word of mouth (WOM) promotion in the physical space. The more you feature on other sites the bigger the virtual footprint will be.
The digital consumer looking to hire someone is likely to turn to a regular listings page, when they are searching for a particular service or product and being present on the right sites can increase your odds of getting spotted. Freelancing directories and LinkedIn are just two popular options here. You can even place an ad on well-known sites, such as Craigslist, Fashion Workie, Fashion Monitor and Diary Directory. So be sure to list yourself! It's a rather obvious solution but is often neglected as a tool for self-promotion. The results from this marketing technique alone might not cover the extent of your demands but can increase your exposure on the internet.
The best part about these directories is that you can usually list your service for free and quite often these sites have daily updates so if you are looking for collaborators for a project these listing sites are invaluable for this.
Integrate your media
From SMEs (small-medium enterprises) to large blue-chip companies, all use integrated media such as videos, podcasts and promoted content to promote their brand and advertise who they are. Using a video for self-promotion purposes can bring success and following.
Video content remains one of the most effective marketing strategies in the online environment. It's shareable, engaging and it's easy to convey the message you desire. Just look at the gamers on YouTube to see how effective promotion via reviews, opinions and debates can kick start your brand, so think about how you can incorporate video into your promotion.
Your success checklist
Keep it real – You've got to be authentic and true to yourself. Don't pretend to be someone else, because you think this is what brands, clients, employers want to hear. They will see right through it, so just be you.
Quality driven content – Take time to write or produce content that is engaging, well written and true to you. More haste, less speed wins the race.
Stay on-brand – Always stay consistent to establish a strong brand identity. A constant following will not occur with inconsistent content. Tailor content towards your audience and focus on them, rather than yourself.
Core values are everything – What's your story, who are you? What matters to you?
Less self and more promotion – 'overselling' can ruin a brand, always under-promise and over-deliver. This will come with praise and respect.
Keep some of you back - being authentic to promote yourself and your business online is a great thing but be mindful not to give too much of yourself away from the start. Give people a reason to find out more, to contact you – this is how you build relationships.
And finally - be intriguing, personal, and memorable!
In conclusion, when thinking about promoting yourself, consider the following points: who is your ideal customer? what are you trying to solve? what kind of personality do you have? what do we do that is different and/or better than anyone else?
The truth is personal branding isn't about vanity. It's about taking control of your reputation and being inspiring and informative too.