How Millie is unpicking
gendered fashion
In the second of our blog series on our changemaking 2021 graduates, we spoke to Millie Whitehead about creating a clothing collection that aims to explode the boundary between men's and womenswear.
21 Jul 2021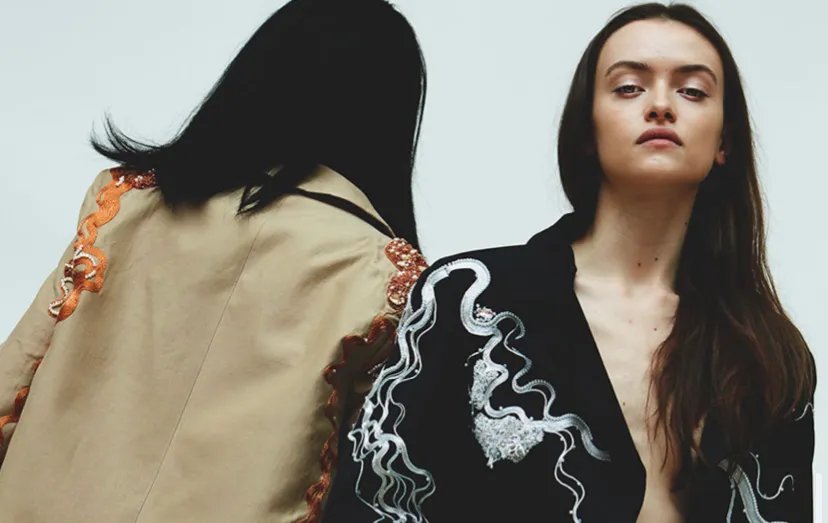 While progressing through a BA (Hons) Hand Embroidery degree and planning a final major project, Millie Whitehead wanted to create a collection that challenged fashion brands' highly gendered approach to design and to open out this specialist craft to a wider audience.
In Millie's final collection, the 2021 graduate combined well-honed embroidery skills with another passion. "I knew I wanted to create a gender-neutral collection – a concept that came from looking at my own wardrobe, and from my own experiences when shopping," Millie says. "I tend to favour menswear departments and always felt that shopping in the men's section puts a label on me and my clothes, but I strongly believe that we do not need 'menswear' and 'womenswear' when we can just have fashion."
In response, Millie created a collection of oversized, tailored garments designed to flatter any shape or size. Each piece features wave-like appliqued hand embroideries that take inspiration from the freedom, fluidity, and strength of water. "These represent my beliefs about gender, as well as symbolising change in the fashion industry, and the fact that gender-neutral fashion isn't a trend that's going to be short-lived – it's a movement that will continue to grow," says Millie.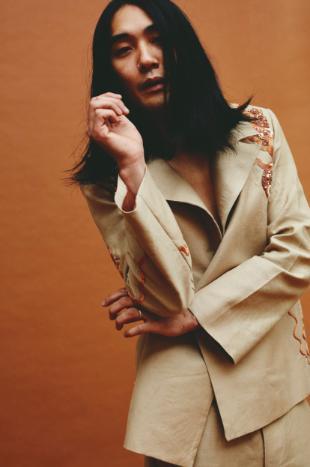 A piece from Millie's collection
"We've been led to believe that arbitrary pieces of clothing, colours and textiles have a gender when really they've just become gendered due to what society deems typically male or female. I believe this represses creative expression, limits our aesthetic imagination, and restrains our potential beauty. I want to create a more inclusive platform for expression."
Millie is also keen to make hand embroidery accessible to a demographic beyond haute couture with a range of accessories – including bags and small, wearable tags – that are designed to be sold individually at a lower price point. "It's important to target people outside the luxury market to broaden awareness of the craft, and to bring it into a more modern context," Millie says.
"Creating a bigger audience will help inspire young designers to use hand embroidery and to see that it isn't all cross stitch and cushions. It's an incredibly unique art form that can allow the designer and consumer to communicate non-verbally."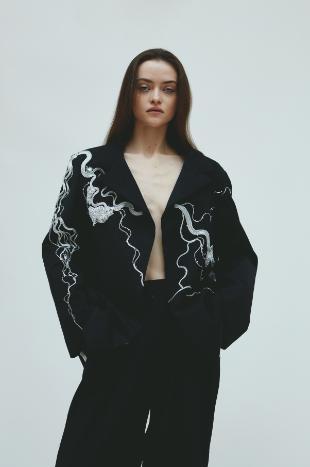 The water-inspired embroidery used in the collection represents change, fluidity and strength
Having grown up surrounded by fashion influences, Millie always wanted to be involved in the industry but says it was a passion for the finer details that made The Royal School of Needlework's Hand Embroidery degree so appealing. "I'm originally from the Lake District, and growing up there was amazing, but I never felt like I fitted into the outdoorsy, sporty lake district mould," Millie explains.
"My mother was a fashion buyer, my father's family-owned department stores and my grandmother had a dress shop, but I didn't discover my artistic side until I became a student at Kendal Arts College. I knew I wanted to study fashion, but it was always elements such as beading and embroidery that really interested me. I wanted to learn how to create things that people could only dream of."
I wanted to learn how to create things that people could only dream of."
A coveted place on RSN's unique degree course enabled Millie to realise that dream and to fall in love with the craft even more. "Being able to create such intricate and beautiful pieces of work with just a needle and thread is something really special.
"The RSN is the only university in Europe that offers a specific hand embroidery course, so there aren't very many people who can do what we do. And as working in haute couture was always my aim, it also acted as a fast-track ticket into that world."
Millie has now secured a place working with an haute couture brand as a graduate trainee embroiderer and hopes that this final graduate collection will inspire other emerging designers who are starting out on their creative journey to reconsider gendered approaches to fashion and to incorporate the traditional craft of hand embroidery into their work.