Horrors collaboration is a
dream for stylist Izzi
UCA Fashion Promotion & Imaging graduate Izzi Lewin has a lot of strings to her bow – including styling her favourite band for a campaign. We spoke to her about her career so far - and share her advice for anyone wanting to get involved in the industry.
19 Nov 2021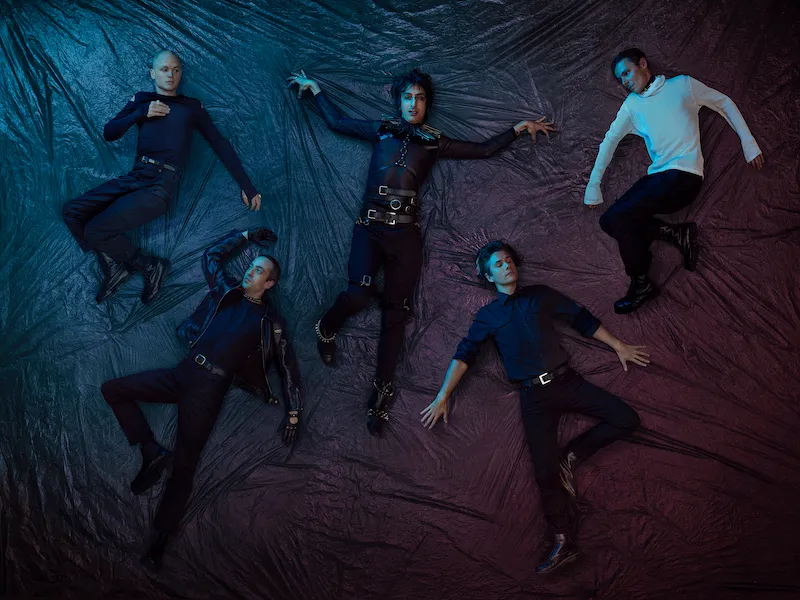 Header image shows The Horrors, photographed by Tom Oldham
Izzi – who goes by the name Izzi Gloom – graduated from UCA in 2018, and has gone on to work in fashion styling, together with graphic design and visual research. She's interned at magazines Wonderland and Another Man and worked with the likes of Marvin Magazine, Virgin Records, Sony Music and Calvin Klein.
Most recently though, she got a dream role – styling the band The Horrors, which she's been a fan of since childhood.
"The Horrors has definitely been a favourite," she said. "They had such a huge impact on me when I was young, I was about 12 when i got into them. I used to obsessively watch their music videos in the early days of YouTube and Myspace.
"I don't think I would a goth today without having discovered them actually. After getting into them, this led me to wanting to search for new music constantly too. They always seem to find their way into my visual references some way or another on projects I do today."
As well as her stylist role, Izzi has also just released a book called Gloom – Prelude, billed as a "trinity of tales told through the medium of photographic ennui and literary desolation". It features photography by Jordan Hemingway, Chieska Fortune Smith and Ralph Whitehead.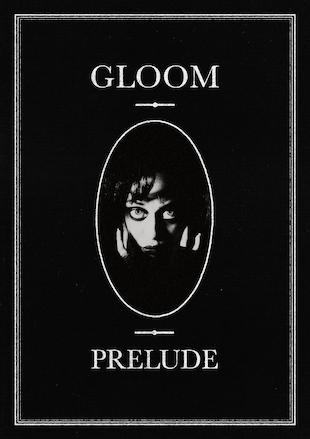 "It's essentially a love letter to the Victorian and Edwardian periods, then injecting my own life experiences and brought to life in editorial style imagery. I grew up poring over books of Edward Gorey, watching Tim Burton movies, John Galliano shows on YouTube and having a severe obsession with Victorian history. For this project, I wanted to slow down and do something that required a lot more thinking, rather than just following a trend or trying to appease specific crowds. I liked the idea of creating something that could be timeless.
"I've never been into trends or labels, but more about whether the clothes are beautifully made, dressing in what feels most authentic and emphasising parts of a character. I am an avid collector of antiques and vintage clothing and feel it's incredibly important to support fashion archives and costumers as well as young independent designers.
"My wonderful friends Valeriance Venance of Independentes de Coeur, and UCA graduates Joshua James Small and Cat O'Brien, for example, produce their clothing using deadstock fabrics, re-purposing things rather than producing to produce. It just goes to show you how you can create just as amazing pieces without overconsumption."
"I am lucky enough at the moment to have a lot of creative freedom by being freelance which allows me to work on personal projects. I enjoy doing too many different things to only be styling though all the time. The whole creative process of anything visual is what really excites me. I really enjoy editorials and working with musicians (working on fashion shows and music videos are my absolute favourite) but there's so much more I enjoy, like the whole creative process, and I LOVE researching and curating imagery. I'm constantly looking at historical books and curating visual libraries."
Working as a stylist is a tough business, according to Izzi – it's busy with lots of organisational skills required and also having to manage your clients.
"It's definitely not as glamorous as it seems," said Izzi. "It is quite hard work and a lot of physical grafting alongside lots of problem-solving and quick, creative thinking. Not only is there the coordination and responsibility of expensive samples but it's also knowing how you should deal with certain people you are working with. I always try to see any blips as a learning curve, and it sets you up for problematic situations that may arise again in the future. I am someone who really enjoys being alone and I often find intense social situations quite difficult. But when you are styling, it is somewhat like a performance. There's the lead up to the shoot day after lots of prep and research, and then it seems to be over in a flash. The fast-paced element of things feels extremely rewarding when things go well."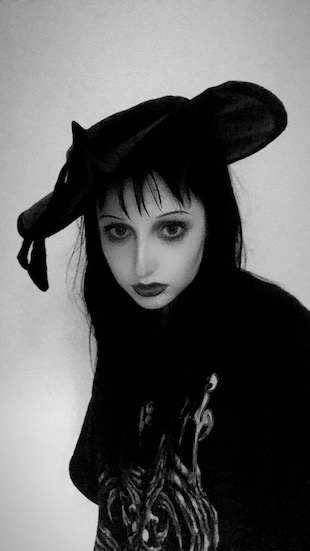 UCA graduate Izzi Gloom
We asked Izzi what her advice was for anyone wanting to get into the industry – and she had lots to share.
"It was very difficult for me to accept that it was never going to be an easy ride. I still, to this day, feel frustrated at how I cannot just simply do all the things creatively that I would like. But, I have realised, that it's something that takes time, and you must build up gradually. Prepare yourself, find yourself that stable job on the side, because there will most likely be periods where you find yourself not that busy. So, I think it's important to have something that you know will bring in the money if you end up not working for a few weeks.
"You should always stay true to yourself and what you believe in. The work we produce is always so much better and more honest, and you will find yourself building your own visual identity over time. I think it's a lot easier to connect with art and artists when the message is genuine to them. There are, however, some exceptions in styling as you do have to appease commercial clients too!
"Also, a lot of brands or magazines will make you feel as though it's a privilege to work for them. Stick up for yourself! At the end of the day, it's a job. We all have bills to pay, and nobody likes being lied to or cheated out of money. I would say you should be very upfront about what is feasible for you if you are assisting or interning.
"Finally, make friends with assistants you meet on set, chances are you both want to create shoots and collaboration is key in this industry. It's really important to find people who will become your frequent collaborators. And keep collecting and never stop researching!"
Izzi says she misses her time at UCA and wants to return to complete a Master's degree someday. "It was my safe place for the three years I was here," she said. "I really enjoyed my time at UCA. It allowed me to develop my project management skills, as well as push me to try new things and explore new areas of my practice. In my second year, I chose to pursue the visual communication pathway as this allowed me to experiment with other mediums, and how I would, in turn, apply these in my styling work. I think it's really important to make the most of your time in education, and learn as much as possible about all the aspects of your practice."