Famed filmmaker Fabian
meets UCA students
Film Production students crammed into UCA Farnham's biggest lecture theatre last week to hear and learn from renowned cinematographer Fabian Wagner.
24 Oct 2022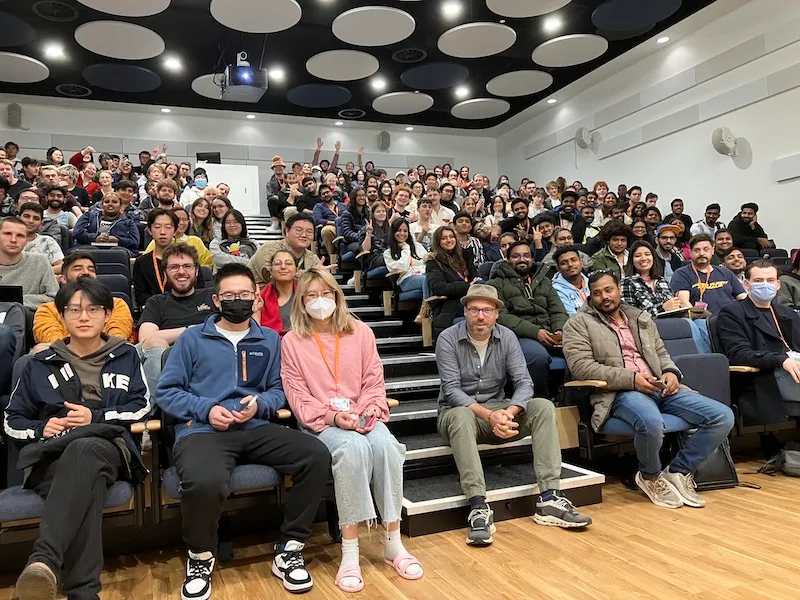 Fabian, whose credits include Game of Thrones, House of the Dragon, The Crown, Zack Snyder's Justice League and Sherlock, gave a special talk about his career and answer questions.
German-born Fabian, whose first major job was Spooks in 2008, got his big break and an Emmy nomination as director of photography for series two of Sherlock. He's now based in LA.
He talked in depth about his involvement in the infamous Battle of the Bastards episode from Game of Thrones, and why he didn't get involved in the reshoots of Justice League.
"I never thought about how iconic the scene would be – not even on the first cut," he said of the critically-acclaimed Battle of the Bastards. "I was a small part in a big production – Game of Thrones was well written and came at the right time. There were loads of shots that I thought were great but didn't see the light of day – because they weren't right for the story."
"It never happens how you plan it and I embrace that. For the Battle of Bastards, we had 500 extras, and 50 horses – we had to plan but we had to improvise. The shot of Jon Snow almost dying in a crush was improvised – there was no plan for that."
His decision not to return to Justice League for its reshoots because Zack was not involved, following the death of his daughter, Autumn. "It would have felt strange working on the reshoots with a different director," he said. "It got made the way it was meant to be and that was for Autumn."
As well as the specifics of his own career, Fabian had plenty of advice for the students.
He said to keep showreels simple and pick memorable music as that had worked for him, and that making connections within industry now, is incredibly important. "The connections you make now will be the connections you use for the rest of your life. I worked on the Crown with Sam (Samuel Donovan) as Director – we met at Film School. Find those people who are like you, inspire you and push you."
On being asked what it takes to be successful in the film industry, he said: "I wish I had an answer, but I don't. From my personal experience, hard work – put the work in to get something back. For ten years, I was shooting and learning every day. You must learn all the time. Focus on who you are and being that person."
One student asked Fabian if he ever felt overwhelmed by the scale of the production, 'thankfully there is no other job I want to do. So, be honest about what you can and can't do. I've never been shy or felt too proud to say, 'I don't know how to do this', because this is a collaborative process."
To find out more about our film courses, visit our course pages.