Ben's book celebrates the
non-binary journey
Diversity and inclusion expert, speaker, content creator and the all-round fabulous Ben Pechey has been busy since they graduated from UCA in 2018 – and is now embarking on a new career as an author.
08 Jun 2022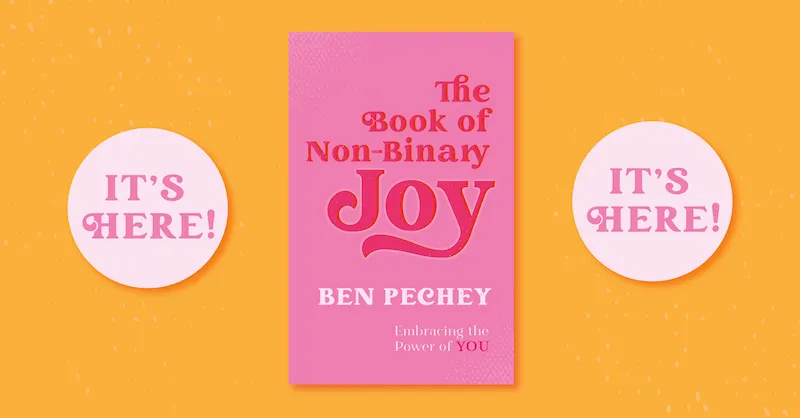 Ben, who studied BA (Hons) Fashion Promotion and Imaging, has released The Book of Non-Binary Joy, a guidebook for those at the start of their own gender identity journey, to help them navigate the waters of being non-binary in today's world. We caught up with Ben to find out more about the book, what they've been up to since graduation, and what's next on the horizon.
Hi Ben, thanks so much for chatting with us! Let's start with your time at UCA – what was it like?
I came to higher education after a three-year break. After a few college courses, I decided to follow my passion (at the time) for high-end fashion magazines and publishing. I picked the course mainly for the broad spectrum of elements that it covered, from styling, photography, digital layouts, physical processes such as screen printing and so much more.
It was a full-on degree, and I remember working really hard all the time! We benefited from so many amazing guests, resources and industry-standard projects. The course felt fresh, invigorating and exciting. As a freelancer now, I can see that the course taught me invaluable skills of planning, and research which has been such a useful tool in my line of work. The many pathways that I covered also prepared me for an industry and work market that requires people to have many levels of skill, and also the fact many of us now work in multiple roles.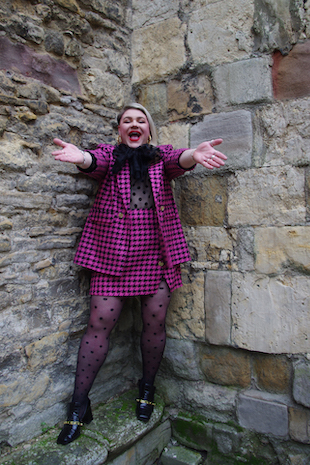 What have you been up to since graduating? What have been the most exciting and rewarding experiences?
Since graduating I have thrown myself into being a full-time freelancer. I am a speaker, content creator, LGBTQIA Advocate, Diversity and Inclusion consultant, and now, author. I've worked with major brands such as Amazon Prime, Oliver Bonas, Matalan, NSPCC, Channel 4 Sales and many more. I uplift and educate through media; with my website benpechey.com, The Happy Place podcast, and on social media. I've had words in print and online for Cosmopolitan, Women's Health, The Guardian and many more. I also work as a Diversity and inclusion consultant within the LGBTQIA sector, working with brands like Ikea, Dennis Publishing, Cos, Lucy & Yak and Freeda.
One key theme is always juggling multiple roles at once and having more than one deadline in a week. This can be tough, but it is also exciting, and no two workdays ever look the same for me, which I really enjoy.
Being able to reach so many people through my combined work is so rewarding. I directly see the way my work can affect individuals, and businesses. It is so exciting to see your thoughts, creating change across industries. This has given my voice a tone of authority, which have led me to take on bigger projects such as writing my first book.
Was being an author ever on your radar during your degree, or was writing a book something that happened by chance?
Being an author was never on my radar during my degree, I'm dyslexic, so I never thought I would be able to pursue writing professionally. Yet I was drawn to it and began to write professionally during my time at UCA. I remember in my second year seeing a Facebook ad looking for bloggers and writers to cover London Fashion Week, and I had started my blog the summer before in 2016, and jumped at the chance. I was picked and began covering shows, and fashion events/news in London. By the time I entered my third year I had taken the Fashion Editor position (unpaid), was sitting front row, and covering big brand launches.
I always thought I would like to write a book one day, and have written about social issues for countless publications, and my own website for years. This always spills out onto social media, where I have a large and engaged audience. This is what attracted my publishers, and offered me a slot to see a proposal, and the rest as they say is history!
What inspired you to write your book, was it an easy process and what do you hope readers gain from it?
In the media currently, there is a huge hostile feeling towards trans and non-binary individuals. This is being played out across corporations as well as the media. The so-called LGB alliance are adding fuel to the fire of hate that is currently being passed off as opinion. I decided that my book needed to be the antithesis of this and show the reader – the book is aimed at non-binary young adults – that who they are is perfect, valid, and truly wonderful. The book is affirming, caring and a truly helpful resource for gender diverse individuals.
I found writing the book a joyful and personally affirming process for me. Channelling all that I have learned about myself and my community. I also enjoyed being able to interview other community members among the pages to bring some depth to the content.
Editing was another matter though! This was the tough part and probably took the longest. I enlisted the help of my mum, who sat through pages and pages helping me refine and catch any issues.
Whether you are at the start of your journey or have been on the wild ride of gender introspection for a long time, the book aims to help you thrive as your authentic - and most fabulous - non-binary self. With personal stories, valuable insights and interactive sections, the book covers a wide range of topics, including mental health, pleasure, fashion, understanding your past, allyship privilege and self-expression. I hope that readers enjoy it and find it useful. Honestly, if I can help at least one person, I will be happy!
What's next for you?
The future for freelancers is always hard to pin down, as things change week on week. However, I am excited to be promoting the book, alongside working with brands to educate and share insight on the LGBTQIA community. I also have a significant wiring project to complete this year, so that will take up a large chunk of my time, which I am very excited to complete.
Finally, what advice would you pass on to our UCA students who are maybe considering a similar career path to yourself?
The best advice I can give is to give it your all. Throw yourself in the deep end and explore all avenues. I know doing a degree is so much work but try and gain as much experience as you can while you are learning. Say yes to jobs, help people who need assistance in areas that speak to you, intern where you can, and build up a body of contacts that you can email in the future.
Perhaps one of the less spoken elements of freelancing is the way we need each other! Always be nice to people, you never know who might be able to help you in the future – a smile and helpful attitude go a long way. I have emailed people who I have helped in the past, and they have given me a valuable email address, and contacts that have led to work – so always be nice.
You can keep up with what Ben's up to on their Instagram page, @benpechey, and The Book of Non-Binary Joy is available now in book shops and online.