Beauty journalist Sarah's
switching story
Sometimes, things don't always go the way you planned. The university you pick might not be the right fit after all – so what happens next? One of our successful alumna, fashion journalist Sarah Barnes, had this exact experience, joining UCA when she realised a creative direction was just what she needed. We caught up with her to find out more about her story.
20 Jul 2022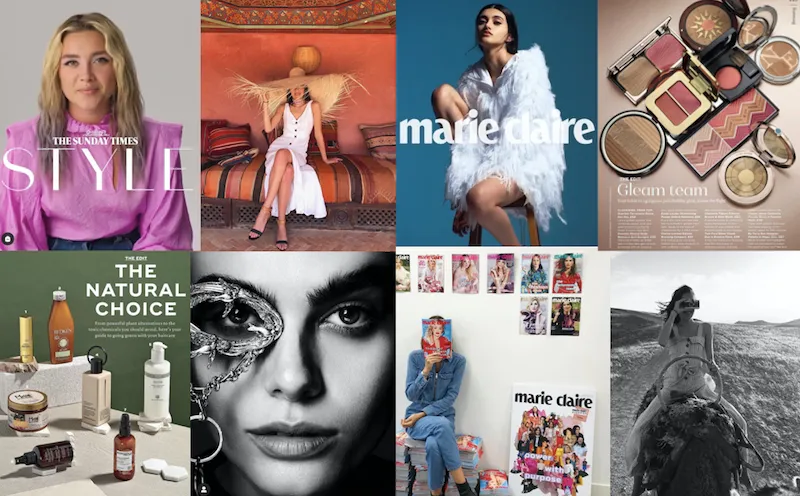 A selection of the work Sarah Barnes has created in her roles at Marie Claire and The Sunday Times Style.
Sarah, currently creative video producer for The Sunday Times Style, graduated from UCA in 2016 with a degree in Fashion Journalism. But her journey didn't start here at UCA.
"I originally went to Winchester University to study Journalism, however one month in I found it too law-based, and I was not able to be really creative," she said. "My school was very traditional and academic so I had been advised that a course in straight Journalism would be a more solid and concrete degree to have and to specialise at a later date.
"I had also been offered a place at UCA and had really been sold on the open day when I first visited the campus and listened to the inspiring talks from the lecturers. The whole environment and the way you were really encouraged to explore whatever creative path you wanted, was a real pull for me. I thought, why wait to specialise when I know going into fashion and the creative industry was what I really wanted to do? I ultimately knew that UCA was the place to help me do that."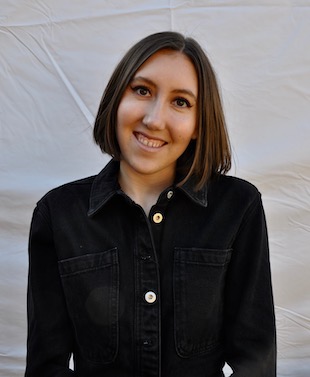 Sarah Barnes
Sarah moved to UCA after a month at Winchester and said her experience here helped her be more independent and build initiative, as well as the vital network she needed to take into her career. "When you leave Uni and go into industry, it really is about what and who you know, so making good connections along the way will always be positive. It can be a bit daunting but just networking with as many people as possible is a skill I still use and always will. I would say try to get as much experience as you can for the CV and just soak it all up."
After graduation, Sarah interned at several top titles including Vogue, ELLE, Cosmo and Marie Claire, the latter of which she gained a job as Beauty Assistant. Over the course of four years, she worked her way up to Beauty Writer and Producer, a role that naturally moved into production, helping with styling shoots and travelling the globe to get the perfect beauty editorial.
"There was not a 'typical day' really. I really got to immerse myself within magazine culture and experience how journalists work. It is fast-paced, one day I would be interviewing the owner of a beauty brand for a feature, be backstage at fashion week watching Charlotte Tilbury create the looks for the show and the next week be testing new beauty launches in the office or being on set shooting beautiful model images for the pages of the magazine," she said.
"We also got to shoot abroad in incredible places like Mauritius, Sri Lanka, Los Angeles and Lanzarote, being part of the team that travelled and created the photoshoots you saw in the magazine was really special. All I know is if I didn't study fashion journalism at UCA, I might never have found my way to where I am now."
Sarah left Marie Claire to join The Sunday Times Style as their new Creative Video Producer.
"I produce all of Style's video content which involves writing up video treatments and scripts, booking locations to shoot at, working with our skilled videographers and artists to film videos with amazing celebrities such as Florence Pugh, Salma Hayek, Lisa Eldridge, and Alexa Chung. It is brilliant to be in a role that is fully digital as everything involves video now and I am really grateful to get to work at one of the biggest newspaper titles in the country. I still do freelance writing on the side to keep up my journalistic skills but just getting to spend every day in a creative environment really makes me proud of where I started back at Uni and where I am now. If you really want to love your job it is worth starting with a course that suits you and lets you be free and creative so you can go on to reach your full potential."
So what advice does Sarah have for those students who have started their studies but know that it is not quite working?
"It sounds cheesy but trust your instincts," she said. "Yes, starting university twice was scary, I was a month late starting at UCA but looking back now I know it was the best jump I could have ever made. If you feel you are not happy with your current course, do not worry. There are always other options, you just have to be proactive and not wait it out, in case it is then too late.
"I will always say to go straight into specialising in something you know you will love. I found myself in two-hour lectures about the history of Chanel, learning how to edit magazines and writing reports about fashion week shows and trends, something I didn't think you could 'study' and I loved every second."
If you're thinking about changing universities, check out your switching options at UCA.