AtelierUCA:
Adventure, Sense, Togetherness
AtelierUCA share their experience of meeting in person for the first time in their third blog post, as progress on the Public Arts project in Kings Hill continues.
29 Nov 2021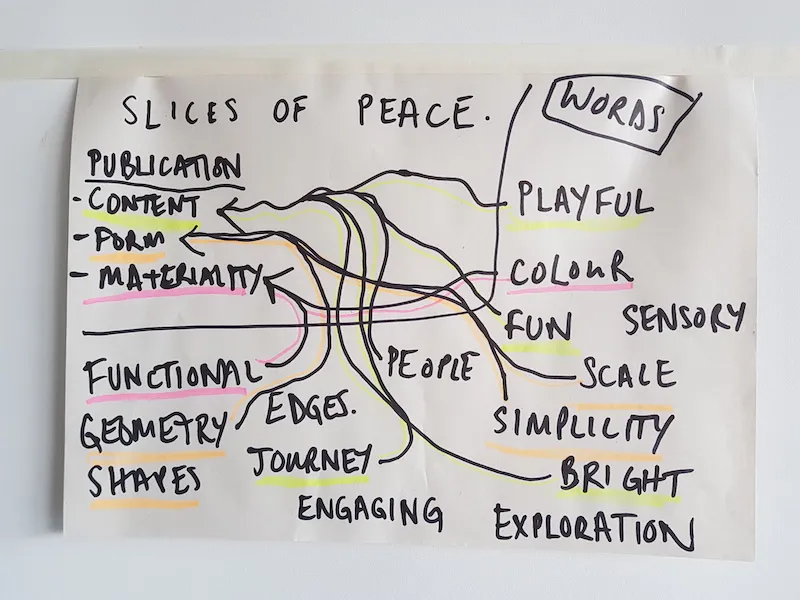 Our first "real life" meeting took place at the end of October, as we laid down the foundations for our work on the project with Yinka Ilori. As the day progressed, three words emerged as yardsticks to underpin our project - Adventure, Sense and Togetherness.
Previously, all of our discussions had been held online, so the opportunity to be in the same space, discussing ideas, scribbling thoughts on paper and looking through publications was amazing. The sense of community was really enhanced as our creative minds came together to discuss our vision.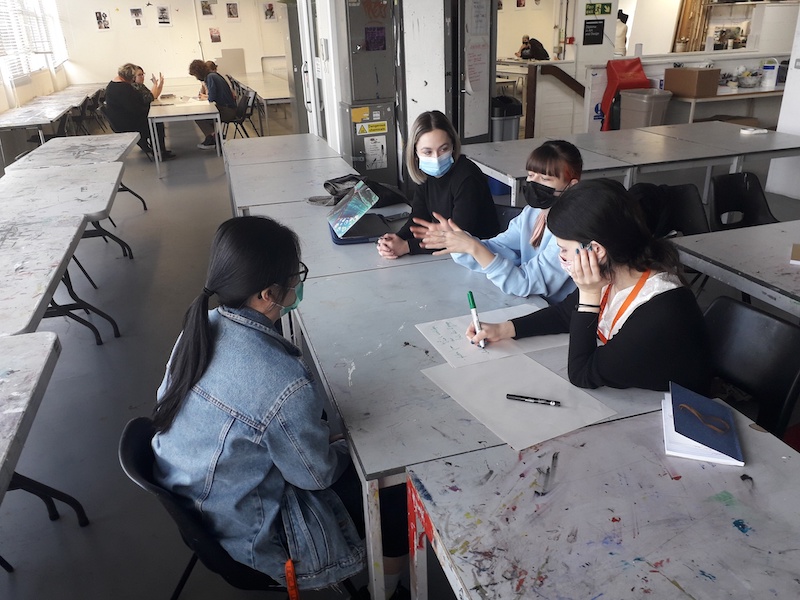 Yinka's latest proposal was shared with us via video presentation, setting a scene for the trajectory of the project. With the core theme based around the Garden of England, and a few early drafts from Yinka of installation designs, our litmus paper was truly sparked. Building on Yinka's concepts, we branched out into considering what we could add to the project as an atelier? How could we enhance these concepts, in form and content? If we could do anything, what do we envision for the people of Kings Hill?
UCA's Vice Chancellor, Professor Terry Perk, and UCA galleries curator Georgina Scott are both helping us navigate the process of this live arts project, and we really are learning on the job. As part of our brainstorming, we discussed the work of another UCA professor, Professor Andrew Kötting – specifically the publication for his film The Whalebone Box, which is laid out like a traditional record in a box.
We also looked at concept books of Olafur Eliasson and talking paper types, and we considered audience engagement and alternative methods of reaching out to the public – in short, the inspiration came in thick and fast!
We are now thinking about our own publication for the project – although we haven't yet decided how this might materialise, both digitally and tangibly.
Our shared intention is to connect people, enhance the sense of community within Kings Hill and to promote the sense of inclusion through art.
As an atelier made up of creative students and graduates from UCA, we excited to share our passion for art, and to follow Yinka's lead in what is set to be a multi-sensory, hands-on installation.
AtelierUCA is a collective of University for the Creative Arts' students and alumni, collaborating on an exciting Public Art commission at Kings Hill, Kent, with Yinka Ilori (MBE) and Turner Contemporary. With specialisms ranging from Fashion to Fine Art, Photography to Architecture, Graphic Design to Illustration, to name a few, AtelierUCA members share a thirst to engage with the Contemporary Arts community and to learn from practising artists. AtelierUCA is grateful for the support of development partners Liberty Property Trust and Kent County Council.