A day in the life of an Interior Architecture & Design student

First year student, Tiff Ruane, takes you through what you can expect to experience on a normal day at UCA.
17 Jan 2019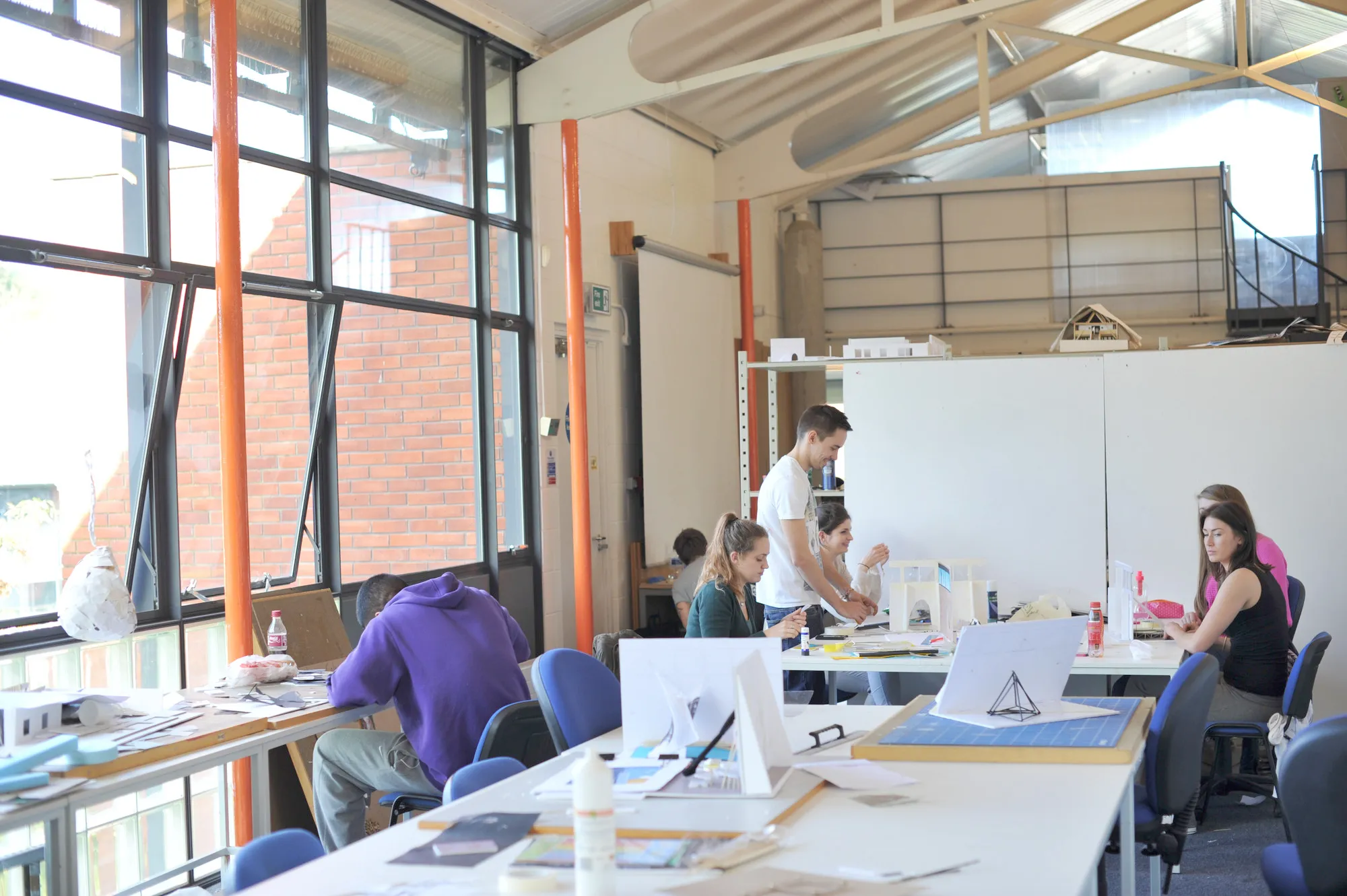 Having visited my fair share of universities and courses, I can safely say that the choice to come and study here on the Farnham based Interior Architecture & Design course was by far my greatest decision. The area, campus, facilities, course and extra activities are great, with plenty of opportunities to expand your skillset and, at times, step away from the enjoyable intensity of the course itself.
Currently I live in Wrecclesham, the next town over from Farnham which is about a seven-minute drive or 30/40-minute walk from the university (depending on how quickly you walk or how late you're running) and about the same for Farnham Station as well. Although that seems like a long journey it's rather pleasant with a lot of the area being made up of parks, mini forest-like spaces and farms with horses or cows in and they're always nice to walk past in the morning. It's a peaceful village with some local amenities but Farnham town centre is the best option for your shopping needs as it has most of the big stores.
Our studio is separate to the main campus building and only shared with two other courses, Graphic Design and Games Arts, so it's always peaceful and s prevents everyone else from taking over the studios and IT suites. The studio itself is pretty big and at times separated off into two rooms thanks to the moveable partition wall, although this is only ever done if multiple years need access to the space for taught lessons.
Tuesdays are one of the more packed days within the course schedule, with the day starting at 9:30am. The mornings consist of two lectures given by the Year 1 Course Tutor, Michael, with each semester having its own topic. The first relates to the History of Architecture and our current series is all about Design Technology. These are incredibly important and help to give all your work some context, relating it to specific movements or technologies that fit your design style. There's also a test at the end of the series so it's always recommended that you take notes, not only for the mini exam but also to put into your design process both throughout your uni career and beyond.
After a short break there is another lecture, although it's more like a discussion, regarding the current project everyone is working on. We look at what we have accomplished each week and what is to be done during the remainder of the project as well as our afternoon Studio Task. The latter part of the day is dedicated to the task which usually consists of different drawing techniques or processes, ones that will help us to construct and visualise our designs. This time can also be used to discuss any queries we have with the project and have our work looked at and checked off to make sure we can complete our tasks effectively.
Our current project is titled 'Waiting and Information Booth' and requires us to design a small, mountable and small batch produced seating area for a specific location, ours being the Tate Modern. The most recent Studio Task involved Isometric and Axonometric drawings which we will use over the next few weeks to realise our designs and make sure they meet the brief requirements.
At the end of the day, mainly on Tuesdays, I stay late and work with the CAD/CAM Technician, Ben, on our courses 3D Printer. This machine is of huge interest to me and being able to work on it is not only fascinating, resulting in a whole load of new skills, but also means that everyone across all three years can use it for future projects on the course. It's also a major part of what my future career plans involve so it's a good activity to get involved in.
Both the campus and Farnham town have some pretty interesting stuff to do outside of the course. There's a lot of Students' Union societies to join like Table Tennis, Life Drawing and Gardening, just to name a few, and in the town centre there are a whole load of coffee shops (the UCA library also has its own independent one which is lovely, plus it's right next to the studio) where you can relax and treat yourself to a whole load of delicious bakery items.