Professor of Photography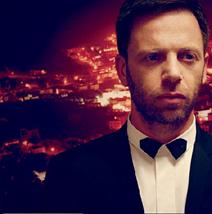 Professor Gersht's practice as a photographer is concerned with history and metaphor, journeys and geographical place, intertwined with metaphysical space. Such themes have been explored through major works that document, often obliquely, violent moments in Europe's recent past.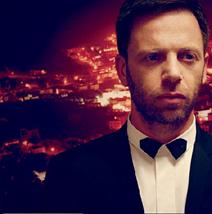 Bio
In his newest work Gersht investigates the relationships between photography, technology and optical perception, at a pivotal moment in the history of photography where digital technology both threatens a crisis and promises a breakthrough.
Research into the early history of the medium of photography is brought together with theoretical discourse, creating, still image and films that (literally) explode the genre of still life, the beautiful and destructive results captured using cutting-edge technology.
Professor Gersht's practice bridges a history that is full of traumas, whether it is the scars and weals left on the sunlit, war-torn buildings in Sarajevo in his Afterwars series, White Noise with his train journey to Auschwitz, or The Clearing, filmed in a forest loaded with memory in the Ukraine.
His photographs have a fragile, phantom quality that belies their absolute singularity of focus, conjuring fleeting, apparitional vistas from ultra-long exposures, summoning haunting, half-glimpsed scenes that are poised on the verge of becoming or the edge of disappearing, forcing the elemental properties of light and time into a border zone of abstraction.
Gersht's images have an uncanny, often dream-like texture and, like dreams, are disarmingly vivid and powerful in the way they imprint themselves on the mind. Engaging in that difficult arena of not only pushing the photographic camera to the limits of what it can record, but also working in innovative ways with film and video, Gersht's highly researched aesthetic has an instinctive innovative approach to the materiality of his medium.
At a time when many film and video artists dealing with the political are producing work that has more in common with the medium of documentary, Gersht's work explores a genre where he is in the forefront - that of a provocative meditation.
Research statement
Research interests
Perception of reality
The relationships between new technologies and representation of the world
Dialogue between contemporary practice and art history
Optical unconsciousness
Visual exploration at the thresholds of the medium.
Research degree expertise
Key themes
Fine art
Photography
Metaphysical space.
Research supervision
Ori is currently part of the supervision team for two research students.
Professional Membership, Affiliation and Consultancy
2010: commissioned by Modus Operandi Art Consultants Ltd for Guy's and St Thomas' Hospital - for their new Haematology Day Unit.
2008: commissioned by Abima the Israeli National Theater.
2006: commissioned by the V&A Museum to produce a film.
2006-2010: funding from the CRG Gallery, Angles Gallery, Noga Gallery, Mummery and Schnelle Gallery.
Research Outputs
Find links to all Professor Ori's research outputs and activities available at UCA's online research portal UCARO