Jewellery student's success at the
Goldsmiths' Craftsmanship & Design Competition
UCA Jewellery & Silversmithing student Anita Loh received Silver award in the Peridot Jewellery category in The Goldsmiths' Craftsmanship & Design Competition 2021/22 at a prestigious ceremony at Goldsmiths' Hall, London.
04 Mar 2022
Known as the 'Oscars of the Industry', The Goldsmiths' Craft and Design Council organises this annual competition and awards ceremony to celebrate diversity and excellence in Silversmithing, Goldsmithing, Jewellery and the Allied Crafts in the UK. Anita, in her final year at UCA, won her award for her 2D gouache paint rendering.
"Winning this award from the Goldsmiths' Design & Craft Council is an honour – their prestige is hard to deny," said Anita. "And to have my work exhibited in the Goldsmith's Hall is a once in a lifetime experience.

"Competitions push me to consider different aspects of my design such as wearability, audience, and uniqueness and they are a great way to practice presenting designs in a professional light."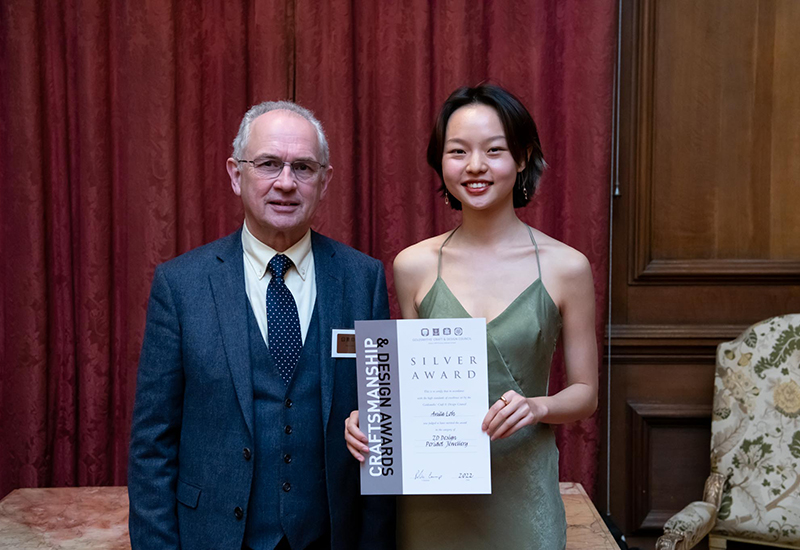 Anita Loh with Peter Crump, Chair of GC&DC
Fuli Gemstones invited craftspeople to design a small, exclusive collection of distinctive jewellery that features and promotes Peridot – a green gemstone that was first discovered around 1500 BC in Egypt.
"In Hawaiian folklore, Peridots were believed to be the tears of the goddess of elements, Pele. They can also be found washed up on beaches, and hidden under sand," explained Anita. "Because Peridots are often overlooked, I wanted my design to convey their hidden beauty – how they effortlessly capture the vivid hues of olive green. The earrings are designed in 18k white gold to highlight the colour of the Peridot gemstone and the earrings are shaped like a veil around the gems, alluding to its hidden nature."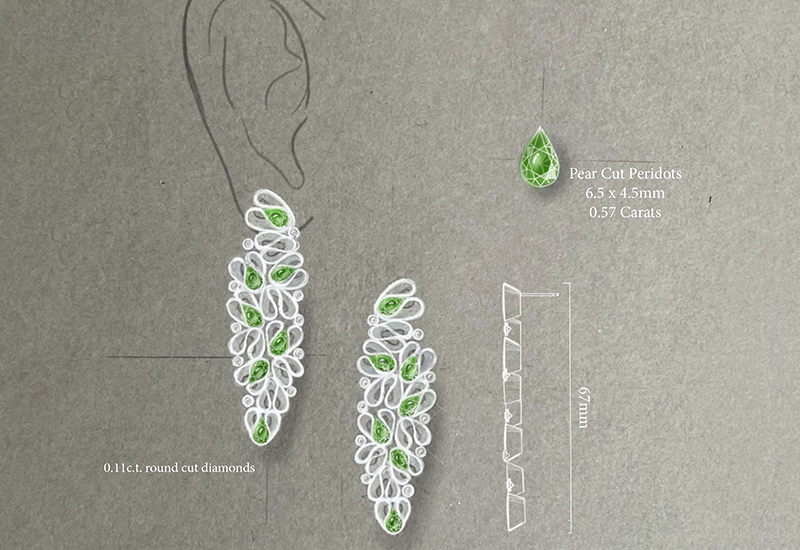 ©Anita Loh
Anita will go on to complete her degree at UCA Farnham, exploring new materials and laying the foundations for her career as a jewellery designer.
"UCA will always be the place where my jewellery journey began. The facilities and technical staff deepened my knowledge of the making process and skills in the industry. I have also been introduced to many new experiences and lovely people who have helped me with my design process," she said.
To learn more about Crafts degrees at UCA, visit the course pages.