Immersive Paphos project for
UCA architecture lecturers
Architecture lecturers from UCA have been chosen to take part in a major art festival in Cyprus, helping breathe new life into towns across the island.
13 Dec 2022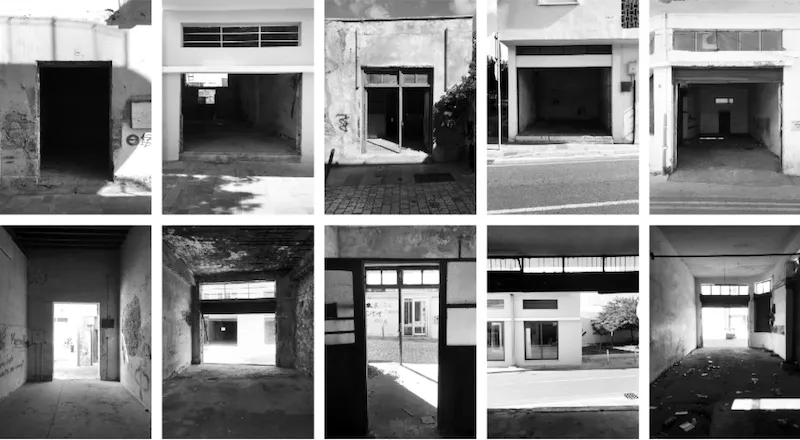 Gabor Stark, senior lecturer and course convener for Master of Architecture (ARB/RIBA Part 2) at UCA, and Cyprus-based Emilio Koutsoftides, who is a former UCA student and is now a visiting lecturer, have been invited by E.KA.TE., The Cyprus Chamber of Fine Arts to participate in the EFE – 6th Annual Installation Art Festival 2023.
The festival features eight projects across four major cities in Cyprus, and Gabor and Emilio's project will be to realise an urban sound installation in Ktima, the old town of Paphos.
Within Paphos, there has been a recent initiative to remove the facades of abandoned properties. Previously blocked off from public view for years, these facades are now freely accessible urban niches and present a new hybrid species of space that blurs the boundaries between public and private.
The sound installation investigates, records, and animates six of these in-between spaces. A bench provides the opportunity to dwell in the empty space; a site-specific soundscape activates each location, inviting visitors to listen, to reflect, and to fill the void with conversations about possible urban futures.
Gabor said: "After our contribution to the Pafos 17 – European Capital of Culture programme in 2017, Emilio and I are looking forward to realising another public art project in Ktima.
"For the EFE festival, we will continue our investigation into the interrelationships between space, place and sound – a theme we started to explore in two previous sound sculptures that were exhibited at the Architecture Biennale in Venice, and at the Larnaca Biennale in 2021.
"Entitled KENOTOPIA, our installation in Ktima will focus on the possibility of sound to temporarily activate unused urban spaces."
Emilio and Gabor will realise their project in 2023, however a demo version of the KENOTOPIA soundtrack, and photographs of the complete EFE selection, were recently exhibited at the E.KA.TE. Gallery in Nicosia.
Find out more about Architecture at UCA.