Professor Lesley Millar curates new exhibition
that explores fabric and the body
12 Mar 2020
Compton Verney Art Gallery will play host to a new exhibition titled Fabric: Touch and Identity, which has been curated by Professor Lesley Millar from the University for the Creative Arts (UCA).
Prof. Millar is the Director of the International Textile Research Centre and Professor of Textile Culture at UCA Farnham. Alongside Porfessor Alice Kettle from Manchester Metropolitan University, they have curated an exhibition that looks at how the inherent sensuality of all types of material has inspired artists down the centuries.
The result will be an immersive look at the way textiles can seduce, conceal and reveal thought art, design, film, and dance.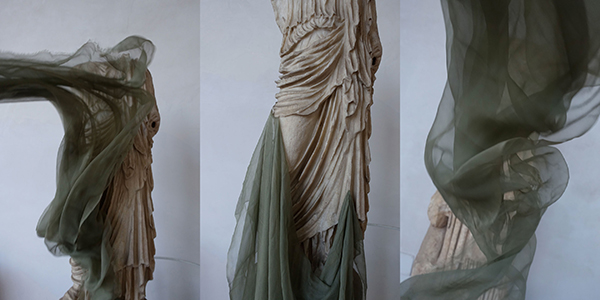 Liz Rideal, Terme di Diocleziano, triptych 2017, photograph by Mike Dye
Julie Finch, Director of Compton Verney said: "This exhibition artfully explores the relationship between touch and fabric, we're presenting fresh and creative perspectives on this subject, revealing the hidden importance of fabric."
The exhibition will feature around twenty works by creatives including celebrated fashion designer Vivienne Westwood, weaver Raisa Kabir, former National Gallery Artist in Residence, painter Alison Watt, sculptor Cathy de Monchaux, and textile designer Reiko Sudo.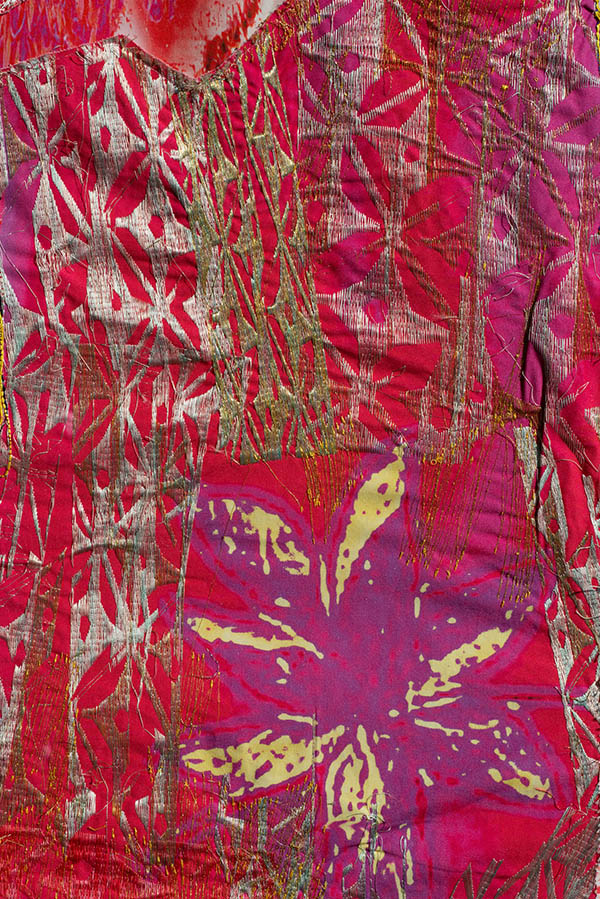 Detail 2 from Alice Kettle, Adam and Eve, photographed by Joe Low
Fabric: Touch & Identity will take the visitor through three galleries; Sensuous Cloth, which explores the historic context for fabric and its inherently sensual qualities; The Response Body, which examines the integral role fabric has played in exploring sexuality; and Between Cloth and Skin, which investigates material in its own right.
A fourth gallery is filled with a specially commissioned immersive, site-specific installation by Reiko Sudo, called Fanfair. Sudo works with architects and has also been responsible for re-vitalising several traditional textile mills in Japan through her re-interpretation of their archive.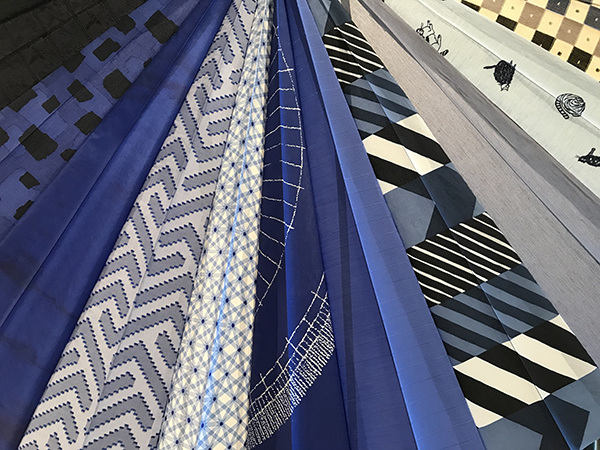 Reiko Sudo, Fans Detail
All the works on show demonstrate how the artists and designers have employed fabric to express and subvert societal expectations, explore sexuality and personal identities, and investigate the physical sensations and engagements we make with fabric.
Fabric: Touch & Identity opens on 14 March and runs till 14 June 2020 at Compton Verney Art Gallery, Warwickshire, CV35 9HZ.
To learn more about studying Textiles at UCA, visit the course pages.