George Stoneham, a BA (Hons) Architecture graduate from the University for the Creative Arts (UCA) has been longlisted for the RIBA Rethink 2025 Design Competition for his idea for a post-COVID future.
Studying at UCA Canterbury, George's people-centered idea for the 'World Health Sanitation Box' – a network of compact sanitation stations to help protect people as they go about their lives - was created in response to RIBA's invitation to design the post-Covid, environmentally aware, world of 2025.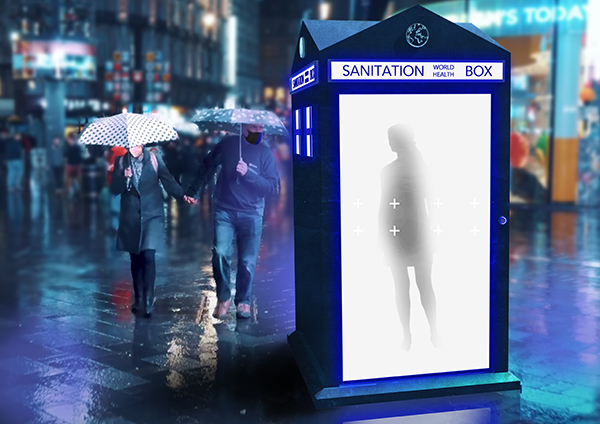 ©George Stoneham
"The ingenuity and ideas demonstrated across different issues on the longlist – from health through new building types to streets and neighbourhoods – breeds an optimism about how we reset after the coronavirus pandemic," said Rethink 2025 chair of judges, Hugh Pearman of the RIBA Journal.
George's concept uses the old telephone and police box network,s which used to operate throughout the UK, repurposing them into compact, public, sanitation spaces, allowing people to disinfect themselves on the go.
"I have always felt the need for more sanitation in public spaces, well before the COVID-19 pandemic, said George. "My design is low maintenance can be realistically implemented on almost every street in the world – helping to save lives today."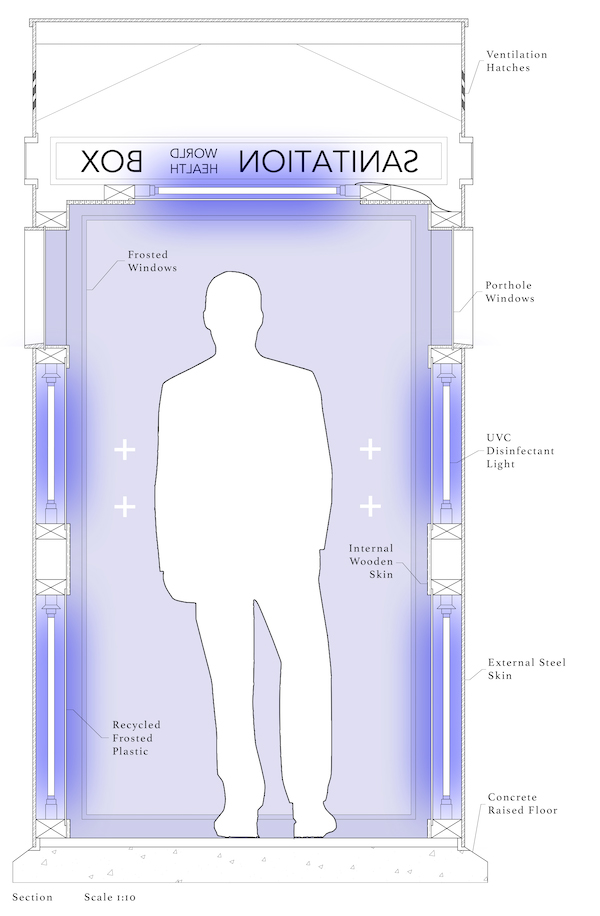 ©George Stoneham
Each sanitation station would be contactless, opening with the wave of a hand. Once inside, the process of sanitation would use UVC light technology, avoiding the need for hand sanitiser or alcohol gel, which leave hands dry and involves constant maintenance. The whole process would be recorded on a World Health App, which would be scanned on entering a public building to prove you were properly sanitised.
"While designing the Sanitation Box, I realised just how much our world will have to change in order to design clean and healthy architecture," added George. "We need to breakdown compact cities like London and design new expansive cities with more green spaces, fewer cars, and buildings that flow better. We need to be thinking more strategically about how we use space.
To see the Rethink 2025 Design longlist, visit the RIBA website.
To learn more about studying Architecture at UCA, visit our course pages.