The University for the Creative Arts (UCA) has been announced as an Education Estates Client of the Year Award finalist following a collaboration with Pascall+Watson on UCA's new Film & Media Centre.
UCA Film & Media Centre © James Newton
Located at the university's Farnham campus, the building accommodates students studying performing arts, film studies and music composition & technology, with a multitude of cutting-edge technological equipment.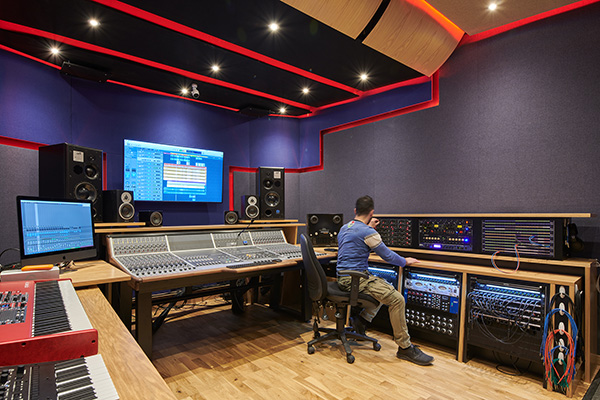 UCA Film & Media Centre 'Control Room' © James Newton
The recognition reflects the passion, direction and support that the university has shown Pascall+Watson throughout the design and construction process.
Samantha Brewer who works as an architect for Pascall+Watson and was the project lead on the Film and Media Centre said: "Prior to working for Pascall+Watson, I was a student of the School of Architecture at UCA Canterbury. Having progressed with the university from a student to a working professional, it has always been a pleasure to work with and alongside them. The university constantly strives to provide the best facilities for its creative student cohort by using a wholly collaborative process throughout all stages of design. The Film & Media Centre project was led by creative, artistic and highly skilled academics, whose input throughout was enthusiastic and insightful."
UCA Film & Media Centre 'Music Room' © James Newton
The Education Estates awards celebrate excellence in the built environment across the UK. This year's winners will be revealed at an annual gala dinner in October.