BA (Hons) Film Production graduate Anthony Woodley is releasing his latest feature film, starring Game of Thrones stars Lena Headey and Iain Glen, at Curzon cinemas this June.
Since graduating from the University for the Creative Arts (UCA) Farnham in 2010, Anthony has been working in the film industry full-time. Anthony said: "I co-own a company that supplies aviation to the film industry, and I have worked on films such as Spectre, Jurassic Park, Fallen Kingdom, Darkest Hour and Bohemian Rhapsody, to name a few. On top of that, having won the Southern Royal Television Award for my graduation film Love Inc, I got a taste for directing. I've directed two independent films and The Flood is my cinematic debut."
Image courtesy of © Megatopia Films
The Flood is a film about a hardened immigration officer –played by Game of Thrones star Lena Headey – who is offered a high-profile asylum case, judged on her ability to quickly and clinically reject applicants. Through her interrogation, she must uncover whether Haile –played by Ivanno Jeremiah – is lying and has a more sinister reason for seeking asylum. Based on multiple true stories, The Flood is a thoughtful and timely reflection on the humanity within the refugee crisis.
The film was originally pitched as a play set in a shipping container at the height of the refugee crisis in 2015 when Anthony saw the opportunity to capture on film something that has not been seen before, a journey of a refugee from Africa; crossing deserts and oceans to seek asylum in mainland Europe. To research the film, Anthony and his team volunteered in the 'Calais Jungle'. He said of his time there: "I really wanted to make the film as truthful as possible. It was important to meet lots of refugees and learn about their journeys and motivations. It was a truly eye-opening experience and one which I will never forget."
So, what does Anthony hope audiences will take away from the film: "I just wanted to bring some humanity to each side of the story, from the civil servants to the refugees. We live in a time of Brexit, misinterpretation and anger. We just shout at each other on social media, and I think it's time to stop, listen and try and understand each other. Maybe then we can start to work together to fix the divide that has been created."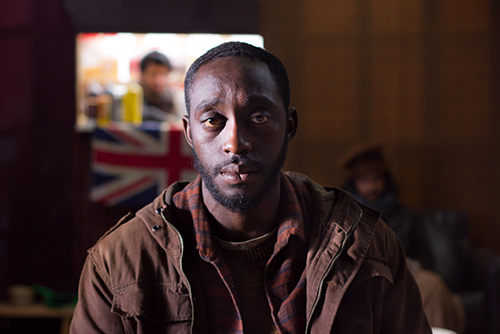 Image courtesy of © Megatopia Films
On discussing the casting of Lena Headey and Iain Glen, both recognisable actors from the Game of Thrones series, Anthony said: "We had noticed that Lena had done some fantastic work with the International Rescue Committee in Greece during the crisis and it just felt like a good fit. Fortunately, she loved the script and was on board from that point. As for the character played by Iain, he was always top of my list. Next thing we knew both Iain and Lena were in the film. They are extremely talented actors but, are also passionately kind humans who fully understand the importance of the message within the film, which has been invaluable."
Also working alongside Anthony Woodley on the film are UCA film graduates; Mike Pike – Editor, Joel Frakes – Still Photographer, and Alex Battershall - Trailer Editor. Anthony said: "I wouldn't be where I am now if I hadn't grown with the people I met at UCA. We have helped each other since day one and I am a big believer that "you are only as good as the people you surround yourself with". UCA gave me the opportunity to meet, work and grow with these talented people. It was the birth of a network upon which we grew our careers."
The Flood is released by Curzon cinemas on 21 June.
Watch the trailer:
To find out more visit the Curzon website
Read more about Anthony Woodley on IMBD or follow him on Twitter @anttoby1