Textiles student Charlotte Bull has been named runner-up in the Swedish Fall design competition, whilst Fashion Design student Alexandra Datcu was named as one of the finalists.
Charlotte who studies BA (Hons) Textiles for Fashion & Interiors at the University for the Creative Arts (UCA) Farnham was awarded a 50€ voucher redeemable on swedishfall.com, after submitting her design for the competition brief: design a women's outfit that can be worn in the gym as well as when going out with friends.
"I designed casual gym wear that is perfect for summer and winter which focused on the tactile qualities of the garments. It provides a comfortable amount of coverage for coffee meetups with friends as well as a cool fresh look for the gym or outside."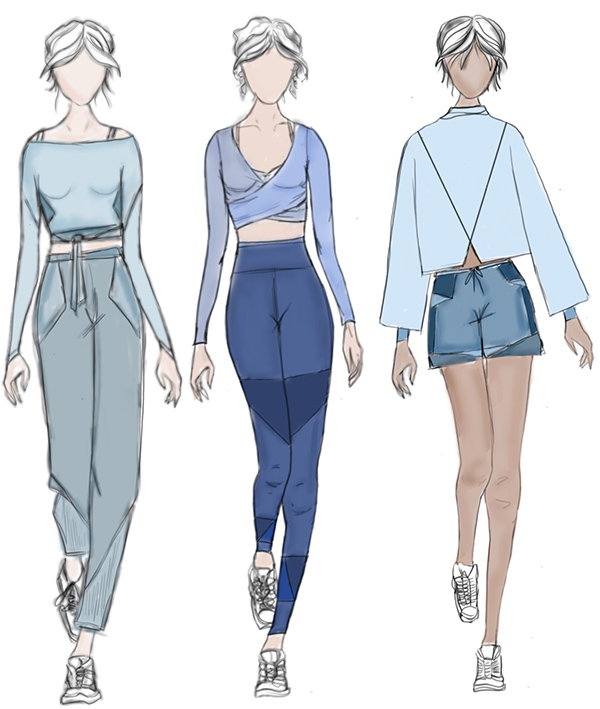 ©Charlotte Bull
Swedish Fall said: "We absolutely loved her designs, we thought they were exciting, original & very SWEDISH FALL!".
Her collection included three looks:
Look one revealed simple muted colours, an open back with a geometric pattern on either side, a wrap design, which can tie at the front or back and lightweight cotton joggers which can be rolled up at the ankles.
Look two is a cross body long-sleeved top made from a jersey material which frames the figure. The high waist leggings are synched in at the waist and the indigo colour gives the appearance of a jeans aesthetic.
Look three includes an oversized jumper – a lightweight summer piece you can throw on over anything. It has an open triangular back to keep you fresh and allows for optimum movement. The light blue colour palette evokes a relaxing atmosphere along with the shorts that are perfect for an outdoor run and come with a similar geometric side pattern.
"This challenge gave me something new and fun to work on while in lockdown," added Charlotte.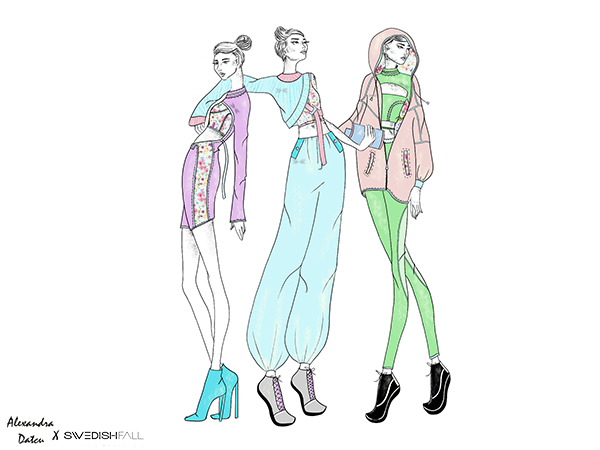 Alongside Charlotte, Alexandra Datcu was one of the shortlisted finalists. She is in her third-year BA (Hons) Fashion Design course at UCA Rochester. Alexandra entered the competition with her collection called, 'Here's to an active summer'.
"It was inspired by the relaxed silhouettes of a Californian summer in the 60s," explained Alexandra.
This was then combined with modern sportswear details to create a comfortable and stylish outfit that transitions from a workout to hanging out with friends.
Alexandra added: "using the pastel colours and floral prints of the beach and 60s car designs, I was able to create a bright and eye-catching colour palette."
To learn more about studying Fashion and Textiles at UCA, visit the course pages.