Beatrice Bara, a BA (Hons) Advertising student at the University for the Creative Arts, has entered her Burger King campaign into this year's The Drum Chip Shop Awards.
Bea entered the award's Best Use of Honesty category with a brief she called 'The Realeast Whopper'.
The Chip Shop Awards is the only creative celebration of advertising with no rules in the world and is open to all levels of experience when it comes to creative practitioners. Other categories featured include Best Stunt or Experience, Best Ad Which Really Should Run, Best Shop Window Post Card and even Best Use of Bad Taste.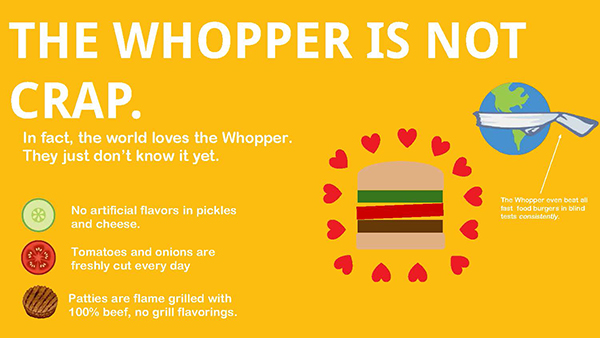 ©Beatrice Bara
Bea's 'The Realeast Whopper' idea was designed as a hypothetical creative for one of the most awarded brands in the world, Burger King. She was inspired by the trend of authenticity in brand marketing and applied it to Burger King's Whopper by turning it into an influencer on Instagram.
"The Whooper was being accused of not being authentic, online rumours about how Burger King is not using the ingredients properly, including freezing its meat, painting on grill marks and so on, so that millennials and younger people were starting to believe it, which began antagonising the burger chain for no apparent reason. My first thought was, this poor Whopper was being attacked for being inauthentic online when the attackers themselves are not their authentic selves online either."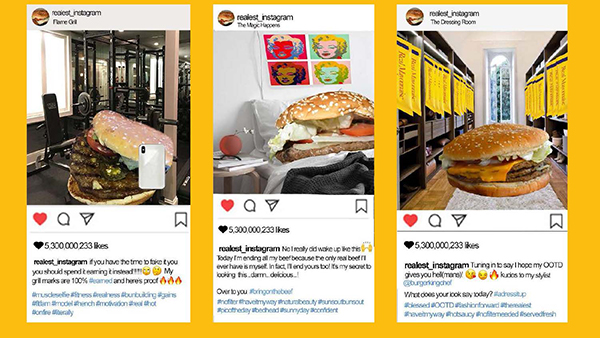 ©Beatrice Bara
Bea turned the whooper into an online influencer to address those on social media who she refers to as the "gatekeepers" of what is real and what is authentic. People look up to these "gatekeepers" or social influencers to dictate the ideal of what being real is, which is by its very nature, an ideal and unachievable. So, Bea decided if anyone can become an influencer why not have a real one.
"This campaign promotes being authentic on the internet in a provocative, ridiculous and entertaining way, that is hard to be ignored. And, I know there is irony in the fact that a fake burger coming to life is more real than any human on Instagram, but in reality, it does teach you how to be yourself more, and it loosens up the tension that is building upon these social platforms."
Watch Bea discuss her campaign and The Chip Shop Awards in this YouTube video.
Nominations are set to be announced on 30 April.
To learn more about studying Advertising at UCA, visit the course pages.