Chaoran Li (Elina) a BA (Hons) Interior Architecture and Design student from UCA Farnham, was awarded a Commendation for her retail design for the Pets at Home Puppy Challenge, at the 2020 RetailEXPO Student Design Awards.
Every year three retail brands set challenges for students from colleges and universities throughout the UK. The challenge for UCA students – set by Pets at Home store format and development manager Sarah Perry – was to create a Puppy/Kitten World as a store-in-store format. The concept needed to establish the space as a community hub for pet owners, where they could celebrate their pets, seek expert advice, and access a range of specialist products.
©Chaoran Li
Tackling the brief were second-year students from UCA Farnham's Interior Architecture and Design course, who were mentored by Tim Greenhalgh, Mario Brown and James Donnellan from Fitch – a global design consultancy.
"My design is inseparable from the professional advice given by my mentors," explained Elina. "They inspired me a lot and made me understand that there was no right or wrong design only the logic or the reason behind it. They gave me direction and steered me on the right course"
Elina was awarded a Commendation for her retail concept 'Joy of Life', which was centred around the day-in-the-life of a pet – eating, playing and sleeping.
The judges said: "This was the best of the UCA schemes. Elina has clearly worked hard on the project and visualised it really well."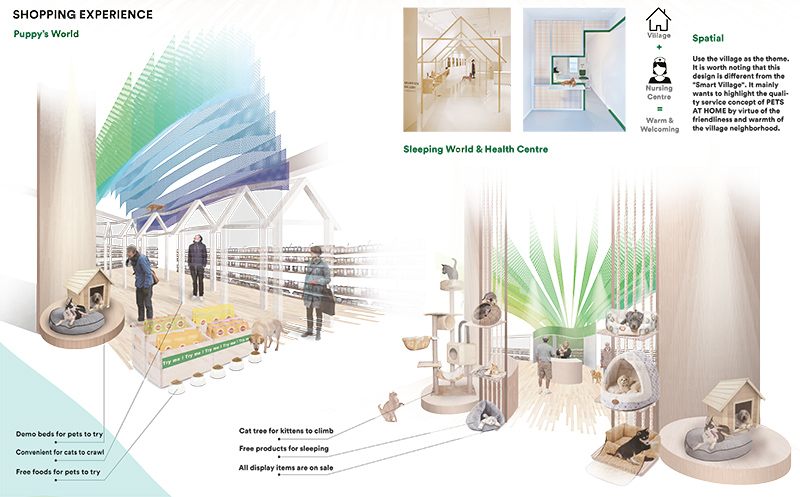 ©Chaoran Li
Inspiration for the design came from the love we have for our pets. "They can heal us, de-stress us and give us a temporary escape from the real world," said Elina. So, by naming her store 'Joy of Life' and designing it with 'love of pets' in mind, she was able to create something truly authentic.
For the design, Elina used high ceilings and gradient coloured metal panels to demarcate the different functions of the space. For example, green represented the reception and activity area, whilst pink represented the kitten area, and blue the puppy section.
Her idea also included an events space, a health centre, a play area, and an area for seating and refreshments. And, by using the shape of a cat's face she was able to create a unique floorplan and façade.
To learn more about studying Interior Architecture & Design at UCA, visit the course pages.