Two researchers from the University for the Creative Arts (UCA) will work with a leading company working in immersive technology to develop a toolkit for sculpting in virtual reality.
The project is part of StoryFutures new fellowship programme; an Immersive Storytelling Fellowship. It will explore the role that immersion – via virtual and augmented reality technologies – has to play in creating new storytelling tools that will allow users to build or develop new worlds, or imagined worlds, and touch and feel their creation.
Haptic Gloves ©Valkyrie Industries
Dr Camille Baker, a year leader on the MA Games course and a Reader in Interface and Interaction, and Dr Birgitta Hosea, a Reader in Moving Image will work in collaboration with Valkyrie Industries. Using the companies own cutting-edge haptic wearable gloves, the team will develop a sculpting virtual reality (VR) tool that will enable non-experts to get into 3D modelling and 3D animation.
"This project with Valkyrie Industries is an opportunity to work with an up-and-coming haptics company making tools for artists working in VR, so it's an exciting experience," said Dr Camille Baker.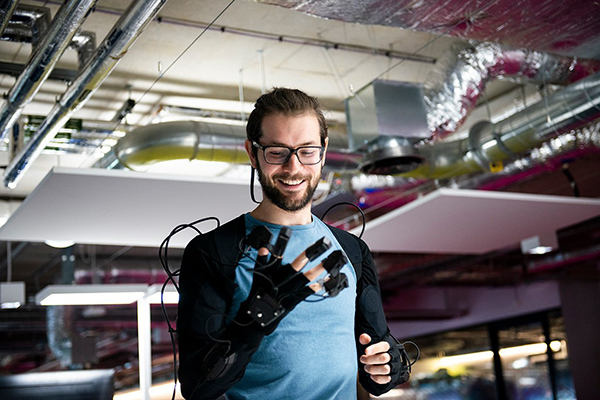 Haptic Gloves
With substantial expertise in creating sensory and immersive experiences, Dr Baker and Dr Hosea designed a project brief which recognised that touch and the use of haptic technologies is an increasing part of creative storytelling in the arts and entertainment. And, they aim to test those technologies and investigate the commercial possibilities and routes to market for their haptic-based experiences.
Chief Technology Officer and co-founder of Valkyrie Industries Dr Ivan Isakov said: "Virtual haptic sculpting is the most direct, scalable and potentially impactful technology for the application of tactile technology to artistic creativity."
To learn more about Research at UCA, visit our Research Pages.