Professor Martin Charter, Founding Director of The Centre for Sustainable Design® at the University for the Creative Arts (UCA), has joined an Expert Advisory Council to support a new global initiative tackling the problem of discarded fishing equipment – also known as "ghost gear".
The Global Ghost Gear Initiative (GGGI), launched in 2015, was set up to reduce the ecological and economic impacts of ghost gear and shine a light on the issue. According to the United Nations Environment Programme (UNEP), more than one hundred thousand whales, dolphins, seals and turtles get caught in abandoned or lost fishing nets – which can be up to the size of football pitches - long lines, fish traps and lobster pots every year.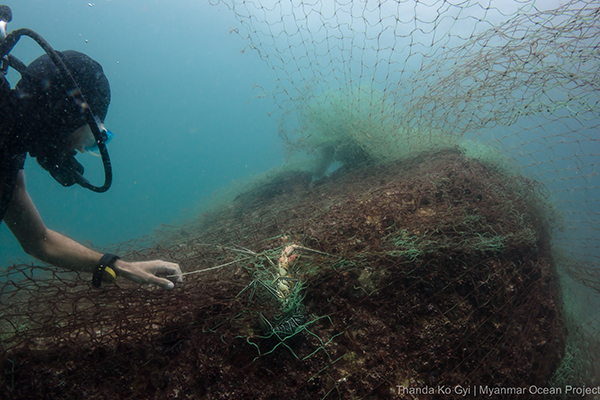 Diver in Myanmar surveying lost net on a reef. Photo © Thanda Ko Gyi
Ghost gear also has a direct impact on the ecology of the oceans, damaging shallow coral reefs, killing fish normally trawled for human consumption and, as most of it is plastic-based, lingering in the sea for up to six hundred years, shedding microplastics as it degrades.
The GGGI is the first global alliance dedicated to the issue of ghost gear and has three aims - to improve the health of marine ecosystems, to safeguard human health and livelihoods; and to protect marine animals from harm.
The Expert Advisory Council comprises experts from the fishing industry, private sector, governments, intergovernmental, non-governmental organisations, as well as academia. Every participant has a critical role to play in providing expert information and opinion to assist the GGGI Leadership, the outputs of the GGGI, and its working groups.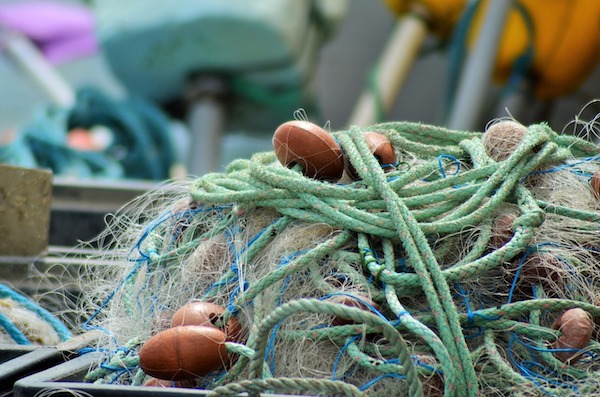 Professor Martin Charter joins the council with thirty year's experience in business sustainability, with particular expertise in sustainable innovation, product sustainability, and circular economy. He has also sat on many international expert committees and advisory boards including World Resources Forum and Eco-innovation Observatory.
"Engaging academia is essential, as data gathering, research and innovation are all crucial pieces to solving the ghost gear puzzle. Most end-of-life and waste fishing gear are made from highly recyclable plastics which can be used to create new useful products," said Joel Baziuk, (Acting) Deputy Director of GGGI. "It's about more than just recycling, however, as innovative product design is crucial to ensuring new products made from recycled material can be put back into the system as raw materials themselves. Professor Charter's extensive expertise in these spaces is highly valuable to the GGGI, and we're very happy to have Professor Charter as a member of the GGGI Expert Advisory Council."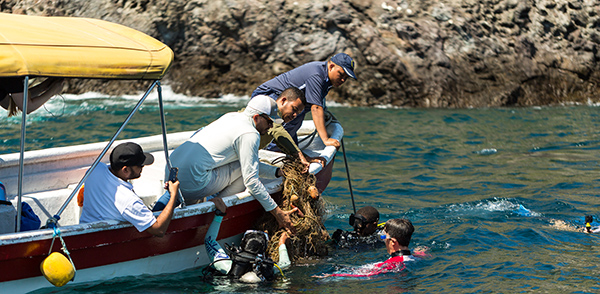 Divers removing a ghost net in Panama. Photo ©Joel Baziuk
Professor Charter said: "It's great to have joined the Expert Advisory Council for the Global Ghost Gear Initiative. European Commission research has indicated that waste fishing gear represents 27% of all marine plastic, so there is an urgent need to stop fishing gear going into the sea in the first place, and to bring circularity into its design and development. I hope to bring my experience to GGGI to develop better solutions at a policy and product level."
To learn more about the GGGI, visit their website or follow them on Twitter.
To learn more about The Centre for Sustainable Design® at UCA, visit their website.