David Jones, a lecturer working in the International Department at the University for the Creative Arts (UCA) has been nominated for the Association for Art History (AAH) Postgraduate Dissertation Prize 2019.
The AAH Dissertation Prize is awarded each year, to dissertations in art history or visual culture. There are two awards: one for undergraduate dissertations and one for postgraduate dissertations written during the 2018-19 academic year.
"The nomination came as a complete surprise," exclaimed David. "If I were to win, the prize would not be mine – I am hugely indebted to a series of outstanding teachers, friends, family, colleagues and a fantastically supportive (and long-suffering) partner.
"At this level, there will be stiff competition. In any case, my satisfaction, clichéd as it sounds, derives from the understanding gained through the pursuit of academic study – and if there is one thing I would wish to teach students, it is the rich reward offered by this never-ending pursuit."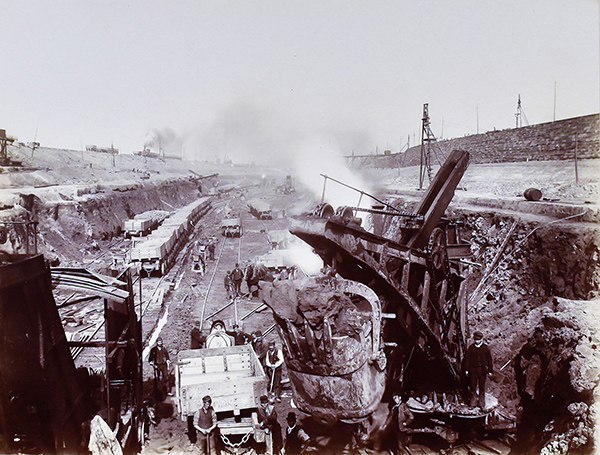 Manchester Ship Canal © Thomas Birtles
David's dissertation was centred on the work of a Victorian photographer, Thomas Birtles – who was the official photographer for the construction of the Manchester Ship Canal. David was keen to research the development of industrial capitalism in England, through the lens of commercial photography.
"Britain's power was declining. This paranoia led to a mantra of free trade - the Canal was the result. Such fetishisms are powerful visionary ideologies and require imagery to support the fantasy hence the increased popularity in photographs. But, the Canal was a commercial failure and never returned the rewards promised. Britain's power inexorably declined due to a dire lack of critical thinking from its leadership, who remained enchanted by these fantasies of free trade."
He started out on his academic journey with a career as a commercial photographer and through his experiences, he began to appreciate that knowledge of history and theory greatly assisted in his practice.
"I also became aware that, in the industry, this knowledge of history and theory is both highly prized and tacit - nobody actually refers to it directly, but the leading practitioners employ it directly," explained David. "As a result, I began teaching myself both history and theory, but slowly realised that this was an arduous route, therefore chose to study instead."
Whilst completing an MA in Photographic Studies from the University of Westminster, David picked up a love of teaching, then deciding to undertake a Postgraduate Certificate in Higher Education (PGCHE) course at UCA, which gave him a masters level teaching qualification.
"This course was excellent and confirmed two things - I loved teaching and I loved history and theory - and it confirmed my initial view that good practice requires deep knowledge of both," explained David.
Whilst teaching at UCA, David undertook a second MA at Birkbeck in London. This masters in Art History included a specialism in photography and it was his professors there, who nominated David for the AAH Dissertation Prize.
"I'd like to think (though it's for others to judge) that my work contributes to the largely ignored, but immensely rich study of commercial photography and its history," said David.
"I firmly believe that study in this area is of immense value in practice – it allows practitioners to more securely locate themselves within the world of art and design, and to more firmly grasp how artworks and its role in society. It also hones critical thinking skills – and, for art students particularly, this has tremendous benefit both in terms of confidence in their subject and in a clearer understanding of their role – which has further benefit in terms of employability –in short, it makes one, not just a better, but a more reflective worker within the cultural field."
The author of the winning entry will receive, £50 worth of book tokens, AAH membership for a one-year, a complimentary ticket to the 2020 Annual Conference in Newcastle, and the publication of a 300-word abstract of the winning entry online and in the AAH newsletter.
The winner will be announced later in the year
To learn more about studying at UCA, visit the course pages.