A sculpture designed by University for the Creative Arts (UCA) graduate Manuela Kagerbauer has been shortlisted for a Craft Town Public Art commission in Farnham town centre.
This autumn, the New Ashgate Gallery, supported by Arts Council England, invited artists to submit their proposals for a public sculpture to celebrate Farnham's rich craft history and Craft Town status.
The sculpture will be located in the courtyard of the Grade II listed building of the New Ashgate Gallery in Waggon Yard, and aims to enhance the public knowledge and understanding of Farnham's craft heritage.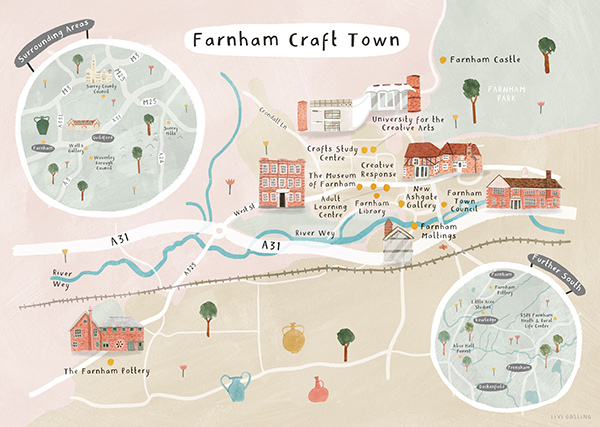 ©Farnham Craft Month
Manuela, an MA Jewellery graduate from 2018, is shortlisted for her proposal titled Window, alongside Walter Bailey's Stacked Craft Cubes, and David Mayne's Farnham Sculpture.
"During my study at the University for the Creative Arts I fell in love with the beautiful brickwork houses, the little hidden alleys, and the amazing arts and crafts events in Farnham – this project will allow me to give something back to the town," said Manuela.
Window will be a site-specific, stainless-steel, freestanding sculpture. Its design will respond to both the wooden beams of the New Ashgate Gallery and the surrounding buildings. For example, the rounded corners of the sculpture will reference the corners of the brickwork houses near the Waggon Yard, which were rounded off to prevent chipping by passing waggons.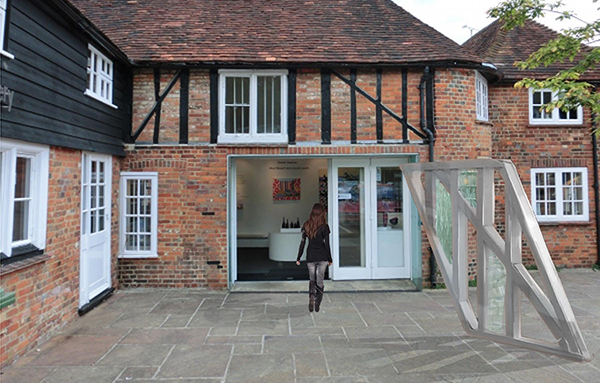 'Window' ©Manuela Kagerbauer
"My sculpture will also have three inset panels depicting the heritage of Farnham. A competition will be run with local schools to create motifs for these panels," she explained.
Integrating schools was one of the key elements of the project. "I love engaging with people and communities through art," she said. "And with this project I wanted to actively encourage and facilitate workshops with the local schools, incorporating their designs into my sculpture."
Manuela hopes her proposal will be sympathetic to its surroundings, reflect the heritage of crafts in Farnham, and be a visually striking feature for the town – giving the community an iconic modern artwork to be enjoyed for years to come.
As well as this, Manuela has included one further design consideration in her proposal: "The sculpture will cast interesting shapes and shadows as the sun passes through the day, similar to that of a sundial," she said.
Proposals by the three shortlisted artists will be exhibited at the New Ashgate Gallery from 11 January to 29 February 2020.
The public will be invited to vote and select the winning proposal – to be announced on 7 February. The sculpture will be installed in October 2020, during Farnham Craft Month.
To learn more about studying crafts at UCA, visit the subject pages.
Stay up to date with Manuela's work by visiting her website or following her on Instagram.