Recent Fine Art graduate Chloe Johnson has been selected for the Mall Galleries FBA Futures 2020 exhibition opening next January.
Chloe Johnson who graduated this year with a BA (Hons) Fine Art from the University for the Creative Arts (UCA) Canterbury, was selected to take part in the exhibition, which showcases the best of contemporary figurative painting, sculpture, and drawing by new graduates.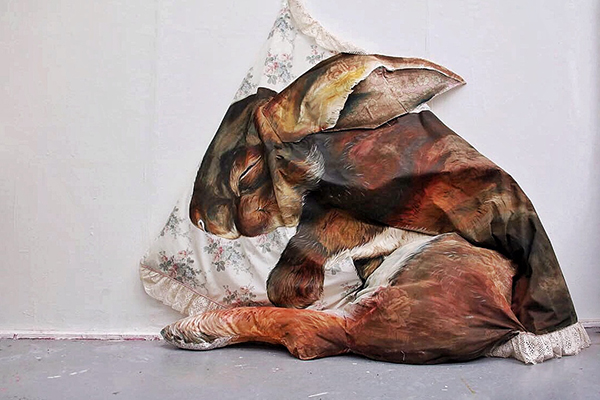 'The Rabbit and Her Blanket' ©Chloe Johnson
"After my degree show, I was contacted by the Mall Galleries. They told me they had enjoyed seeing my work and thought I would be a good fit for the Futures 2020 exhibition," said Chloe. "I was invited to submit up to six pieces for consideration, from which The Rabbit and Her Blanket was selected to be part of the exhibition. This will be my first time exhibiting outside of my hometown and UCA – I am really excited about this opportunity!"
Chloe's practice is influenced by domesticity, the natural world, and children's literature. The Rabbit and Her Blanket is constructed of a single duvet cover with an extended leg and ear.
"She is escaping her pictorial frame, stepping out of her story, and into our world," explained Chloe. "I wanted her to take up as much space as I do and a single duvet was a perfect size. She draws on ideas of comfort, with the familiarity of print, animals, and the physical softness of the duvet."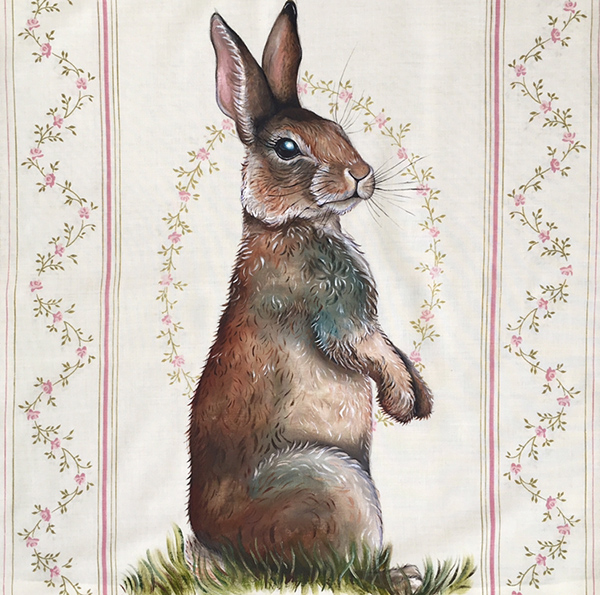 ©Chloe Johnson
Chloe enjoys using a mixture of second-hand household fabrics and textiles in her practice, which come with a pre-existing narrative and history behind them. It then becomes a challenge to build upon these existing stories, with Chloe painting over bobbled areas, stains, and marks, adding to the history of the pre-loved object.
FBA Futures 2020 presents over eighty works by forty-three of the most outstanding art graduates of 2019, mapping new practices and ideas of representation and draughtsmanship.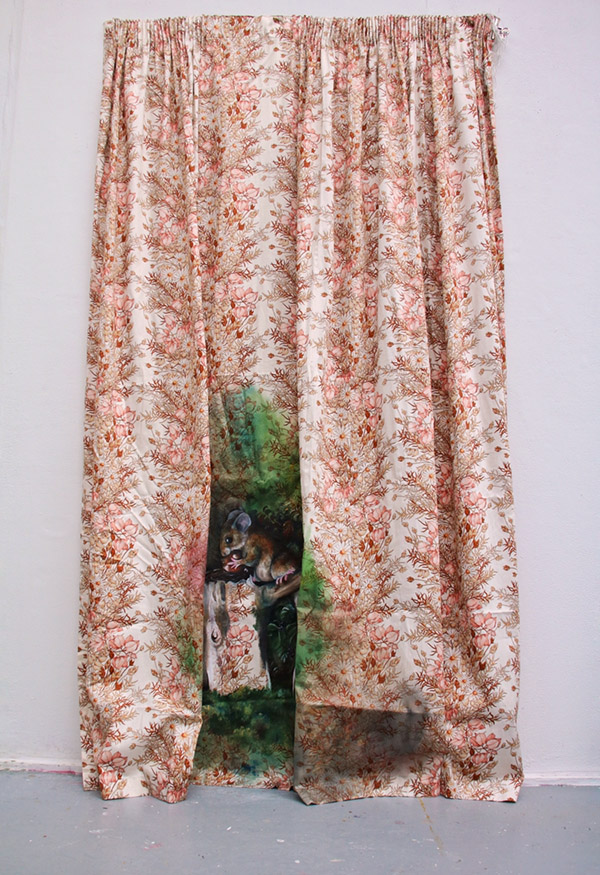 ©Chloe Johnson
Clare O'Brien, CEO of Mall Galleries said, "FBA Futures 2020 is comprised of artists who we hope will go on to shape the future of figurative art. They will join artists from the last seven years of Futures whose works are now in the collections of museums and galleries in the UK and Europe. This reflects the strong resurgence of interest in figurative art and especially contemporary painting, seen across the wider art market."
FBA Futures 2020 is online at www.mallgalleries.org.uk.
The exhibition runs 7 – 18 January 2020, Mall Galleries, The Mall, London SW1.
Open daily 10:00am – 5:00pm. Free admission.
To find out more about studying Fine Art at UCA visit the course pages.