University for the Creative Arts (UCA) graduate Jasmine de Baeza has been named one of the nationwide winners of the prestigious 2020 Graduate Fashion Foundation Awards.
Jasmine, who graduated in 2019 in Fashion from UCA Epsom, won the Illustration Award from the organisers of Graduate Fashion Week, after the judges were impressed by were impressed by her thought-provoking ideas on the topic of paranoia. Her final collection - 'Who's Watching' – looks at the history of surveillance and reflects the current behaviour of today's society, which in turn trickles down to every aspect of life including what we wear.
"My illustrations feature two final looks from my graduate collection. I drew inspiration from the increasingly invasive and normalised behaviour of voyeurism in society and how this is infiltrating every aspect of daily life, including our choices in clothing and outward appearance," explained Jasmine.
Each garment in Jasmine's collection reflected different elements of surveillance, such as the use of metal to represent the caged feeling of paranoia. Recycled film negatives were also used to create garments and to help further document the history of surveillance from past to present.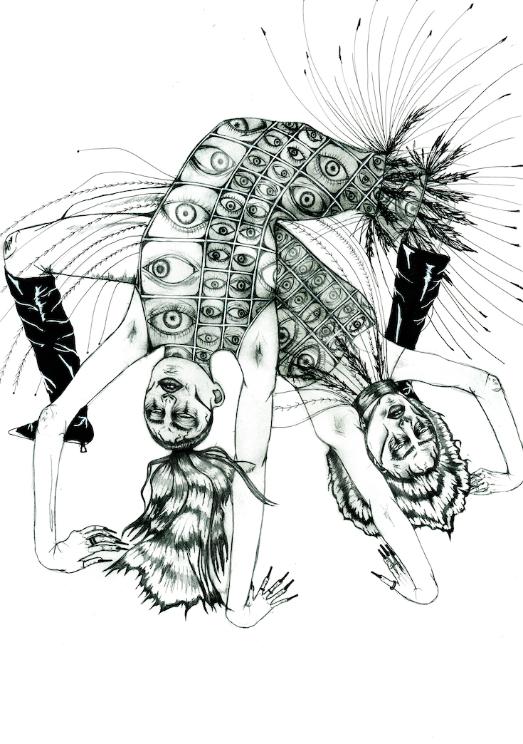 Jasmine was one of eight UCA graduates shortlisted for this year's GFF awards, from the fashion schools on both the Epsom and Rochester UCA campuses. "Winning the illustration award was a huge shock," she said. "I am so grateful for everything that I learnt at UCA. Before coming to university the only art experience I had was at GCSE level, so to be here now is amazing."
Commenting on the awards, Professor Jules Dagonet, Head of School Fashion, UCA, said: "I am delighted that so many UCA Fashion students are finalists for this year's GFW Awards. The class of 2020 have experienced the most difficult of times finishing their final major projects during lockdown. But with a spirit of determination, innovation, experimentation and courage they have collectively created work that is diverse, contemporary and exciting."
Graduate Fashion Week (GFW) is the largest showcase of UK & International BA Creative Fashion graduate talent and occurs annually in June. This year, due to the Covid-19 pandemic, the event had to go digital with GFW launching a series of activities to allow GFF to still showcase students' work. The GFF Awards are prestigious awards given to the best in graduating talent, marking excellence and creativity. The award categories for the eight UCA finalist talent ranged from Fashion Styling & Creative Direction Award, to Fashion Media Award, to the Considered Fashion, and to Fashion Range Plan Award to name but a few.