Laura Lee, a PhD student from the University for the Creative Arts (UCA) has developed a cooperation project with students from BA Audio Design at UCA's partner university in Berlin, School of Popular Arts, as part of her Erasmus exchange programme.
This international interdisciplinary project between the two institutions will be achieved remotely between three courses, MA Filmmaking, BA Music Composition and Technology at UCA and BA Audio Design at the Berlin School of Popular Arts.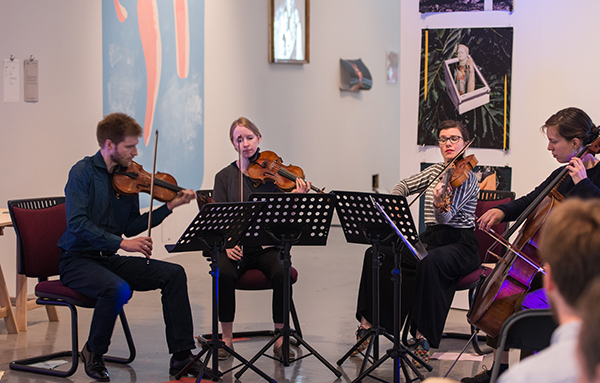 Music Tech Quartet, UCA
Not only a student at UCA, Laura also lectures on both the Music Composition & Technology course at UCA and the Audio Design course in Berlin as part of her Erasmus exchange.
"I wanted to show that these types of international collaborations are still possible even in the current times we find ourselves in," said Laura. "I saw this current time as an opportunity for students to build creative sound teams before their films go into production and start shooting. For composers and audio designers, our studios are our laptops so this project is allowing us to really experiment with sounds and build good relationships with film production teams."
The aim of this 15-week project is to produce creative work for film screenings, festivals or galleries. It will build a strong community of talented and skilled filmmakers, sound designers and composers for working on a film from the early stages of production through to delivery, and to build and create an interdisciplinary approach to film scoring and sound design.
"This is a fantastic opportunity for MA filmmaking students to begin forming relationships with audio specialisms," said James Caddick, Course Leader of MA Filmmaking. "My hope is that this early engagement in sound will serve as a creative springboard that will enhance the projects and serve as the basis for future relationships."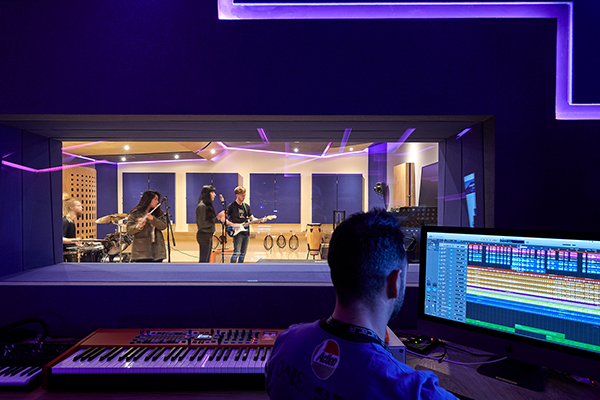 Film & Media Centre, UCA
As with any creative project, there is an importance on good collaboration skills, and at this time the world is communicating with ease due to video conferencing.
"It is an exciting time to connect and exchange skills," said Laura. "The more connections we make, the more opportunities happen, and the more we make creative things happen.
"I hope UCA students will benefit from working internationally and make the most of the opportunities that it brings. So far, it has been amazing to see how all the students are working together, building creative communities, even in these difficult times. I look forward to seeing the films come together and the future projects that will come out of this."
To learn more about studying Filmmaking or Music at UCA, visit the course pages.