The Farnham Repair Café – a collaborative project between The Centre for Sustainable Design® at the University for the Creative Arts (UCA), Farnham Town Council and The Spire Church – has celebrated its 1,000th repair.
Repair Café at The Spire Church
The Farnham Repair Café (FRC), which launched back in 2015 is part of a global repair café movement led by Repair Café International Foundation. It is a free community-based workshop focused on the repair of a diverse range of everyday household products from electronics, bicycles and clothing to vacuum cleaners, headphones and lights. FRC was set up as the UK's first repair charity in April 2017.
The café also offers a place for local people to socialise and network, and "re-craft" products, providing an opportunity for them to experiment and explore new ideas around the up-cycling of their belongings into new and improved items.
Central to this is FRC's "Share the Repair" philosophy that encourages owners to participate in the repair process and learn how to do repairs themselves. In return, owners can come away with a greater understanding of how their item works and why repairing is a better solution than binning it.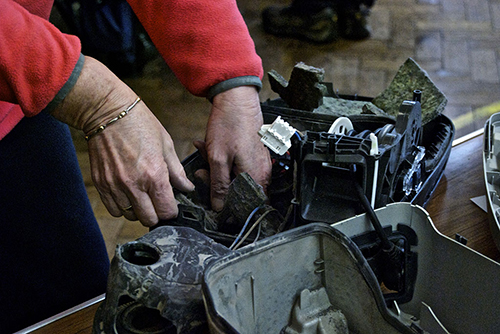 Vacuum Cleaner Repair
"How wonderful to have something repaired, and not need to buy a new hairdryer. Very grateful."
"Don't throw anything away as it may be repaired."
"10/10 for dogged persistence to repair a tricky fault in my iron. Keep up the good work."
FRC has received over two-thousand and five hundred visitors so far and has a satisfaction rate of 98%. The stats also show that the café has not only reduced CO2 by twenty-seven tonnes but, also diverted three tonnes of material that would have otherwise ended up in landfill. Success stories like this explain why there are now over one thousand and five hundred Repair Cafes worldwide.
Japanese Doll Cabinet Repair
Professor Martin Charter, the director of The Centre for Sustainable Design® at UCA commented: "When we launched FRC it was very difficult to visualise what success might look like because there were so few Repair Cafés in the UK when we started out. But, we found a fantastic group of local repairers in Farnham, and with support from Farnham Town Council and the Farnham community FRC has been very well received; and in today's world of 'fake news' we have created real local environmental, social, and economic impact. On top of this, we have shared our learning and given advice to a range of other local organisations who are looking to start up their own repair areas in the UK, such as Basingstoke, Petersfield, Alton, Dorking, and Bordon. Our café has also attracted visitors from other universities as well as researchers from Taiwan who were keen to learn from our success; we have also been featured on BBC TV and radio, and Brazilian television."
Strengths of Farnham Repair Café, Charter & Keiller, 2016.
For anyone looking for advice on setting up their own Repair Café, Professor Charter suggests: "Applying a business-like approach; establishing a clear vision; having someone in place to coordinate and plan activities; recruiting individuals with the right business and repair experience; establishing clear financial/marketing plans; identifying a central location with good access; and developing good relationships with key local stakeholders such as local councils or universities. These are just some of the key lessons for a Repair Café start-up."
The next FRC session will be held at The Spire Church on Saturday, 14 September from 10am to 1pm.
The café is also on the lookout for new volunteers to help the team on the welcome desk; and is always open to new repairers,
For more information visit the Farnham Repair Café website and on Facebook.
To find out more about The Centre for Sustainable Design® at UCA visit their website.