A BA (Hons) Computer Games Art student from the University for the Creative Arts (UCA) Farnham has been nominated in the Unity Awards 2019, with his project Final Run – a homage to the not-yet-released The Last Night
Unity is a real-time development platform which allows amateur creators to bring their games to life. The annual awards celebrate creativity and enable people to vote for their favourite gaming experience.
Roman Agapov graduated in 2019 and created Final Run as part of his final major project, crafting and running it on the Unity platform.
The Last Night has been described as Blade Runner meets Another World. It transports the style and vibe of cyberpunk adventures like Blade Runner into a 2D, pixel art game – billed by the creators as a "cinematic platformer."
"I studied the artistic style of The Last Night so I could reimagine my own cyberpunk world," said Roman. "My game is not intended to be sold or redistributed, it remains a university and a fan project which I occasionally share – the support it received on Twitter was insane."
'Final Run' ©Roman Agapov
The Unity Awards 2019 is not the only industry recognition the game has received. Earlier in the year, Roman's project was highly commended in the Console and PC category of the Rookie Awards 2019, which celebrates up-and-coming artists who are at the top of their game.
Starting out on Unity's free platform, which was released back in 2010, Roman spent a lot of time experimenting with its different tools and features, eventually getting into programming and modelling. He used these skills to work on a game called Red Alliance which was released on Steam in 2018; the project had a six-year development cycle. But it was his UCA course which strengthened his knowledge and experience of game design and gave him the opportunity to create Final Run. "It is my most notable piece of work to date," said Roman.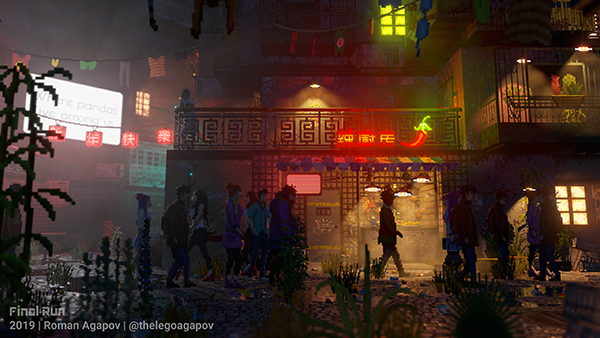 'Final Run' ©Roman Agapov
The course also gave him the opportunity to attend industry events, such as Pocket Gamer and EGX Rezzed, both in London, where he was introduced to and networked with industry representatives.
Since graduation, Roman has joined the development of a game called Cloudpunk, as a lead level designer. The game will be released in early 2020, after then he is "open to offers."
The Unity Award winners will be announced on 20 December 2019.
Vote for 'Final Run' on the Unity website.
Follow what Roman is up to on Twitter.
Learn more about studying Games Design at UCA by visiting the course pages.