The University for the Creative Arts (UCA) School of Crafts & Design has launched its new publication entitled Encompassing: Research: Essays from the School of Crafts & Design. This pocket-sized paperback contains fourteen illustrated essays from UCA School of Crafts and Design academic staff and is edited by Professor Lesley Millar; the director of the International Textile Research Centre, and Professor Simon Olding; the director of the Crafts Study Centre at UCA.
This collection of essays is reflective of the passion that the academic staff have for their subject, and aims to showcase their wide-ranging interests, from textiles, ceramics, jewellery, football, museology, basketry and rural buildings.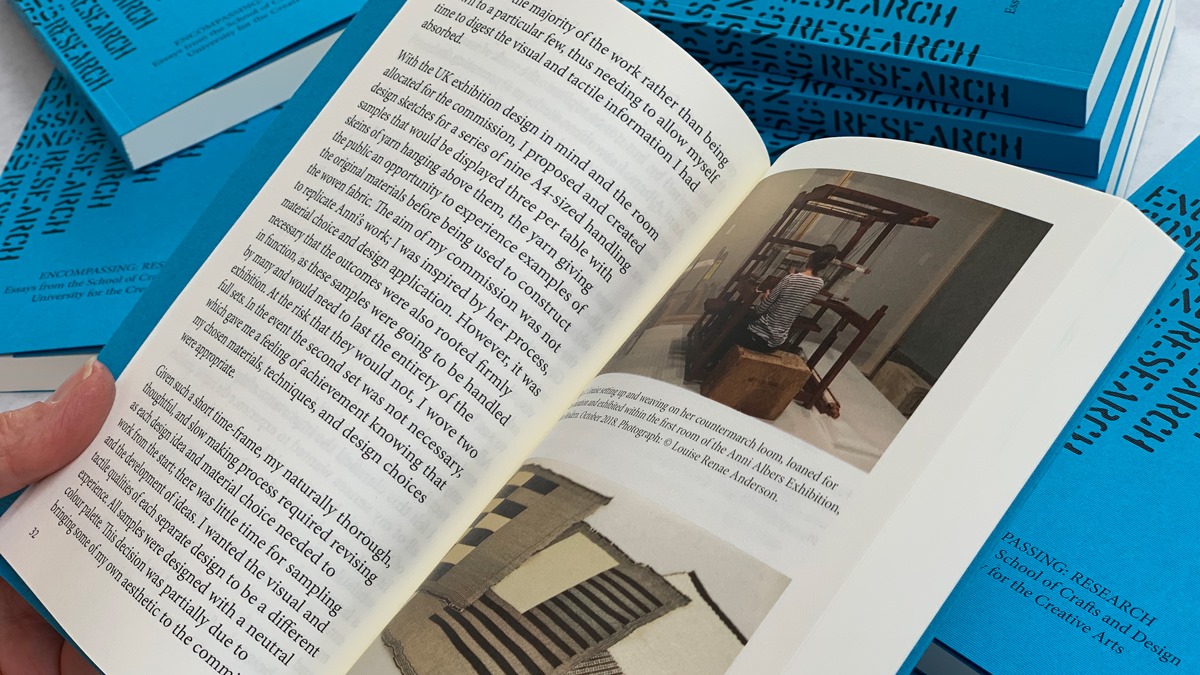 The book includes essays by; Ashley Howard, Beverly Ayling-Smith, Colin Holden, Mark Gower, Simon Olding, Michael Thomas, Lesley Millar, Greta Betram, Louise Anderson, Debra Allman, Rebecca Skeels, Sharon Ting, Lina Peterson, and Richard Appleby.
Lesley and Simon summarised in their introduction: "This publication demonstrates the significance of remaining curious, of courage to push boundaries, and the importance of remaining passionate about practice and excited by research. These essays express the thinking of a community of researchers whose wide bandwidth of interests enliven and contest the classroom, the studio and the gallery."
Mark Gower, the Programme Director for Interior Architecture and Design at UCA Farnham wrote his essay on the topic of football, namely the interior architecture of football stadia, and how it can give teams playing at home the advantage.
"Football's interior architecture is much more than an arena to watch a football match, it is the 'hidden 12th man' on the pitch that encompasses all interactions between significant architectural signposts and the footballers' on the field of play. The current design of football stadia has become homogeneous and focuses mainly on fan experience rather than the key user, the players. Significant amounts of money are spent in professional football analysing performance with a view to gaining a marginal advantage over a team's competitors. Analysts monitor player performance, tactics and the opposition before providing feedback to coaches for training. My research opens up a whole new perspective on the subject of player performance, which could provide significant gains to a team's performance," stated Mark.
'Seeing the bigger picture'. Photographic montage capturing space, spatial patterns and the interior architecture of the London Stadium, the new home of West Ham United. Image: © Mark Gower.
Encompassing: Research: Essays from the School of Crafts & Design is out now priced £10, and available to purchase from the Crafts Study Centre at UCA or available to buy from the UCA online store.