Two current students and four 2020 graduates from the Royal School of Needlework are among 24 embroiderers shortlisted for this year's Hand & Lock Prize for Embroidery.
Lucy Tiley, Grace Ingman, Durga Shanthakumar, Hisae Abe, Jessica Vale and Sabina De Oliveira Lima – all from BA (Hons) Hand Embroidery - were among the hundreds of students, graduates, professionals and skilled amateurs who entered their work in the four Prize categories, responding to this year's brief 'Poetics of Colour'.
Lucy and Grace, both graduates from this year, are contenders in the Textile Art section, while Durga, Hisae and Jessica are shortlisted for the Fashion category. Third-year student Sabina is in the running for the brand new RSN Associate Award for Innovation and Technical Excellence in Hand Embroidery - created to mark the Hand & Lock Prize 20th anniversary – alongside Lucy Tiley and Jessica Vale.
Lucy Tiley (Textile Art and Associate Award categories)
Lucy submitted a chair and stool as statement pieces for interiors.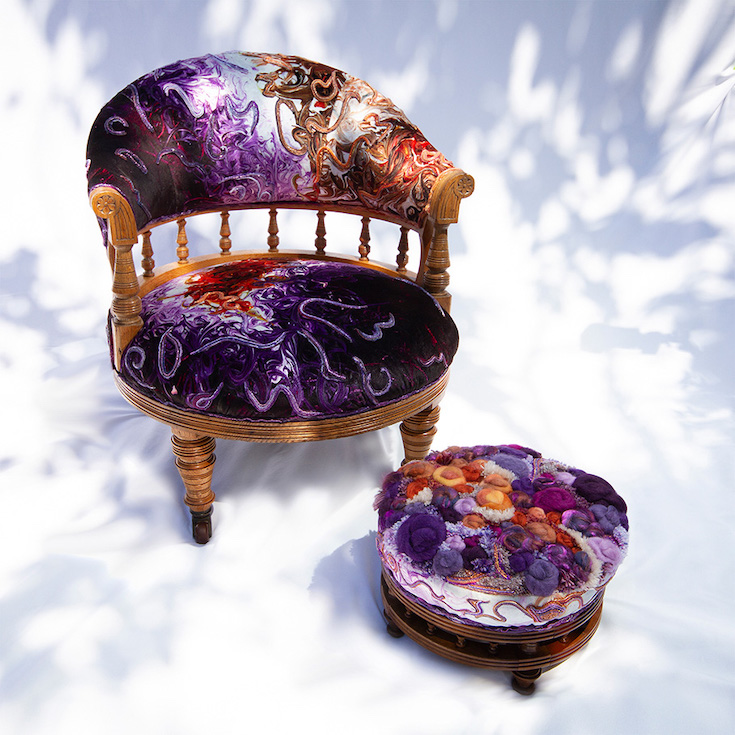 Lucy said: "'Omnipotent Horizons' is an interior collection consisting of a re-vamped period style chair and matching stool, based around aerial views. Using a colour pallet of bold purples and oranges coupled with fierce patterns. I wanted to capture the beauty of the landscape through organic paint marks that then translate into beautiful stitch. I use layers of embroidery and fabric manipulation to mimic the textual feel of my artworks."
Grace Ingman (Textile Art category)
Grace's very personal pieces represented visible scars created with a floral motif based on her grandfather's garden.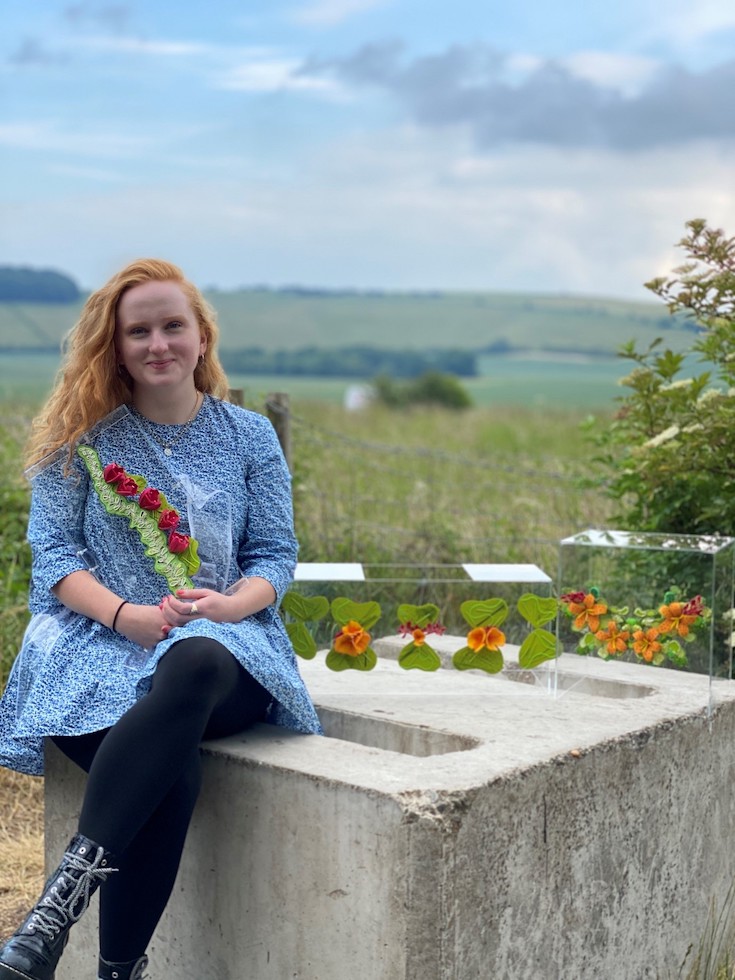 Grace said: "This is a project which endeavours to be an inclusive textile art collection exploring the scarring on peoples' bodies that others may never know about or understand the impact of," said Grace. "It is not a representation of particular peoples' scarring but rather a beautiful collective floral celebration. 'Immortal bloom' refers to the flowers taken from my grandfathers garden which live on with his love and mine through this embroidery."
Durga Shanthakumar (Fashion category)
Durga submitted designs originally created as part of her second-year Live Project. She was also the winner of the RSN's Most Developing Second Year Student earlier in 2020.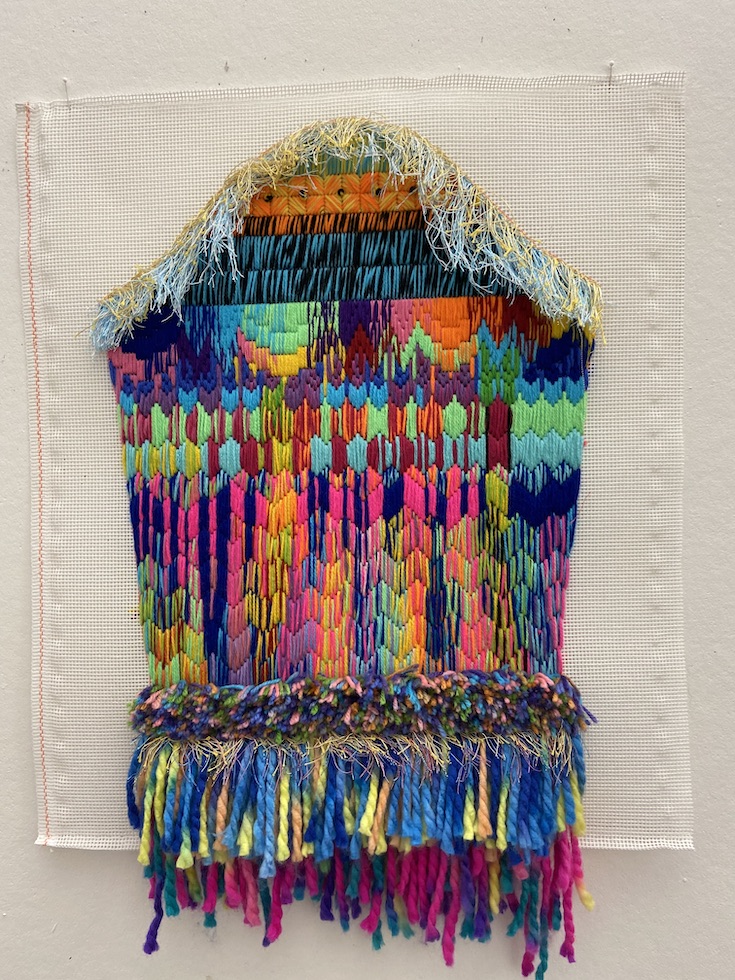 Durga said: "Disney was a part of my childhood and I wanted to recreate the look and texture of toys through stitch. [I began with] a range of paintings, which I then reinterpreted using canvas-work which is traditionally used for interiors. I used a wide range of different colour yarns and wools to mimic the soft toy texture."
Hisae Abe (Fashion category)
Hisae submitted an ornate kimono.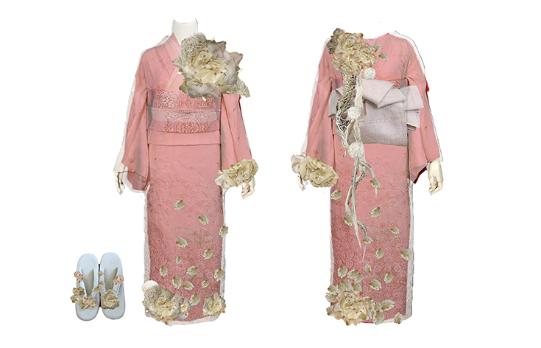 Hisae said: "My latest work is a Kimono inspired by my mother's Kimono which was found in her drawer after she had passed away. The Kimono was created by traditional Japanese detailed hand craftsmanship, Japanese hand embroidery and Shibori, which is exquisite hand dyeing."
Jessica Vale (Fashion and Associate Award categories)
Jessica submitted a shirt and jacket featuring a design based on flags commemorating the evacuation from Dunkirk.
Jessica said: "[This is] one of the biggest embroidery competitions globally, and so to get into the finals, and have my work exhibited under their banner is a huge honour, and will do wonders to get my name and work out there into the industry."
Sabina de Oliveira Lima (Associate Award)
Sabina submitted an A-Z panel of stitches.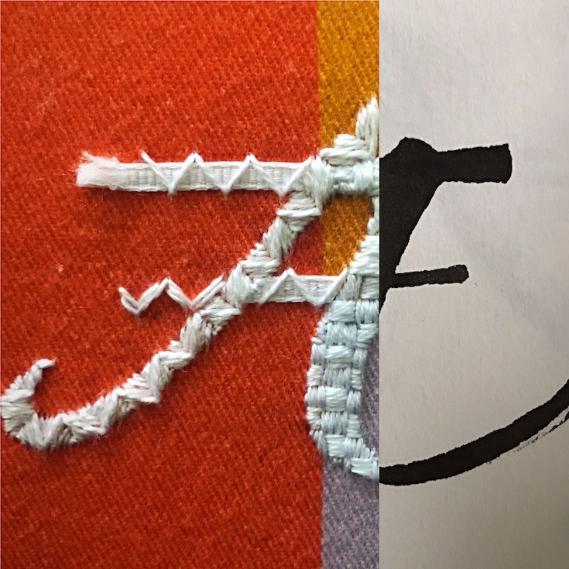 Sabina said: "I was looking for something that would invite the observer to appreciate the artwork both from a distance and also, by closer inspection, the details of individual letters.  A vibrant and warm colour palette is used in the background within a displaced grid, to both contain the letters embroidered and printed and to give a sense of dynamism. Sixty types of hand embroidery techniques have been applied in this contemporary piece."
The winners will be announced in November.
To find out more about Hand & Lock, visit its website and to read about the BA (Hons) Hand Embroidery course, visit our course pages and www.royal-needlework.org.uk